What are the limits to building even taller skyscrapers?
By Neil Gerrard07 March 2023
Even as speculation continues around whether or not the 1km-tall Jeddah Tower in Saudi Arabia will ever be finished, plans are already afoot to build a 2km-tall skyscraper in the kingdom.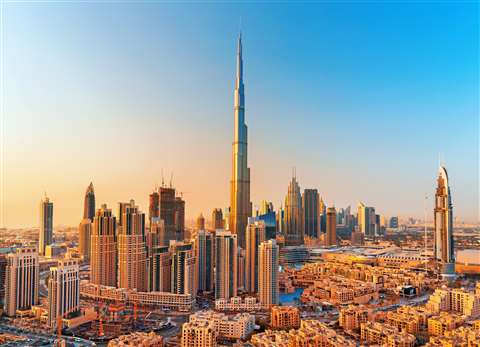 A 2km-tall building would exceed the world's current tallest building, the 828-metre-high Burj Khalifa, by nearly 1.2km. And the Burj Khalifa is itself more than 300m higher than the 508m-tall Taipei 101, which was previously the world's tallest building.
Such huge increases in height beg a question: are there limits to building supertall buildings and what governs those limits?
Limits aren't technological
Peter Weismantle, consulting director of supertall building technology at architecture firm at Adrian Smith + Gordon Gill Architecture based in Chicago, has decades of experience working on tall buildings.
He was part of the team at Skidmore, Owings & Merrill (SOM) that designed the 88-storey Jin Mao tower in Shanghai. In 2003, he took on the role of senior technical architect for the Burj Khalifa. And having left SOM to join Burj Khalifa architect Adrian Smith, he helped to design the Jeddah Tower.
Thanks to his wealth of experience, Weismantle understands a thing or two about the technical design of super high-rise buildings. And in his view, the construction sector has the capability to build buildings up to 2km and beyond. But other factors get in the way first.
"I don't think the limits are technological. First is money and the economics of these tall buildings," he says.
"In order to build tall, you have to build a big building in the sense that it has a lot of area – a lot of surface area and a lot of floor area. That is money. And the taller you go, the more the cost per square metre goes up."
Tied to the cost of building buildings at such a huge scale is the amount of time it takes – and time also means money. "In order to build these things anywhere near efficiently, you have got to build them quickly. And quick for a supertall means about five years. That is a long time, especially now with inflation the way it is," he adds.
Then come constraints related to the human body. The first signs of altitude sickness can start to appear after at least four hours spent above 2,000m.
"When you fly from Chicago to Denver you are going up to 5,200ft (1,600m). It takes you a day to acclimate and it is not unusual to get headaches and to feel tired," says Weismantle.
A two-minute elevator trip from sea level up to 2,000m could therefore stress the human body. Weismantle suggests that one solution could be to pressurize the building but warns that aside from not being easy to keep exterior walls completely airtight, it would consume huge amounts of energy.
"If you are going to build a building like that, you had better make sure it is a vertical city where you don't have to keep going from ground level to your apartment or office. You want to live within a zone. But people don't want to be sealed in their building all the time, they want to get out. So that is one of the biggest constraints."
Materials and foundations
Financial and physiological limitations aside, Weismantle is more confident about the technical capabilities of designers and construction companies to deliver even taller buildings. He calls 2km "pretty reasonable". "Is it the limit? I doubt it," he adds.
Burj Khalifa's "buttressed core" structural system involves concrete walls arranged in a hexagonal hub, each of them buttressing the others.
Weismantle sees concrete as the go-to material for supertall construction, largely thanks to its weight. "Weight is a good thing in a tall building because it counteracts some of the wind forces. In tall buildings, even in earthquake zones, you design for the wind. And if you can design for the wind then the seismic usually takes care of itself," he says.
"When the wind hits a building, it excites it perpendicular to the direction of the wind because of the vortex shedding. Concrete is really good because of its mass – it gives a natural dampening."
New York, where Weismantle grew up and where he first became fascinated by tall buildings, benefits from hard, metamorphic bedrock that is perfect for bearing the weight of heavy skyscrapers.
But geotechnical conditions elsewhere in the world mean that the foundations for supertall buildings require extensive construction work. In the case of Burj Khalifa and Jeddah Tower, there is no bedrock near the surface so both sit on a foundation system of friction piles with a 4m-deep mat foundation above that connects all the piles. In the case of the Jeddah Tower, the friction piles were 105m deep. While technically feasible, such conditions again add to the cost.
Ahmad Abdelrazaq is the former head of the high rise and complex building division at Samsung C&T Corporation, before he left to found his own practice Rise Global. He worked at SOM on the design of the Burj Khalifa before joining Samsung to build the project. He was also involved in the 679m-tall Merdeka 118 in Kuala Lumpur, Malaysia, making him responsible for the design and build of the world's tallest and second tallest buildings.
He points out that while normal-weight concrete is currently the norm, ultra-high-performance materials like steel-fibre reinforced concrete can make buildings lighter at the same time as giving higher stiffness, higher tension and higher strength. Although he admits that building codes have not yet caught up with what high-performance materials can do, placing a limitation on how construction teams are allowed to use them within buildings.
Nonetheless, he has worked with students at Seoul National University in South Korea, where he is visiting professor, to consider how existing supertall towers could be redesigned to take account of new materials and construction methods.
In the case of the Jeddah Tower, constructing the building in the same arrangement but using fibre-reinforced concrete could, he claims, reduce weight by 30%. That has implications not just for reducing the embodied carbon in the building but would also make it stronger and more durable, as well as more resistant to earthquakes because seismic load on a building is dependent on its weight.
Using new technology to keep costs down
As materials and labour, even in developing countries, becomes more expensive, Weismantle expects construction to adopt anything that can increase labour productivity and reduce wastage.
He wants to see greater leveraging of BIM technologies. "If you can literally build the building in the machine and then you can get those components into a factory, that is where maybe there will be some further developments. But everything [in construction] is such a one-off that it is hard to generate the economies of scale we need," he says.
While Abdelrazaq also sees no limits on how tall a building can be, he does see the need to modernize the ways in which they are designed and constructed.
He says, "We have to find ways of building supertall buildings more economically and more sustainably. As you increase the scale of a building, you can no longer look at the traditional solutions. We need to come up with an alternative structural system tailored to deal with these very tall buildings.
"You are creating a vertical city and the question is how do you create these cities and communities. Right now, we have a lot of limitations in terms of equipment and how far it can go.
"So you need to start looking at different methodologies and mechanizing the construction process – in other words creating working platforms that can climb up the building."
He also sees modular construction as key to speeding up construction work and reducing the reliance on large workforces.
"At Burj Khalifa, we had 12,000 people working on the building, which was way too much. You don't want to have that many people working on site so you need to start looking at phased planning and construction, and start looking at offsite construction and delivering things when they are complete.," he says.
Finally, one area where Abdelrazaq thinks supertall buildings are "missing the boat" is energy generation.
"People have talked a lot about solar chimneys, energy towers and so on. Here you are building a building where you have the opportunity to do this. There is no reason why something like this cannot generate its own electricity. With some of the very tall ones, you could generate more power than is required by just the building itself."