What are the new trends in operator training?
By Niamh Marriott22 March 2022
Properly training operators is a key part of ensuring safety on site when it comes to heavy lifting and specialized transport but the ways in which we learn have changed. From VR simulators to viral video content, technology and the digital post pandemic world are showing smarter ways to communicate and teach. Niamh Marriott reports
Speaking to Chris Hines, head of Mammoet's people development and recruitment and Wilfred de Boer, senior SPMT supervisor at Mammoet, it seems the biggest trends in training today concern safety and scalability.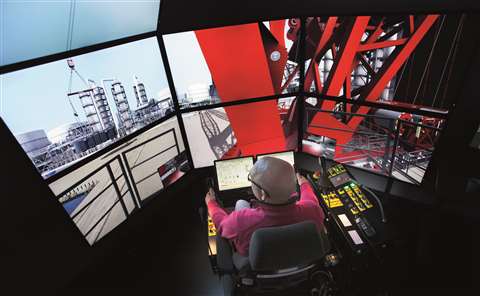 The lack of industry wide standardisation, global accessibility and communication are big challenges to overcome. The digital landscape too is changing operator training, and fast.
Operator training – what are the biggest changes and trends?
Wilfred de Boer: Safety is the most important issue. The amount of SPMT in the world over the last 15 years has grown dramatically. And the funny thing? Everybody can operate them. You don't have to have any licence or any training. There's no rules for it, no laws. It's different from the crane industry.
Chris Hines: I joined as part of the acquisition from ALE. The emphasis for us is on safety. In terms of changes and trends, it's scale. It's how we reach and communicate messages of common standards of safety across what is now a vast organisation.
What are the biggest skills shortages you need to address with training?
Chris: I think it very much depends on who you talk to. Operators make up 60 to 70 per cent of our organisation. Our emphasis is on making sure people are competent to operate our equipment safely.
Wilfred: In terms of skill shortages, we go to all different countries, different projects start all the time and it's getting more and more difficult to bring specialists to the location because of contractual matters. You have to use local people and train them. You have to find the right people, technical people who are interested – and who hopefully speak English or are willing to learn. English is a worldwide common language but sometimes it's the first barrier and you have to explain the benefits of learning it.
How do you manage training around the world with people speaking different languages? How do you make it accessible for non-English speaking people?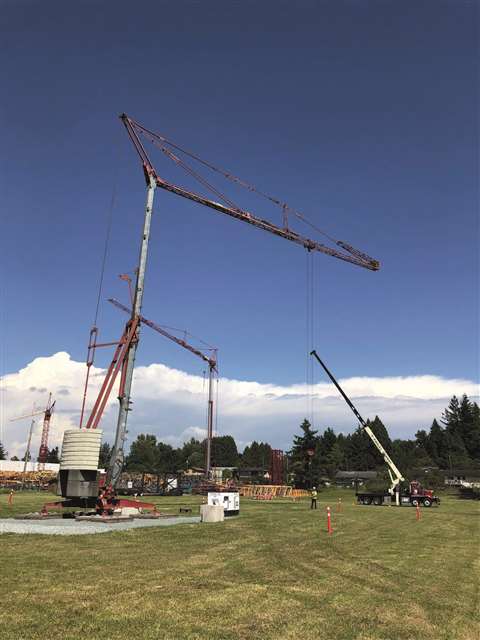 Chris: With a translator it's not a case of English or bust. It's really about recognising that there are more commonly used languages. It's easier to communicate in a common language as we're normally working in a multinational team, on highly specialized multinational projects. It goes far beyond the classic role of training. When recruiting people we are looking at the core skillsets and having a common language is definitely useful, particularly for safety.
Wilfred: Video content can be translated easily so that helps, and the operators can see these videos in class, and also on their mobile devices. It's also cultural training, not just the language issue.
Do you think there needs to be better standardisation globally of training?
Chris: We have several thousand axle lines of self propelled modular transporter. This stuff didn't exist until the mid 1980s, and the scale of use didn't rise until 15 years ago. We're seeking to deliver a common standard where we can ensure people have a common level of competence.
Elsewhere in the industry you don't need a licence, you can just go and buy SPMT. How do you manage risk in that? How do you ensure safety in that environment without making sure you've got subject experts with significant experience?
So there's a lack of standardisation?
Chris: We have our own attitude towards standardisation, quality, safety. Standardisation in the industry? That's a different question. I don't believe it exists.
Video content, VR training, simulators, what are the benefits? What do people prefer?
Wilfred: For the PTC cranes we can't just train on site, it needs to be done beforehand and that's where simulators are useful.
Chris: In terms of VR, we've got some high quality infrastructure at our regional training academy in the Netherlands. It is unique equipment built to our own bespoke specification.
The issue is actually getting people to the VR technology. We're investing in really leading edge tech but it still requires a human to get on a plane to go and see it and that's why we want to replicate it in other locations.
So we've got VR, simulators and classrooms but also on site learning. That's where the real powerful learning takes place in my opinion. But the on the job training needs to have some form of structure to it.
Wilfred: People in training like to see photos and videos of real life situations, on real projects and with real examples.
These people are not used to sitting down in an office, in a classroom all day, you have to keep things interesting and interactive. Physically showing them how to replace a faulty power pack or how to get things moving again after an issue, with the real equipment that they can see and hold and use.
Chris: Video content means that everything the trainers like Wilfred do can become scalable, we can share it everywhere as Wilfred can't be everywhere all the time. So that's really useful.
What effect has Covid had on training?
Chris: Like every business we have had to think creatively. It's presented lots of problems of course but actually it's forced us to think differently.
It has provided unexpected benefits, too. We had to step out of our comfort zone but that led to creating a digital mentor network.
How are you encouraging young people to join the industry and how are you making the courses you offer more accessible to the younger generation?
Chris: I think training is actually a secondary issue to the broader question of how we attract people, full stop, and the industry has a challenge. What attracted people to the oil and gas sector and supporting sectors 30 years ago is completely different to what interests people now. So it's really about us modifying our thinking about what our offer is to candidates, what our values are as a business, and making sure that they're aware of them.
If you find the right people, it's very difficult not to be excited about what we do. Once we've got them, it's about recognising there are different ways that people learn now. There are different ways that people communicate and consume information, and a lot of that is digital.
How do you try to ensure operator retention post training, so they don't get trained and then leave for a competitor?
Chris: How do we make people stay? People value the investment in them. It's part of our offering to our people as well as in terms of safety. But training doesn't make people stay. Cultures are what make people stay. You stay because you love what you do.
Simulator training
Simulator style training is gaining in popularity as the technology becomes more realistic to on site working conditions. The benefits are obvious – operators can log practice hours safely and without disturbing actual works, finesse their technique and improve their knowledge without any danger to themselves or to the equipment.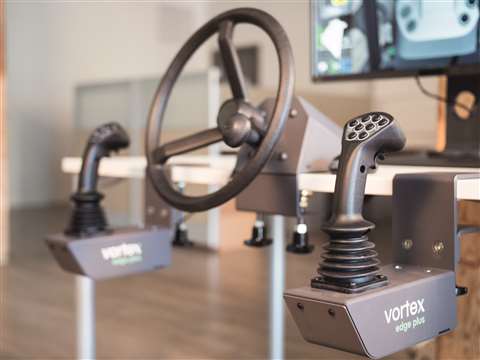 David Clark, senior product marketing manager at CM Labs, says simulation-based training can help improve and maintain health and safety.
"With such high risks, construction is today being held to some of the most stringent workplace safety standards," says Clark. "Simulation directly addresses health and safety metrics by reducing injury, while allowing trainers to virtually capture unsafe equipment operation. Leveraging simulation in your training programme allows operators to gain familiarity and confidence in a safe, low-stress environment before taking control in the field.
Greg Brown, inspector and trainer at Crane Industry Services (CIS) says an added benefit is the ability to prepare operators for extreme conditions not easily replicated in field training. "We can challenge students with a wide variety of tasks, distractions, and difficult conditions such as high winds, rain, and so on without creating danger in or around the job site," he says. "Simulators aren't just for beginners. Their flexibility allows us to teach customised and advanced operations to even the most experienced operators."
Clark continues, "As equipment becomes increasingly powerful and complex, operator training takes on a whole new level of importance. And simulation-based training is shown to offer a substantial return on investment in terms of time, retention, and effectiveness."
CIS started using CM Labs' simulators in 2014 to help determine the impact of simulators on training. It says that Vortex Simulators from CM Labs are highly effective for training or re-skilling operators.
"Although simulators are an investment, they are much less expensive in the long run for assessing aptitude and training for the right skills than utilising only in-the-field methods," says Debbie Dickinson, CEO at CIS.
"When you consider the expenses associated with hands-on equipment training in the yard, equipment rental, fuel, the hourly rate of a certified instructor, maintenance, and so on – the cost of training can be astronomical," she says. In contrast, CIS says that one hour on the simulator was equivalent to up to four hours on a crane, making this an efficient and cost-effective training tool.
Julien Richer-Lanciault, CM Labs' construction product manager, says, "The construction industry is doing absolutely everything it can to eliminate barriers to training, and get the next generation of skilled labour exposed to the challenges and rewards of a construction career."
Virtual training
With advancing technology, and a basic internet connection, training can be held virtually and broadcast to any learner around the world, making it highly accessible. USA-based Industrial Training International (ITI), for example, is now offering instructor led training via Simulcast, meaning that students can join from anywhere in the world. It offers a range of courses, including its three day NCCCO mobile crane operator certification test preparation.
Traditional training
Despite digital advancements, there is merit to traditional training in person. Postpandemic in Canada, this type of learning can now continue to great effect.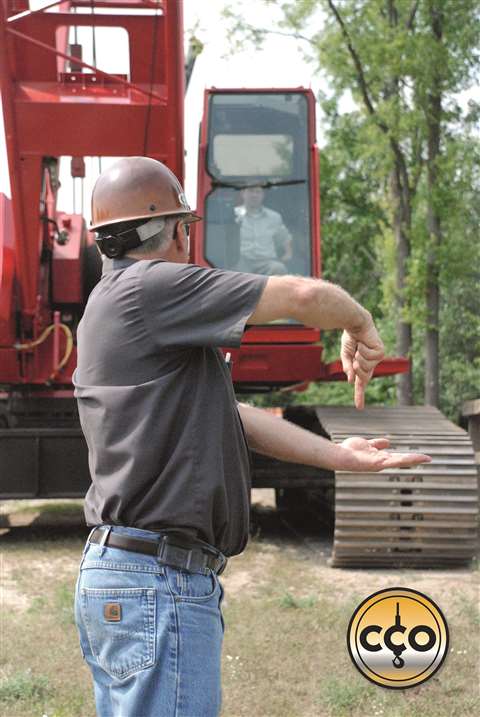 Ralf Notheis, crane academy manager at Abbotsford, Canada-based Bigfoot Crane Company, says, "Bigfoot is continuing to be very busy on all fronts in providing crane, rigging and construction hoist operator training across Western Canada."
"With our "zero experience to fully certified operator" programmes, we are making the connection between an industry that needs skilled workers and regular people with a passion for cranes," he says.
One of the courses in high demand is the Level 1 Rigger Certification Course. "I believe we have finally turned the corner in Canada and companies are realising workers performing rigging duties require formal training from a qualified instructor, it is vital to the safety of everyone."
"We offer theory and practical training in a way that is easy to understand. It really helps keep students engaged when they understand why they need to know things," he says.
Certification is key
"While training is vital to ensuring employees are knowledgeable and prepared to perform the work you expect of them, it isn't the final step," says Thom Sicklesteel of the National Commission for the Certification of Crane Operators (NCCCO). "Certification verifies that training has been effective and closes the link in a process established to educate people in the correct way to perform their job duties."
"Well-trained employees, with independently verified knowledge and skills, make fewer mistakes – and therefore have fewer accidents or other mishaps – than those with less experience," he says.
"CCO offers load handling operator and related certifications. Earning certification through CCO attests that a person possesses the required competencies to practice their profession. To be fair, certification is awarded by organisations not involved in training."
"CCO standards, like those of most accredited certifications, are set through a defensible, rigorous, industry-wide process. Certificants often also have retesting."
"Differentiating between the available credentials and weighing their benefits can be both intimidating and confusing," he adds. "The main difference between "certification" and "qualification" is the level of testing required. Certification provides a consistent and accurate means to determine a person's technical knowledge and skills."
Ainscough apprentices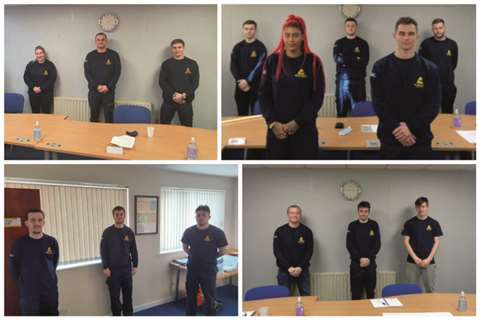 UK-based Ainscough Crane Hire is supporting a new generation of crane professionals with its crane operator apprenticeship programme. A three year paid course, it aims to offer participants a pathway to the crane industry while gaining skills and qualifications. In the first year, the apprentices will gain their slinger signaller qualification before moving on to achieve a HGV Class 2 licence and mobile crane operator qualifications. Once completed, each apprentice will be a fully qualified blue card crane operator. They will be mentored and supervised throughout. Darren Thompson, Ainscough Crane Hire head of HR, comments, "The past year has been very difficult for young people but it's an incredibly exciting time to join the crane industry. Ainscough is currently working on both HS2 and Hinkley Point C – two of the largest infrastructure projects the UK has ever seen." The apprentices will be "taught the absolute importance of safety" while working on actual lifting projects, says Thompson.