Why Japan is pivoting back to nuclear power plant construction
By Neil Gerrard15 March 2023
Japan aims to restart its 820Mwe boiling water reactor (BWR) in the Shimane prefecture as early as this year (2023), after a hiatus of more than a decade.
The move comes as Japan pivots back to nuclear, amid the global energy crisis.
The Shimane reactor has been offline since 2012, ever since 2011's Fukushima accident, where three BWR units suffered a core meltdown after a deadly tsunami.
Japan closed all 54 of its nuclear power units following the tsunami and so far has only restarted around 10 of its pressurised water reactors.
But a record-breaking heatwave in June 2022 prompted authorities to warn of constraints on power supplies and urged residents in the Tokyo area to conserve electricity.
In December 2022, Japan approved plans to revive the use of nuclear energy, after Prime Minister Fumio Kishida signalled a reversal of government policy to phase out nuclear over the summer. It has set a target for nuclear power to generate 20-22% of its power by 2030, up from around 6% now. The country is also looking at extending the lifespan of existing reactors as well as developing more advanced replacement reactors for construction in the future.
The BWR unit in Shimane prefecture, operated by Chugko Electric Power Co is the first BWR to be switched back on. Several more reactors, including those in Niigata and Ibaraki, are due to come back online this winter and into the summer.
A spokesperson for Hitachi Energy in Japan told International Construction that the business is expecting the development of new light water reactors in the country.
It is also exploring the possibility of supplying equipment for a new generation of small modular reactors (SMRs).
However, no decision has yet been made on the construction of small reactors in Japan.
Currently, Japanese manufacturers are only involved in developing SMRs for overseas markets.
Most recently, a joint venture between General Electric and Hitachi (GEH) submitted an application to have the design of its BWRX-300 SMR assessed by the Office for Nuclear Regulation (ONR) and the Environment Agency (EA) in the UK, ahead of possible construction.
Drain on skills and manufacturing capability
But one possible obstacle to the future construction of nuclear power plants in Japan could be a lack of skills and manufacturing capacity.
The country's post-Fukushima policy to phase out nuclear meant that there have been fewer engineers working in the sector, while some manufacturers like Sumitomo Electric Industries and Kawasaki Heavy Industries exited the sector altogether.
According to the Japan Electrical Manufacturers' Association (JEMA), the number of employees in the nuclear power sector, including those working in design, manufacturing and engineering, has fallen from 12,678 in 2012 to 10,176 in 2021 – a decline of 19.7%.
JEMA said, "The number of personnel as well as sales amount in the nuclear industry shows a downward trend, since suspended conditions are lasting with no new builds of nuclear power plants in Japan."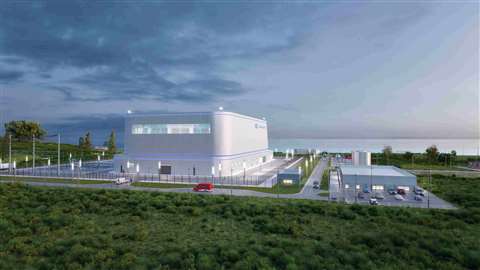 It has called for policy measures to restart existing plants but also urged the government to start new and replacement builds to maintain Japan's nuclear energy generation "in adequate size".
Hitachi Energy said, "Manufacturing and technical capabilities in Japan can be maintained in some areas through construction and work to comply with the new regulatory standards for restarting operations."
But it also warned, "Since new construction has been halted for 10 years, it has become difficult in some areas to pass on technology."
This was particularly the case in areas like fabrication and commissioning of new plants, it said. The company said it expected progress in plans for the development of innovative new light water reactors, as well as in SMRs.
The spokesperson added, "For several years now, we have been strengthening knowledge management to document and transfer the knowledge and know-how of experienced persons to the next generation. However, it is difficult to obtain knowledge that can only be obtained through actual experience if there is no project."