Boom time for MEC
By Maria Hadlow07 March 2008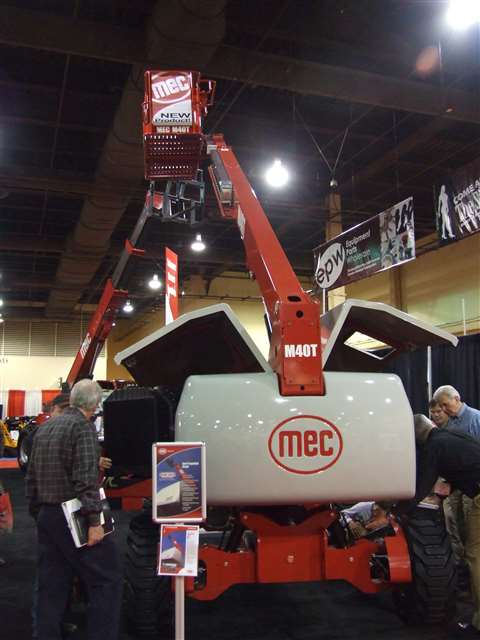 MEC Aerial Work Platform's new boom was never short of visitors at the ARA's The Rental Show in Las Vegas (12 to 14 February). The preproduction machine M40T was completed just in time for the show and is the first of several straight, jib and articulated boom models which the company plans to develop over the next three to five years.
"Our goal was to develop a new 40 ft (12.2 m) platform height boom that would provide a higher level of features, specifications and performance, while still maintaining an equal or improved level of reliability, all within a price range that would provide a very compelling value proposition when compared against other industry leading products in the market place," said Steve Citron, MEC's director of business development, "This has been a challenging task, but one that we believe has been achieved."
The MEC M40T is a straight telescopic boom with over 34 ft (10.4 m) of outreach from the centerline of the turntable bearing to the end of the platform rails. The tail swing has been minimized to just under 2 ft 4in (70 cm), reducing the risk of collision between the counter weight and any obstacles that might be found on site.
M40T will be offered in a range of capacities: 500 lb (227 kg), 750 lb (340 kg) and 1000 lb (454 kg) with only the boom reach on the 1000 lb model being restricted when fully loaded.
MEC has chosen to use Ford petrol (gas) and Perkins diesel engines because they are proven in this field and many mechanics are familiar with them, but has opted for a 40 gallon (151 litre) fuel tank to extend the time between refueling. Drive speeds of 5 mph (8 km/h) can be achieved and gradeability is 35% on the two wheel-drive and 50% on the four wheel-drive models. The four wheel-drive model features the Quad-Trax positive traction system which provides equal power to each wheel and has a active oscillating axel system that will automatically sense terrain and adjust accordingly.
The control system has been designed to be very easy to understand and operate with simple graphic prompts on the panel.
Jim Tolle, president of MEC Aerial Work Platform sales said "From an acquisition pricing perspective, MEC has offered competitive scissor lift prices, but we intend to really push the pricing envelope further with our new line of booms."