Finnish service engineer sets mini excavator world record
By Chris Sleight05 July 2010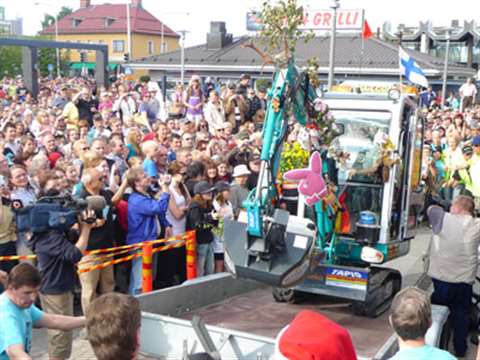 Finnish service engineer Jukka Mutanen is due to enter the Guinness book of World Records following a mammoth drive across Finland in a mini excavator.
Starting from Hanko in southwestern Finland on 1 June, he reached Kuusamo in the north east of the country on 29 June. Mr Mutanen made the 942 km journey in a Sunward SWE17B mini excavator, driving at its 4 km/h travel speed. This clinched him the world record for "Personal continuous furthest driving with a mini excavator."
He was greeted at the finishing line by a crowd of some 3000 Kuusamo residents, along with dignitaries including Finnish Member of Parliament Tuomo Hanninen, president of the Kuusamo district committee Matti Heikkile and president of Sunward, He Quinhua, who made a special journey from the company's headquarters in Changsha, China to congratulate Mr Mutanen. Sunward and its Finnish distributor CE Rental Oy sponsored the record attempt.
Commenting on the vehicle for his month-long endurance drive before the start of the event, Mr Mutanen said, "It's a lovely 'guy', reliable and flexible, stable and comfortable."
Indeed, the SWE17B completed the journey without any mishaps or mechanical problems.