Tailor made designs
By Laura Hatton13 October 2014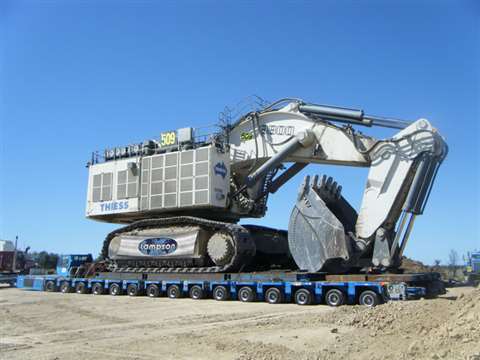 The market for customised transport equipment is on the rise, as more and more end users request tailor-made transports to suit their specific needs and requirements. Laura Hatton investigates
Loads that need to be transported are getting increasingly bigger. These super and super size heavy loads tend to be found in oil and gas, power generation, heavy engineering and refinery sectors. A spokesperson from Italian specialist heavy transport service provider Fagioli explains why, "Most of the plants that have been built during the last 20 years are modularised, which means that huge modules are fabricated mostly in one or few yards, then transported directly to site and finally assembled. These modules can weigh up to thousands of tonnes and require special trailers, ships or barges to deliver them."
Designing transport equipment to cope with the immense weights and dimensions of these modular pieces and incorporating road infrastructure and regulations is no easy feat. As a spokesperson from Southwest Industrial Rigging explains, this is because road regulations vary between municipalities and jurisdictions from city-to-city and state-to-state.
For manufacturers, this means that specialized transport needs to be adaptable and flexible to suit not only a wide range of transport jobs, but a number of different regulations at the same time. Bruce Stemp, project manager at Lampson International in the USA explains, "With restrictions constantly being put in place by municipalities, trailers operating within state and county lines must quickly and easily adapt to a number of different situations. These trailers need to be able to accommodate the various regulations encountered during a transport that could possibly span several different jurisdictions. The adaptability of the newer trailers from all of the major manufacturers to accommodate these types of challenges is remarkable."
A spokesperson from transport company Van der Vlist adds, "There are also different regulations for when permits, private escorts and police escorts are required, which of course increase costs and also timescales. We are continuously working with Transport and Logistics Netherlands (TLN) and Dutch Department of Road Transport (RDW) in Holland where we are trying to make permits more suitable for use in daily practice, which should be active in 2015. We are also trying to work towards a pan-European legislation, to remove the confusion with different regulations in different states."
New models
With different restrictions on weights and dimensions being implemented across the world, manufacturers are providing end users with a range of equipment that is not only flexible and adaptable, but also customised. The latest model of specialized transport for specialist company Collett Transport from the UK, for example, is a new custom 550 tonne payload STB 550 side girder deck from Scheuerle in Germany. The hydraulically extendable STB 550 is the latest version in a series designed for flexibility in its configuration.
"The ratio of payload to tare weight has been optimised and, as a result, the STB 550 is far more variable than similar products on the market," Bernd Schwengsbier, TII sales managing director, the sales arm of the TII Group, which includes Scheuerle, Nicolas and Kamag, says. "With our engineering and manufacturing performance we have ratio payload unit weight of 5:2. The deck can handle all kinds of transformers and generators on the market; even if a transformer has upper supports or intermediate supports, low supports or couplings in front."
Collett will use the new girder to transport 350 tonne transformers but has the option to increase to a 550 tonne maximum configuration by adding a second girder set. Additional support bogies allow loading without the help of a crane. The deck span range is from 29,200 mm to 34,200 mm long. Loading width can be adjusted continuously from 3,450 mm to 7,400 mm. The vertical lift of the deck in the load area is 1,650 mm. The girder deck is unique for Collett's specifications and was built with input from Nicolas in France.
David Collett, Collett Transport managing director, said, "The trailer will be of great importance and interest to the power generation and heavy engineering industries. With this new higher level of carrying capacity, currently unrivalled in Europe, it will open the door for manufacturers of generators, transformers and steel castings, to increase the size and weight of their product portfolio."
Trailer manufacturer Goldhofer has also been tasked with providing a customised trailer for UK company Allelys Heavy Haulage, the Faktor 5 vessel bridge. The bridge has a payload-to-deadweight ratio of 5:1 and will be used for transporting heavy loads, including transformers, generators and large industrial components. "This extremely efficient system offers safe and reliable transportation for loads of up 500 tonnes with a deadweight of 100 tonnes," the manufacturer said.
The bridge is designed for use as both a conventional high girder bridge and a vessel bridge, which as explained by Stefan Fuchs, Goldhofer CEO, greatly improves the vehicle's flexibility. The model has a vertical lifting stroke of 1.80 metres, a loading width from 3 to 6.75 m and loading length is 11 to 17 m. Also new from Goldhofer is a range of heavy duty modular transporters and self propelled modules, including the PST/ES-E 6 (315) and the PST/ES-E (285) modular transporter and the Type THP/SL-S, THP/SL-L and THP/SL heavy duty modules. The models are designed for concentrated and heavy-duty loads.
Other custom-made equipment on the market is a dual-lane TrailKing transport trailer, which was designed for USA-based Crane Rental Corporation. The high-capacity trailer has telescoping axles that extend from 3.6 to 6 m to accommodate over-dimensional loads and more evenly distribute loads over bridges and culverts. It has suspension beam, perimeter deck, dollies, and bolster options.
To meet demands set out by regulations, Mammoet worked with manufacturer Scheuerle to develop a hybrid power pack unit (PPU) allowing emission-free and low noise operation. Also new from Mammoet is a concept for a nine axle Canadian highway trailer. The trailer has a 100 tonne capacity (80 tonnes at 12 m deck length), a maximum gross weight of 280 tonnes, a gooseneck suitable for 3- and 4-axle tractor units, and an extended length of 30.5 m. The model was designed by Mammoet in co-operation with the Ministry of Transportation (MOT) of British Columbia, Victoria, Canada.
"The idea was born after a request for road permits for transporting 150 US ton modules, 100 feet long, and 24 feet high and wide, via the NW route in the USA to Fort Mc Murray in Alberta, Canada was rejected," a company spokespersons explains. "Mammoet discussed with the MOT the option to use an alternative 1,000 km route, which had 96 bridges along the way. The maximum GVW for this stretch is 85 ton due to restrictions with the bridges. With support from the Ministry of Transportation, Mammoet used a bridge formula in such a way that the nine axle Canadian highway trailer was born. Mammoet used both Broshuis in the Netherlands as well as Scheuerle in Germany to work out the concept for this innovation."
Also designed with regulations in mind is the Panther trailer series from trailer manufacturer Doll. "In Germany, it allows a haulier to get 12 tonnes per axle line with a single permit," a Doll spokesperson says. "The series features high payloads of up to 110 tonnes, manoeuvrability, a 12 tonne axle load, a loading height of 850 mm, a total stroke of up to 405 mm, single wheel suspension, a steering angle of 55 degrees and different dolly versions for any requirements. The trailers have double wishbone technology. The 5-axle panther version replaced the standard 6-axle semi low-loaders on beam axles with 10 tonnes."
The latest product from Faymonville is the CombiMax semi-trailer. Describing some of the features, a spokesperson from Faymonville adds, "All steering systems can be controlled by a newly developed gooseneck, the One-Neck-Technology, regardless of whether it involves vehicles with 4- or 8-tyred pendle axles, vehicles with knuckle-steering axles (hydraulic or air suspension), or vehicles with independent suspension from the Twin Axle II series."
Customer satisfaction
To help meet customer demands, transport service providers need to have a range of equipment available. Transport company Van der Vlist, for example, has added new equipment to its fleet. "We are working with manufacturers to try and develop lighter trailers to increase the weight that we can load, as well as reducing fuel consumption," a spokesperson from Van der Vlist says, "The challenge is that these trailers need to still be strong enough to comfortably and safely carry very heavy cargo at the same time."
New to Van der Vlist's' fleet is a 10 axle semi low trailer with a 3-axle modular section and 7-axles. "The difference with this trailer is the combination of multiple axles to take up to 100 tonnes, as well as the lower height, meaning that we can take high and heavy pieces without having to use a low bed or vessel bridge," a spokesperson from Van der Vlist says. "We have also invested in extendible trailers tailored specifically to wind turbine blades, able to take 36 tonnes."
Southwest Industrial Rigging in the USA has expanded its fleet with 20 lines of Goldhofer THP-DR and two STZ-H 9 semi low loaders. The transport provider has also added two TK110HED low deck trailers from Trail King. "The low-deck, 3+1 axle system allows us to change from legal to over-dimensional with minimal adjustment," a spokesperson adds.
For heavy transportation requirements, Lampson International offers track driven crawler transporters. "Used for hauling heavy outsize loads in difficult terrain and extreme environments, these transporters have exceptional manoeuvrability," Kate Lampson explains. The transporters have a patented Rolli-Flex track roller suspension system and are available in capacities ranging from 400 to 4,000 US tons. They are capable of ascending or descending grades exceeding 10 %.
Transport company Tradelossa, based in Mexico, has recently acquired new equipment, including a new strand jack system and Goldhofer extendable flatbeds. "We are trying to be one step ahead of what is coming in the industry in Mexico," a company spokesperson explains, "We are trying to get new equipment, because you never know, one day you have a big project and you will need some equipment to help your operation."
For the South African market, Rotran Logistics Services, part of Eskom, based in Johannesburg, South Africa, offers almost five hundred axle lines and eight large girder beam trailers with capacities from 200 to 600 tonnes from manufacturers includes Nicolas, Cometto, Goldhofer and Faymonville.
In Italy heavy transport company Fagioli purchased 50 axle lines of modular trailers with different configurations and some self propelled modular transporters (SPMT). A spokesperson from Fagioli says, "The continuous evolution of the infrastructure landscape, such as building roundabouts, bridges and new buildings, forces us to carry out never-ending inspections and verification of the roads and surveys."
Also in Europe, Polish transport company ZTE Radom offers a range of equipment for transport and building works. Equipment includes long-loading trailers capable of transporting cargo up to 40 metres long, low-loading trailers and a range of modular platform trailers from Kesselbrücken, Goldhofer and Broshuis.
For transport company Stiglich, the busiest markets for moving oversize and overweight loads are in the mining sector. "We have recently participated in the expansion projects of Sociedad Minera Cerro Verde, Las Bambas and also Central Térmica Santo Domingo de los Olleros." To meet demands throughout this sector, Stiglich use Goldhofer trailers, with loading configurations from 10 up to 14 axles of modular trailers.
New facilities are other ways to provide customer support. Transport provider Vanguard, for example, has recently invested in a new facility in Richards Bay to help speed up the process of loading and unloading of the ships. The depot has two SPMT trailers, an 800 tonne hydraulic gantry lift system and heavy load tools and accessories.
Roland Cumings, Vanguard specialised transport and lifting senior manager, says, "Our investment has proved to be a wise and very worthwhile investment. Our facility offers operators of heavy load transport equipment the luxury and peace of mind that we will collect their cargo from the ship's side and relocate it to the depot where they can at their convenience then collect the cargo when their equipment is available. We can handle multiple loads in excess of 500 tonnes each. The facility is proving to be a very valuable and much needed asset to the heavy load transport industry."