Apartment project for Yau Lee
By Laura Hatton05 October 2015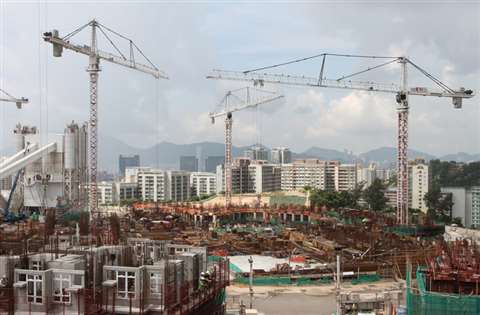 Yau Lee Construction has put four Liebherr 550 EC-H 20 tower cranes on a Hong Kong Housing Authority apartment project in Kwun Tong District, in eastern Kowloon.
The high-density housing development is being built on the site of the former Anderson Road Quarry at Sau Mau Ping. The contract is to build nine tower blocks, ranging in height from 29 to 41 storeys. A commercial complex with a car park podium structure will also be built.
The four Liebherr 550 EC-H 20 Litronic tower cranes on site are mounted on type 355 IC tower sections. William Tang, Liebherr Singapore sales manager, said, "Originally, the intention had been to use eight cranes on Yau Lee's contract, with two for each tower block. We were, however, able to demonstrate that by using four Liebherr 550 EC-H models, equipped with the 355 IC tower to fit into the limited space of the lift shafts, the contractor could actually speed up the work process, meet all the heavy-lift requirements, and save money on labour and equipment costs.
"The 355 IC tower section is exceptionally compact at a cross-section of 1.9 x 1.9 metres, and the crane will climb as the building climbs. Having eight jibs on the four blocks would have limited the mobility of the cranes, because of the need to prevent the jibs from colliding. One crane on each tower means there is total freedom of movement, and with 51.5 m jibs fitted, the cranes can reach any part of the tower construction area. This configuration will handle a maximum load of 20 tonnes, and 10 tonnes at the tipping point.
"Substantial parts of these buildings are prefabricated, which means heavier loads need to be lifted, the heaviest being the bathroom elements, which weigh between 13 and 14 tonnes. So the 550 EC-H can handle this with ease," Tang added.
Time is a major challenge on the project. According to Tang, the Housing Authority schedule encourages the contractor to complete one floor every six days.