Entertainment sector welcomes GIS motor
By Ian Vallely06 January 2017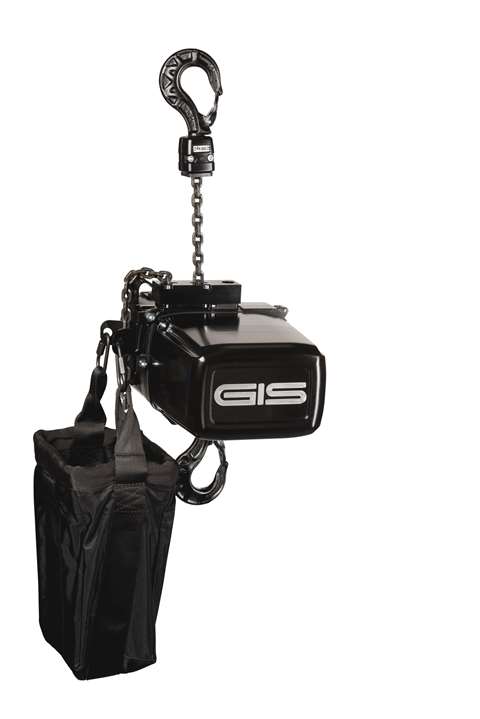 Swiss electric chain hoist manufacturer GIS has replaced its LCH series with the LP series, said to be ideal for entertainment rigging professionals.
The LP series includes the LP500 with up to 60 percent greater lifting capacity (with a BGV D8 motor motor, the lifting capacity of the LP500 is 800 kilogrammes in single fall operation, compared to 500 kg with the previous model). It is also built to IP65 enclosure protection as standard and quiet running at a maximum 65 decibels.
The specific requirements of the entertainment industry, including increased capacity in one fall operation, low dead weight, low noise emission and suitability for outdoor use, have been given priority throughout the design and manufacture of the LP500.
LP500 has a robust construction, is simple in its assembly and does not contain any sensitive electronics, GIS said. All shaft-hub connections are built in a self-centring polygonal design, meaning disassembly and assembly is faster with no special tools required.
Wear parts, for example, the chain and chain wheel, can be replaced in a few steps and without needing to disassemble the entire hoist.
A self-contained, helical cut, three-stage transmission with permanent grease lubrication ensures quieter operation, with noise emission reduced from 75 to 65 dB due to this feature in the chain hoist housing, along with the chain wheel with five pockets, and the horizontal and vertical supported chain.
The LP500 comes with a BGV D8, BGV D8+ or BGV C1 motor, and three- and single-phase designs (except C1) are available.
The entire chain fall is designed with a statistical safety factor of at least 8:1 (ISO M5, FEM 2m), meaning wear of the components is decreased and the life cycle is extended four times, to 1,600 hours (ISO M5, FEM 2m) in comparison to the previous model at identical lifting capacity.