Snorkel presents new product ranges
By Euan Youdale07 March 2017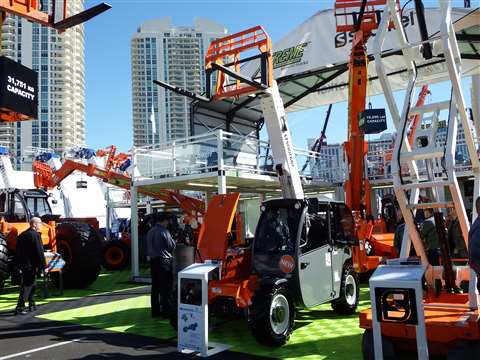 Snorkel is launching its first telehandler at ConExpo 2017, as well as a new self-propelled telescopic mast lift and a prototype electric drive slab scissor lift. While sister company Xtreme is presenting its new 10,000 pound capacity XR1056 telehandler.
The Snorkel SR5519 has a load capacity of 5,500 pounds (2,494kg) and can reach heights of up to 19 ft (5.79m). The manufacturer says the machine is designed to be competitive, yet is rich on features, including a spacious cab and a large touchscreen interface in the cab for accessing load charts and manuals.
Powered by a 74hp Deutz 2.9 litre diesel engine, with hydrostatic drive, the SR5519 has front limited slip differential as standard to improve traction on rough terrain jobsites. Compact dimensions makes this model ideal for using in tight spaces, particularly on construction jobsites or in rental applications.
Designed to be compact and light, the SR5519 weighs 10,400 pounds unloaded, permitting it to be used in worksites with low floor loadings, such as parking garages. The SR5519 will be available to order in North America in the fourth quarter of this year, with the range eventually topping out at 12,000 pounds capacity.
Following the introduction of the electric drive, 12 ft (3.6m), telescopic mast lift, TM12E, at The Rental Show last week, Snorkel is unveiling a 16 ft (4.87m) version of the lift at ConExpo. The TM16E features an efficient electric drive system that delivers longer duty cycles, a zero inside turning radius, and an electric braking system, consistent with the TM12E. Capable of lifting up to 500 pounds (227kg) to a platform height of up to 16 ft (4.87m), the TM16E includes a roll-out deck extension as standard, plus an upper control box with an integrated power to platform outlet, that is common with Snorkel's electric slab scissor lift family.
The company is also showcasing a prototype of its next generation electric slab scissor lifts. The Snorkel S3019E features a low step-in height thanks to the sunken scissor stack that stows inside the chassis. The all-electric lift uses no hydraulic hoses, achieved through electric drive and electric steer. It can lift up to 500 pounds (227kg) to a platform height of up to 19 ft (5.79m), and weighs in at 3,200 pounds (1,451kg).
Following the official launch at, Snorkel is presenting the ML18C material lift at ConExpo, part of its new line of six material lifts. The new material lifts all feature a dual-handle, shift-on-the-fly, two-speed winch for increased productivity when lifting loads, up to twice as fast as other material lifts.
The new Xtreme XR1056 telehandler is designed to handle tough environments. The high-pivot telehandler is equipped with a heavy-duty steel frame, chassis and boom, and a compact, four-section boom for improved maneuverability and increased boom rigidity. Powered by a 74hp high torque engine, the XR1056 can lift up to 10,000 pounds and can reach up to 56 ft. It includes a new automatic powershift transmission, a remote-mounted electric over hydraulic HAWE valve, and a more spacious cab. It will be available to order in the fourth quarter.
The manufacturer will also be extolling the benefits of boom rollers that are utilized across the Xtreme telehandler line. Boom rollers provide an alternative to slide pads, eliminating boom chatter and providing a smoother operation for precision handling of loads, says the manufacturer.