Genie debuts updated legacy booms
By Lindsey Anderson07 March 2017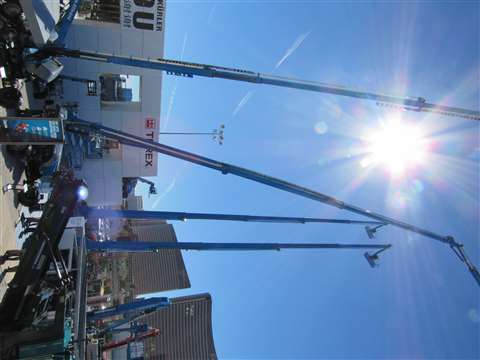 Genie used ConExpo, March 7-11 in Las Vegas, to show its updated legacy booms amongst a number of other products. The new Genie SX-105 XC and SX-125 XC booms are engineered to work in more applications that require higher capacities.
The XC line stands for "Xtra Capacity," and all Genie XC booms combine the benefits of a dual-envelope design to provide an unrestricted range of motion with a platform capacity of 660 pounds (300 kg) and a restricted operating envelope capacity of 1,000 pounds (454 kg).
With the dual lift capacity, these new XC boom lifts are geared toward heavy lifting in the construction and maintenance of stadium and sports arenas, gas and oil refineries, industrial and telecommunications applications.
The SX-105 XC and SX-125 XC booms have a number of new features including 80-feet (24.38 m) of outreach, the ability to work 8 feet, 10 inches (2.69 m) below grade and a 12-foot, 11- inch (3.94 m) by 13-foot, 6 inch (4.11 m) operating footprint.
"Keeping the focus on operators' needs by updating the machines' user interface and designing simple, easy-to-use booms, these models are engineered to deliver a higher rental return on invested capital (rROIC) for customers' businesses," the company said.
"Thanks to new technology incorporated into the design, Genie XC booms will carry more load than ever before, and some models will be able to work on higher slopes, giving the machines the unparalleled ability to complete higher capacity jobs in a wider range of applications," said Adam Hailey, Genie director of product management, Terex AWP.
Also on stand was the Genie GTH-844 rough terrain telehandler that now comes with a 74-hp (55 kW), Tier 4 Final engine option. With 287 foot-pounds (389 Nm), this new GTH-844 telehandler is equipped with a high-torque version of the Deutz turbocharged 3.6 L engine that has been optimized for 74-hp performance. These features combine to offer similar torque as higher horsepower engine packages with reduced maintenance needs, as there is no regeneration or diesel exhaust fluid (DEF).
"An engine has a big impact on a machine's overall rROIC (rental return on invested capital) so we kept things simple and cost-effective with the updates to our popular GTH-844 telehandler," said Genie Telehandler Product Manager Anders Mantere. "By optimizing the drivetrain, and utilizing the new high-torque, 74-hp engine, the GTH-844 is a less complex machine at a lower price point — offering full-sized performance at the right-sized price."
In addition to the new 74-hp version, Genie continues to offer a 99-hp (74 kW) Tier 4 Final Deutz 3.6 L diesel engine, as well as a 99-hp Tier 4 Final Perkins turbocharged diesel engine. "Giving our customers a choice of engines enables them to pick the machine that best matches their fleet needs, at a price point that drives the best rROIC for their bottom line," said Mantere.
The GTH-844 features an 8,000-pound maximum lift capacity, a 43 foot, 10 inch maximum lift height and a 28 foot, 2 inch maximum forward reach. Its proportional frame-leveling chassis with dual cylinders allows operators to pick or place loads up to 10 degrees on side slopes and its multi-functional, proportional joystick gives operators fast, precise load positioning capabilities.
Genie also had its low-emission articulating Z-60/37FE boom. Driven by high-efficiency AC motors, the new fuel-efficient model combines the benefits of advanced diesel power, four-wheel drive performance and the cleaner, quieter efficiency of compact, low weight electric-powered booms, Genie said.
The Genie Z-60/37FE boom provides the choice of two modes of operation: Full-electric, which means full-day, emissions-free performance on a single charge, or hybrid mode, which provides more than a week of run time with a single tank of diesel.
In hybrid mode, the machine uses its 24-hp Tier 4/Stage IIIB Final engine-powered generator to maintain the battery state of charge or to supplement the battery power to get a boost in machine performance. To keep productivity high and maintenance costs low, its engine-powered generator constantly monitors the battery state, keeping them topped off for maximum run time, then automatically shutting off to minimize fuel consumption. For extreme usage conditions or after heavy full-electric operation, the hybrid power system can provide a bulk charge within approximately four hours. The hybrid system can also provide power directly to the four-wheel AC drive motors, allowing the system to combine the power of the diesel driven generator and the 48V DC battery pack, maximizing performance when climbing hills and taking on the most rugged terrain.