Cat shows TH514D at ConExpo
By Lindsey Anderson09 March 2017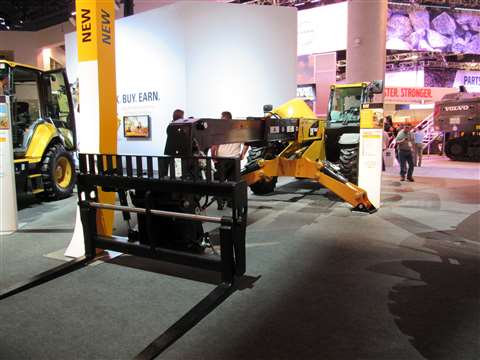 Cat's new TH514D telehandler made its world debut at ConExpo this week. The low boom model is specific for the North American market and future units in the D series will also only roll out to North America, said Mike Peterson, telehandler product application specialist for the company.
The new TH514D has many improvements over its predecessors, including increased lift height, a tighter turning radius, better operator visibility, longer forward reach and hydromechanical advancements.
The unit has an 11,000-pound lift capacity and a maximum lift height of 45.6 feet. Capacity at maximum lift height is 4,400 pounds and capacity at maximum forward reach is 600 pounds. With stabilizers down, capacity at maximum lift height increases to 7,000 pounds.
The company has added 20 new work tools for its D series of telehandlers, including a larger concrete bucket and a 360-degree fork rotator carriage that allows operators to dump materials easier, Peterson said. A lifting lug has been added under the unit's boom and allows the telehandler to lift loads at its full rated capacity.
Options for the TH514D include a heated air suspension seat, display screen with pre-loaded load charts, rear view camera, reversing sensors and air conditioning.
Cat's telehandlers are manufactured by JLG Industries, Inc., an agreement that has been in place since 2005.