Jaguar-Land Rover employs Genies
By Euan Youdale12 March 2018
The Jaguar-Land Rover plant construction site. 
Employing up to 4,000 construction workers and 648 machines, construction of the new Jaguar-Land Rover (JLR) production plant in Nitra, Slovakia, first began in November 2016.
To assist in the impressive new build, Slovakian- and Czech-based Genie authorised distributor and service provider Statech SRO has supplied 120 Genie boom lifts and scissors lifts to JLR and its sub-contractors.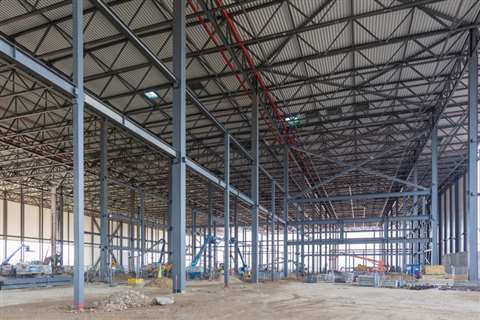 Models included a broad mix of S-85 and S-105 telescopic boom lifts; Z-135/70, Z-60/37 DC, Z-62/40, Z-51/30J RT and Z-45/25J RT articulating boom lifts; and Genie GS-3384 RT to GS-4390 RT scissor lifts. Having worked almost non-stop for the past two years, many will remain on site until the first Land Rover Discovery rolls off the production line at the end of this year.
Offering maximum working heights from 14m to 43.15m, and maximum lift capacities from 227kg to 1,134kg, the machines were primarily involved in the erection of the steel structure of the main production hall and the paint shop. At a ceiling height of 28m, the latter is the site's tallest building. With less than a year to erect their frameworks, walls and install the roofing, the buildings' outer shells were completed as scheduled between August and September last year.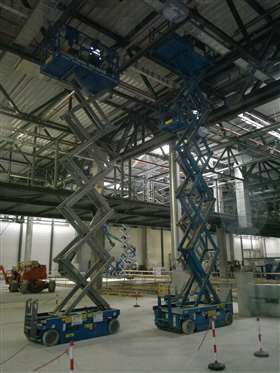 "The stakes of this mission are high," said Vladimir Pauliny, managing director at Statech Slovakia, "Working from start to finish in tough conditions to a strict delivery date, the job demanded machines capable of enduring intensive operation and performing reliably for months on end. So far, even during extremely high temperatures last summer, we can certainly say that the Genie machines have lived up to their reputation in all respects."
Supporting customers across 16 countries in Central and Eastern Europe, Statech has more than 11 years' experience in MEWPs.
Now into the final stages of the plant's construction, the Genie platforms are involved in assisting in the installation of electrics, air-conditioning, sprinkler systems and production-line components. They are also taking part in the construction of new buildings for JLR sub-contractors.