Intermat 2018 preview
By Steve Ducker15 March 2018
Here are some of the exhibitors
Arden Equipment
The Arden Tilt, which incorporates the technology of a tilting system, allows tilting of tools up to 180°. It is compatible with the Quick Arden (QA) and Uni Arden (UA) couplers. The rotating system is a simple mechanism made of a central shaft and ring-shaped piston. The technology uses moving splines that make it possible to convert the movement of the piston into a rotational movement, which allows the shaft to tilt. Arden says that now with they have less equipment on their sites, users can increase the versatility of their excavators and backhoe loaders while ensuring tilting of any buckets or other attachments.
Brokk
The Brokk 110 is described as the new generation of demolition robots, with a new Brokk SmartPower electrical system and a reinforced design. Despite its reach and power, it folds up into a compact package that can climb stairs. It is suitable for a variety of residential, commercial and industrial environments.
Case Construction Equipment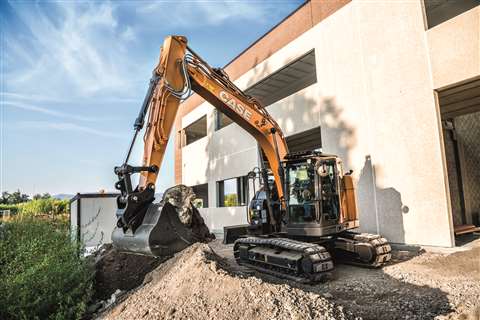 Case Construction Equipment will show its product offering for a range of industry sectors and its stand will consist almost entirely of models introduced in the past 12 months.
These include the 1650M dozer, which features premium selective catalytic reduction technology developed by FPT Industrial, while the Iveco Stralis X-Way range is designed for urban missions.
The CX145DSR crawler excavator is suitable when space is limited and along with other models in the SR range brings all the benefits of the D Series.
From the C Series of mini-excavators, the CX17C and 2.6 t CX26C will be on display.
Dynavis
Evonik will return to Intermat to highlight how hydraulic fluids formulated with Dynavis technology can show what higher productivity and improved fuel efficiency could mean for equipment owners.
Dynavis is a technology for formulating hydraulic fluids that optimises their viscosity. Fluids with constant viscosity ensure greater efficiency, less energy consumption and can offer an overall fuel savings of 5 to 20%.
One of the highlights at the stand is a pair of "Efficiency Bikes". Both drive hydraulic pumps comparable with those used in construction machines. One of the hydraulic systems contains a Dynavis fluid and the other a conventional hydraulic fluid. A liquid column indicates how much more efficiently the Dynavis fluid functions as the "cyclist" provides the pumping power.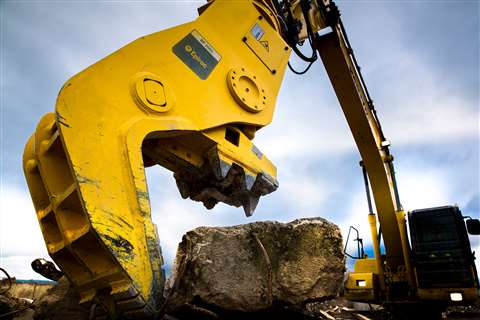 Epiroc
Intermat will mark the official launch of Epiroc for the French market following the announcement that the hydraulic attachment tools division of Atlas Copco has become part of the brand. Products on display will feature hydraulic tools including the SB202, SB1102, MB 1200 Dust, HB 3600 and HB 7000 hydraulic breakers; MG 400 multi grapple; BP 3050 bulk pulverisers; CC3700U combi cutters; HC 350 hydraulic compactor and CB 350/CB 2500 concrete busters.
The event is also the world premiere of the patented IPS Intelligent Protection System for hydraulic breakers, which combines Epiroc's AutoControl and StartSelect functions.
Geith
Geith was founded in Ireland in 1959 and specialises in excavator attachments, couplers, buckets, power tilts and rippers that range in weight from 1 to 85 t.
With manufacturing facilities in Italy, Portugal, China and North America, the company enjoyed a positive year in 2017 with sales of 11,000 hydraulic couplers, a similar number of buckets, and more than 500 power tilting couplers.
Products on show at the event this year include universal pallet forks, hydraulic couplers for 1 to 3 t machines and extreme rock duty buckets for demolition works.
The power tilt offering has also been extended to machines in the 2 to 4 t range.
Hidromek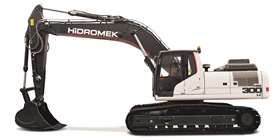 Turkish company Hidromek, which manufactures excavators and loaders, celebrates its 40th anniversary this year. It has almost 2,000 employees and production facilities including five factories in Turkey and a sixth in Thailand.
At Intermat it is set to launch the HMK 60 CR midi crawler excavator and HMK 145 LC SR crawler excavator.
It will also exhibit four models from its backhoe loader product group, two wheeled excavators and the HMK 220 NLC, HMK 300 LC, HMK 390 LC HD and HMK 490 LC HD wheeled excavators.
The, HMK 640 WL wheeled loader, launched in 2017 with an operating weight of 26.3 t, will also be on show.
Keestrack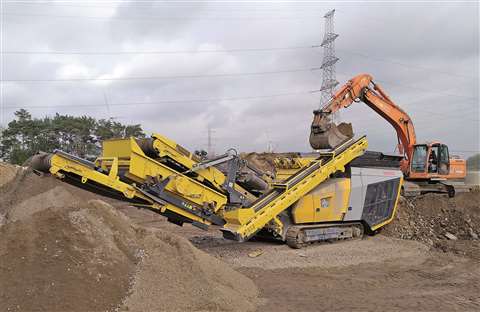 Belgium-based mineral processing technology specialist Keestrack will unveil a new design for its R3e track-mounted impact crusher unit.
The company says the 30 t model offers all advantages of the mature diesel electric hybrid concept, which it is implementing as an alternative drive system in more and more product ranges of its highly mobile crusher and screening plants.
At the heart of both versions is the high-performance 48 ICR 100-00 impact crusher with a 770 x 960 mm (30 x 37 in) inlet opening, and which has a crushing efficiency up to 250 t/hr thanks to the heavy-duty 920 mm (36 in) rotor.
Kobelco
Intermat will be the first presentation of the SK500LC-10, Kobelco's biggest conventional earthmoving and construction excavator. The Generation 10 machine is particularly notable for being designed to provide exceptional low emissions and increased working performance to maintain working efficiency. It is also the latest excavator from the company that complies with the Stage 4 (Tier IV) exhaust emissions regulations.
Komatsu
Komatsu will present a range of more than 30 machines on a 3,200 sq m (34,000 sq ft) indoor stand as well as showing its technologies in a 2,000 sq m (21,500 sq ft) outdoor area.
The company's Machine Control technology will take centre stage with the PC210LCi‐11 excavator with its automated tilt bucket showing this technology, which Komatsu says boosts the efficiency of Komatsu machines.
Launched a decade ago, Komatsu's hybrid technology will be represented by the HB365NLC‐3 machine in "narrow" configuration.
Komatsu's growing range of MR‐5 utility excavators, designed for working in tight areas will also be showcased, while in addition the demonstration area will feature the PC390HRD‐11 demolition excavator in action
Liebherr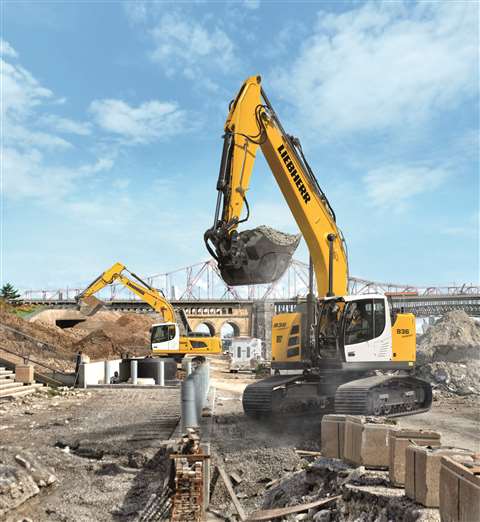 Liebherr will exhibit several new products at Intermat, which include some world premieres, the latest digitisation solutions and the Liebherr Reman programme.
The group will present a cross-section of the latest machine technology in an outdoor area approximately 4,500 sq m (48,500 sq ft) in size.
The R 936 Compact crawler excavator will also be on display for the first time in France.
It has an operating weight of around 35 t and is ideal for use where space is limited.
Mecalac
The electric version of Mecalac's 12 MTX fits within the company's philosophy of moving towards urban sites that are ever-more compact, high-performance and environmentally friendly. The architecture of the internal combustion version of the 12 MTX makes it the natural forerunner of the electric version, so the emplacement for an internal combustion engine now houses LiFePO4 battery technology that combines service life with safety.
With a structure designed for the city from the outset and two independently operating electric motors, one powering the excavation mechanism and one for movement, the e12 can work all day without needing to recharge its batteries: a range of eight hours at the highest power output.
Montabert
Montabert will introduce two new breakers, the V6000 and the V7000. Weighting 6 and 7 t respectively, they will complete the range which equips carriers up to 120 t.
Three patents have been filed for the products – one of which is related to the hydraulic cushion and piston centring while the others are linked to the new variable energy adjustment system.
Other new technologies have been included in the design of these two breakers, such as the dual lubrication circuit. Moreover, these breakers have been engineered for operator safety and ergonomics. Wear parts are easy to change, and noise levels have been reduced to a minimum.
Off-Highway Research
Off-Highway Research will use Intermat to present updated forecasts on the global construction equipment industry and launch new market intelligence products.
Among these will be the Global Volume & Value Service Plus. This will build on the company's existing Global Volume & Value Service, which provides worldwide equipment sales broken down by country and equipment type in both unit (volume) and US dollar (value) terms.
The enhanced Plus Service will go into greater detail, with sales by up to six weight/size classes per product type, again in unit and dollar terms.
This will provide 524 data points per year, compared to 224 in the standard service.
Volvo CE
Volvo Construction Equipment company will feature a range of machines including the EWR170E short-swing radius wheeled excavator and ECR355E short-swing radius crawler excavator.
Visitors to the indoor and outdoor areas will be able to learn how to get more out of these machines using Volvo Co-Pilot and the complete range of assist functions – Load Assist, Compact Assist, Dig Assist and Haul Assist. The high definition on-board display provides operators with all the real time data necessary to carry out tasks as accurately and efficiently as possible. Outdoors, visitors will have the opportunity to see the new Volvo EW240E MH material handler in the dedicated demolition and waste management zone.
Wacker Neuson
The Wacker Neuson group is represented with new products from the Wacker Neuson and Kramer brands. The battery-powered and emission-free vibratory plate AP1850e expands Wacker Neuson's zero-emission range. With the 8155 model, Kramer presents a new all-wheel steered wheeled loader in the 9 t class.
Examples from Wacker Neuson's comprehensive excavator portfolio ranging from 800 kg (1,760 lb) to 15 t will also be on show, including two new models in the 3.5 t class. The area of compaction technology will be represented by various rammers, vibratory plates and roller models.
Wirtgen
Wirtgen group member company Kleemann is showing the Mobicat MC 120 Z PRO mobile jaw crusher. It achieves an hourly output of up to 650 t and can be operated with an optional external power supply. Operation of the PRO plants and the MR EVO2 series is via the Spective control system.
Like the Mobiscreen MS 952 EVO mobile screening plant, the Mobirex MR 110 Z EVO2 impact crusher can also be used flexibly in recycling and natural stone applications. The plants in the EVO series impress with compact transport dimensions, short set up times and simultaneously high performance for use at alternating locations.