Mecalac enters electric race with e12
By Murray Pollok24 April 2018
Mecalac showed a prototype electric version of its 12MTX excavator at Intermat. The French manufacturer said the e12 model will be in production by mid-2019.
A pack of LiFePO4 batteries will provide up to 146 kWh power and 8 hours operation and will take 6 to 7 hours to recharge. The batteries make the e12 around 1 tonne heavier than the diesel version.
A spokesman for Mecalac said at Intermat that the e12 was the first of a series of electrification projects underway. He said such models were important for the company given its focus on compact machines used in urban settings.
Trials are still underway for the e12, but indications are that maximum travel speed will reduce from 32 km/h to 22 km/hr, while duty cycles will be the same as the diesel model. It will also have the same digging and lifting capacities.
In addition, Mecalac showed the first all-new dumper models following its acquisition of the Terex dumper models. The new 6 tonne 6MDX and 9 tonne 9MDX, both built in Coventry, UK, feature 55 kW Perkins engines rather than the JCB power units, have fully enclosed and isolated operator cabs, and have been designed to share the styling of Mecalac's other products. Non-cab versions will also be produced in the future.
Available in the fourth quarter of this year, the two models will be built in parallel with the existing full range of former Terex dumpers, which are still available. The new Mecalac-designed range will be expanded beyond the 6 and 9 tonners.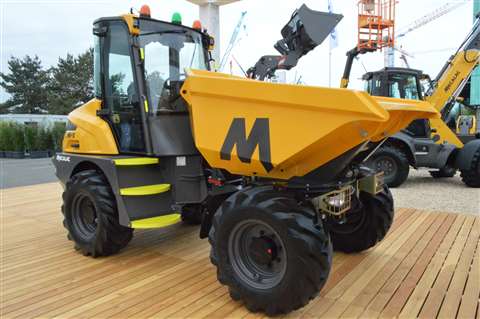 Features include stop-start and idle shut-off functions for the engine, and a standard safety feature requires the operator to be seated and with seatbelt on before the dumper will operate. A smartphone or tablet App will also allow the machine owner, or a rental company, to set operational parameters such as speed.