Ruthmann announces E-Generation
By Euan Youdale25 April 2018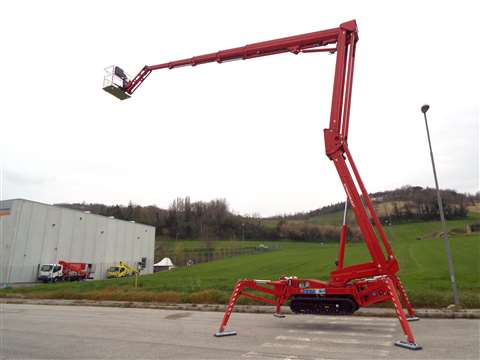 Ruthmann has presented its new 90m truck mount, a 31m tracked platform and announced a new line of hybrid truck mounts at Intermat.
The new series of E-Generation truck mounts will be launched in coming months.
It will consist of hybrid versions of existing Ecoline products from the manufacturer's Ruthmann Italia division. A fully-electric vehicle is also in the pipeline, when the cost of this equipment becomes less prohibitive.
The first models will be the 16m and 18m working height Ecoline 160 and Ecoline 180, and the plan is to launch them into the US market in the next year. The electric version will be represented by the TBRE 280 mounted on an Iveco chassis powered by an electric motor, which, at the moment, is priced too highly to be a practical.
The E-Generation truck mounts will use knowledge from the division's Bluelift line of tracked platforms, which have offered hybrid systems for years.
As previously announced the manufacturer was also launching its Sky performance Steiger T 900 HF. The objective in developing this machine was not just to construct a platform with a working height of more than 90m, but to meet the needs of the market.
A key feature is the 42m lateral outreach. It is also equipped with the patented DRS (Dynamic Reach System) and dual Concept, which allows extensive reach and up and over possibilities.
The T 900 HF is the first model with the DRS feature, which uses the the control system to allocate maximum performance for each application. The highflex technology, launched on previous machines, enables flexible 'up, over and back' working when used on elevated sites, thanks to 440° basket and 220° jib rotation angle.
Ruthmann also launched a new Bluelift model at the show. The SA 31 is designed for previously inaccessible working areas as well as everyday applications.
Features include up to 31m working height and 17.3m outreach, at 120kg, and a clearance width of 1m. It means the lift can easily pass through a single-leaf industrial door anmd has a short overall length of 5.75m. A movable jib boom as well as a cage rotating device ensures a secure handling.
The SA 31 offers automatic positioning and asymmetrical stabilisation as standard and requires a minim stabilisation area of 3m x 5.99m. The low net weight of 4,700kg ensures a very low ground pressure, which means the load point of the stabilisers is reduced. The foot plates, newly developed for the SA 31 are a further guarantee of a safe working with low pressures.