Manitou debuts new telehandler range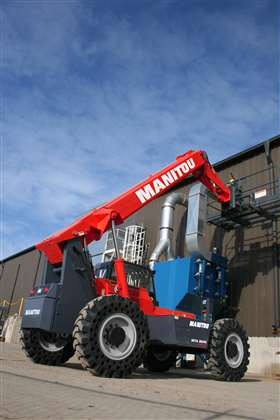 Manitou has introduced a new range of telehandlers. The MTA Easy74 products have been designed specifically for the North American rental market and the lineup includes three 74-hp models: the MTA 6642 Easy74, MTA 8044 Easy74 and MTA 10055 Easy74.
"The Manitou Easy74 models were designed with the rental industry in mind," said Steve Kiskunas, product manager – telescopic handlers, Manitou Group. "Understanding the typical demands to maintain and support Tier-IV construction equipment, we chose to provide a 74-hp option without at DEF system for our already popular Manitou MTA telehanders. Our rental customers, especially, will benefit from the simplified maintenance."
Developed from the MTA Series III telescopic handlers, the new Easy74 machines are powered with a Tier 4, 74-hp (55 kW) Cummins turbocharged diesel engine providing 295 foot-pounds (400 Nm) of torque at 2,500 rpm. The engine requires DOC exhaust treatment and does not require regeneration. This new engine package is coupled with a Dana 4-speed powershift transmission allowing full-time 4-wheel drive, 3 steering modes and machine travel speeds up to 15 mph. All lift and height capacities remain the same as the Manitou MTA Series III models, Manitou said, and the MTA Easy74 machines also have Manitou's 1,000-hour extended oil change service intervals.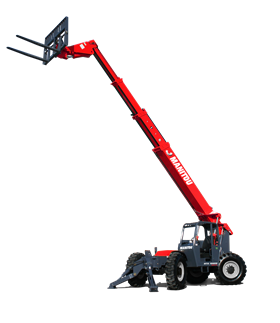 The MTA Easy74 telehandlers are equipped with a single all-in-one joystick control.
"This feature allows the operator to control all functions of the boom including extension, retraction, attachment tilt and auxiliary hydraulics, as well as select directional drive on the same single joystick," the company said in a statement. "This design allows the operator to leave one hand on the steering wheel at all times and control all other machine functions with the other hand.
"The all-new MTA Easy74 telehandlers are ideal for rental. With no regeneration or diesel engine fluid (DEF) required, the Manitou MTA Easy74 will deliver a solid performance by providing low maintenance requirements, a reduced cost of ownership and a greater return on investment."