Wind power transport: Winds of change
With rapid growth forecast for the global wind power industry, innovation is abundant when it comes to transporting wind turbine components. Christian Shelton reports
The global wind power industry is growing. According to the Global Wind Energy Council – an international trade association for the wind power industry – which compiles an annual Global Wind Report surveying the world market – in 2017 wind power provided close to 5 percent of total global power supplies. And it forecasts rapid future growth for the sector.
In this maturing market, one of the main ways to transport wind turbine components on land is to use a trailer. For example, the Telemax flatbed trailer and the Combimax low loader concept from manufacturer Faymonville in Luxemburg have become established solutions for transporting wind turbine components. The Telemax can extend to 64 metres and can carry rotor blades up to 75 m long, while the Combimax series can be used to transport wind tower elements using a range of compatible components that can be tailored to meet the necessary transport requirements of the job at hand.
A new development for the Combimax is the introduction of optional tower adapters for the transportation of wind turbines with different lengths. German freight forwarding company Meier & Sohn has already bought one and it enables a lifting load of 100 tonnes, Faymonville says.
Longer trailer alternative
An alternative to purchasing a new trailer for the hauling of wind turbine components has been introduced by US company XL Specialized Trailers. The company says its new patent-pending BladeMate Flip Extension provides significant cost savings to hauliers over purchasing a new trailer.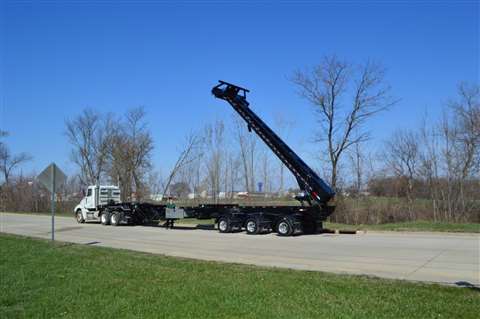 The 27 foot (8.2 m) Flip Extension can be added to the rear of any blade-hauling trailer and, once the blades have been delivered, the driver can fold away the Flip Extension and retract the trailer, potentially benefiting from reduced permit costs.
Hydraulic cylinders are used to move the extension up or down and the cylinder linkage can be unpinned and lowered flat to allow for more loading space. The rear bolster, at the end of the Flip Extension, has a capacity of 20,000 pounds (9 tonnes) making it suitable as a rear-loading platform for a two-point load set-up.
Heavy and specialized transport equipment manufacturer Goldhofer has launched the BladeX blade tip lifting device (technical name: FSH10). It is a rail-mounted solution designed for installation on any Goldhofer flatb ed semitrailer with pendular axles. The device is designed as an autonomous system; its own power unit makes it independent of the vehicle's hydraulic and electrical systems. A built-in push beam enables the system to be moved freely along the cargo deck when the length of the semitrailer is adjusted under load. The device can handle rotor blades with a length of up to 80 m and it has a payload capacity of 10 tonnes.
An integrated scissor lift enables the blades to be raised by up to 7 m (so that the deck of the BladeX is about 10 m above the ground). In this position, Goldhofer says, the blade tip can swivel over obstacles and narrower passages can be negotiated. The semitrailer deck can also be retracted under load. According to Goldhofer, the combination of reduced vehicle length and flexible lift height facilitates progress on roads with sharp bends. The wind speed and tilt can be checked via remote control.
Specialist transport group, the Adams Group – which has locations in Luxembourg, Belgium and Germany – has purchased three new BladeX wind turbine blade tip lifting devices and an FTV 500 blade transporter.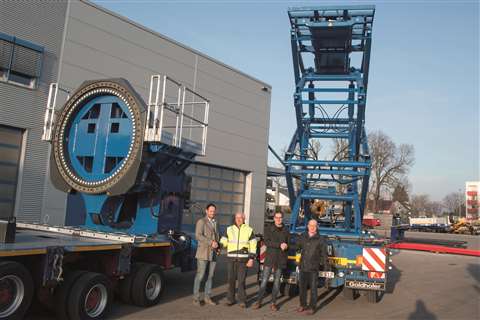 The FTV 500 blade transporter holds the turbine blade at the hub connection, enabling them to be hydraulically raised to an angle of up to 60 degrees. Goldhofer said this enables rotor blades to be transported to locations that are inaccessible with normal semitrailers.
Peter Adams, founder and general manager of the Adams Group, commented, "For us, rotor blades for the wind power industry are an everyday cargo. The FSH enables us to offer rotor blade transport services with much shorter transport times on a highly cost-effective basis. We are now in a position to quickly transport a large number of blades and also offer reliable delivery to sites with poor access."
The wind industry is one of the most innovation-driven industry sectors around, surmises the Global Wind Energy Council. And, as the examples in this article demonstrate, innovation is present at all levels of the industry – starting with the transportation of components.
"Wind power is leading the charge in the transition away from fossil fuels and continues to blow away the competition on price, performance and reliability," concludes Steve Sawyer, GWEC secretary general. "Both onshore and offshore, wind power is key to defining a sustainable energy future." With such a positive outlook, the winds of change appear encouraging for equipment manufacturers and specialized transportation companies involved with the business of transporting wind turbine components.
Viral video
In 2017 a video of a Nooteboom Super Wing Carrier owned by Scottish haulage company McFadyens Transport went viral. The footage was of McFadyens transporting a 57.5 metre blade around a 90-degree corner on its SWC trailer. According to Nooteboom, the video received more than 60 million views, likes and shares since October 2017 and was picked up by many international news channels. The video can be seen on Nooteboom's YouTube channel here: https://bit.ly/2kz9fYB
Best practice guidelines make progress
Plans for a new best practice guide governing the transport and erection of onshore wind turbines are on track following the latest meeting of experts in Hamburg, Germany.
Talks have been ongoing for more than a year as part of an attempt to improve safety standards and onsite efficiency. Work is focused on the methods of calculating the ground bearing pressure for crane pads, along with common dimensions and standards for access roads.
"We want to get the industry as a whole to agree a baseline", said David Collett, managing director at UK-based Collett Group and president at ESTA, the European association of abnormal road transport and mobile cranes. "The idea is not to stop a project going ahead, but if it does not meet baseline standards then much greater consideration should be given to how it can be safely managed."
The discussions are being led by ESTA with the support of the crane manufacturer members of FEM - the association of lifting equipment manufacturers in the EU - plus VDMA Power Systems, the part of the German Engineering Federation whose members include the major turbine manufacturers.
Safety concerns have been growing with the development of new, bigger turbines with greater hub heights, downward pressure on costs along the supply chain and the increasing use of hard-to-access sites with difficult ground conditions.
ESTA, FEM and VDMA Power Systems plan to produce a core best practice document, backed up by more detailed technical guidance, for example, the FEM 5.016 Guideline – Safety Issues in Wind Turbine Installation and Transportation (EN – 2017).
Sarens Moves at Van Oord
Dutch international dredging and offshore contractor contractor Van Oord commissioned heavy lift and transportation specialist Sarens to load out a 580 tonne pile template in Wallsend, Newcastle Upon Tyne, United Kingdom.
Van Oord is installing 102 three-legged jacket foundations for Scottish Power Renewables, which is building the East Anglia ONE offshore wind farm in the North Sea. The equipment Sarens used for the job comprised: three six-line SPMTs and PPUs; six CS250s with 4 metres of cartridges and bracings; a 400 tonne mobile crane; a 220 tonne mobile crane; 21 m of bridge beams (converted to link spans); and ballast pumps and winches.
The pile template was 38 m in diameter. Sarens said it had to support it on all node points and ensure that it was in line with the link span design, which meant it had to be picked up within millimetres of the transport design plan.
An online video of the project can be seen at: https://bit.ly/2H31inh
Plant Speed uses three new Super Wing Carriers
UK heavy haulage specialist Plant Speed has put three new Nooteboom three-axle Super Wing Carriers (SWC) into service (OVB-67-03(QP) models). The Super Wing Carriers were especially developed for the transport of ultra-long rotor blades. Paul Lomas, owner of Plant Speed, comments, "The current generation of windmills have a blade tip height of up to 200 metres and rotor blades that are 70 metres long. It is no longer possible to transport these rotor blades with conventional extendible trailers. Nooteboom's SWC has established an excellent reputation internationally. This type of trailer is used throughout Europe as standard for the transport of ultra-long rotor blades. This makes our decision of opting for the Nooteboom SWC a completely logical one."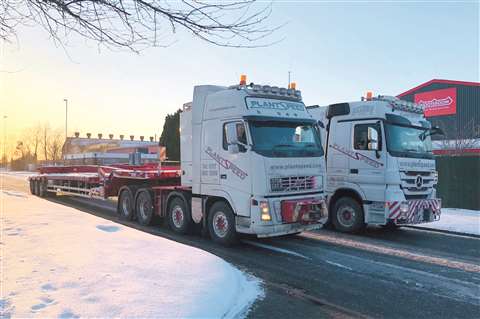 Unique grillage design from Conbit
Dutch special lifting and structural engineering company Conbit, part of heavy lift and transport group ALE, says it has developed a unique grillage design as part of a collaborative scope for the offshore Hornsea Project One wind farm, located in the North Sea. Once finished, the wind farm will be one of the biggest in the world.
Conbit is providing the specialist offshore engineering for ALE, who has been contracted by Danish power company Ørsted to provide the marine transportation, sea-fastening, load-out and ballasting of over 100 transition pieces (TPs) for Hornsea Project One.
Conbit says it used its structural engineering expertise to conduct the structural integrity and sea fastening calculations of the grillage, which will be used on the barge deck of the company's latest purchase: the SARAH S barge.
Once on the barge, the TPs are being transported on the River Tees to their discharge berth. Conbit says it also designed monopile cradles for storing the monopiles at the quay. It also says it has enhanced the hydraulic stability during the monopile positioning in relation to the sling configuration used for loading onto the SPMTs and positioning within the support cradles.
So far, ALE says it has loaded-out the first five TPs and successfully completed the first discharge onto the installation vessel.