Strong increase in 2018 IRN100
By Joe Malone25 June 2018
Revenues for the top 100 equipment rental companies in the world grew 8% on a like-for-like basis, according to the 2018 IRN100 league table.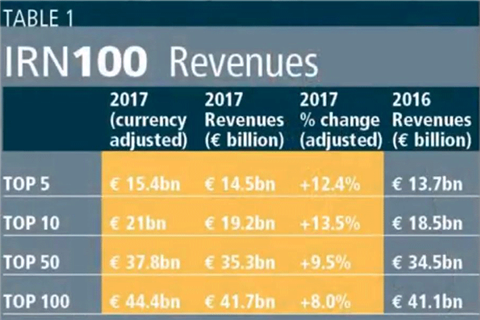 A total of €44.4 billion was estimated, when stripping out the currency adjustments from the end of 2016 to the end of 2017. In real terms, with the exchange rate measured from 31 December 2017, revenues were €41.7 billion for the top 100, showing the appreciation of the euro against other major currencies.
This was still a growth of 1.5% on last year's total of €41.1 billion, though, with major acquisitions having a big impact on some companies' revenues.
United Rentals, for example, recorded revenues of €5.29 billion in 2017, following the acquisitions of NES Rentals and Neff Corp last year. Loxam also saw a major rise, from 7th to 5th in the table, with revenues increasing from €927 million to €1.37 billion – up 47%. Loxam made a host of acquisitions last year, including Lavendon Group and Hune Rental.
The growth is ahead of estimations given by the European Rental Association (ERA) and the American Rental Association (ARA). For European companies, like-for-like growth was around 4.5-5%, with the ERA forecasting 3.1% for the same period. In the US, growth was more than 10%, while the ARA forecast 4.5-5% for the same period.
A new entrant into the league table this year was Williams Scotsman. Last year, the company was sold by its then-parent company Algeco Scotsman. Williams took 31st place in the table, with revenues of €372 million.
The top spender in 2017 was United Rentals, with a capital expenditure of €1.54 billion. Ashtead Group also spent €1.02 billion on new fleet.
A video analysis is available on the website – just click the picture (above) to watch.