Bobcat launches R-Series minis
Bobcat has launched its R-Series mini-excavators from 2 to 4 t. The new range of five compact excavator models – the E26, E27z, E27,E34 and E35z – offers a best-in-class mix of high digging forces, superb stability and smooth controllability of working functions complemented by low weights for easy transportation.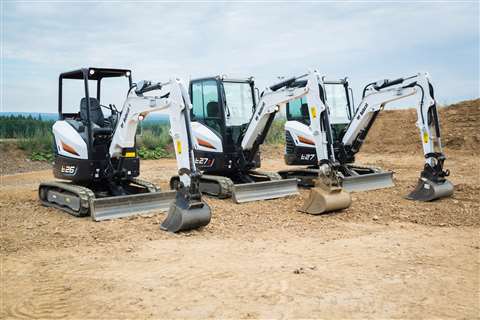 The new excavators introduce many state-of-the-art features and use newly developed flexible machine platforms that allow different configurations of models and specifications to suit a range of applications and customer needs. In addition, the development team has ensured they offer greatly enhanced operator comfort and functionality and the best fit for key applications.
Jarry Fiser, product line director for Bobcat Mini-Excavators in Europe, the Middle East and Africa, said: "The current compact excavator line-up has been one of the most respected products in the industry. Now backed by nearly five years of development work, we are raising the bar even further and we are confident that we are now offering the best-in-class machines available."