Major changes at Doosan 'working well'
By Sandy Guthrie10 August 2018
Changes to the way Doosan operated in Europe were announced last autumn – and they were major changes that were aimed at strengthening the South Korean company's position in the EMEA (Europe, Middle East and Africa) region.
It announced then that it would be transferring its heavy industrial subsidiary Doosan Heavy business from Doosan Bobcat to its infrastructure support business Doosan Infracore from the start of 2018.
According to Charlie Park, CEO of Doosan Infracore Europe, "It is working very well so far.
"Now as a part of this organisational change, the entire value chain of Doosan-branded business is sitting in one office as one team, making it extremely efficient to make cross-functional communication and collaboration. This is helping us a lot."
He said that when it came to Doosan branded equipment, the company needed to maximise the synergy within the product group between the R&D (research and development) function and sales.
Doosan's production is based in Korea, but now there is a customisation centre in Europe.
"The whole idea," said Park, "is that we bring the machine from Korea to Europe, and then we reconfigure the product based on the diverse customer demands. By doing so, we can shorten the lead time and provide better availability for the customer.
"Our specific focus for the European market is to provide better, customer-friendly solutions for diverse European markets."
Local market requirements
The focus for this year, he said, was to provide more special application machines, a wider range of attachments, and to cope with a wider range of local market requirements.
"Local knowledge is important. Our R&D group is sitting in Korea, however we are strengthening our local engineering expertise in Europe to understand those detailed customer requirements better, and to find better ways to service those clients locally."
It is 12 years since Park joined Doosan, and he has mostly worked in strategy, and mergers and acquisitions for the company. He was involved in the early days of the acquisition of Bobcat.
He took on his current role in May 2017, so just over a year into the job, he was able to give his view of the European market.
He said that over two or three years, the market had been enjoying a "solid trend of growth", although he added that he wasn't entirely sure he could actually describe it as a recovery.
"Europe has had quite a few years of continued growth," he said, "moderate but steady growth, and we expect it will continue until 2019.
"In the European mini excavator/compact equipment market, we will see growth by another one to two points, while in the heavy market we expect stronger growth, making total growth for 2018 in the region of 3 to 5%. So we expect another year of very healthy growth."
He said Doosan usually had a conservative outlook on the market. However, looking at the German market – the biggest market in Europe – he said it had grown quite significantly for the past couple of years, and would also continue to grow more than initially expected. As a result, Doosan is predicting industry growth in general that is stronger than it initially expected.
"It's a nice and positive surprise," said Park, "but it's not just about the European market. We are also experiencing the same trend all over the globe – except a small number of regions, including Saudi Arabia."
This trend is causing some pressure on the supply side of things.
"It's not just Doosan," said Park, "but all manufacturers will be suffering from capacity constraint and also the supply shortage of the core components – because core components suppliers are also experiencing capacity issues."
Almost at peak
The market in Western Europe was, he said, almost at the same peak of ten years ago, although southern Europe is not at the same level.
"We keep a very close eye on what is going on, but we feel that there is more room for further growth when it comes to Eastern Europe – or even Southern Europe. China is almost back to the peak level where it used to be, but we see more room for further growth when it comes to SE Asia, Africa, and even the CIS and Russia."
Successful R&D work is crucial to any company, and Park said, "We are launching quite a few new products – excavator ranges, wheeled loader ranges, and also we are launching a range of new products in mini excavators."
He said the current focus of R&D was to extend and fill in the gaps in the line up, concentrating mainly on wheeled loaders
and mini excavators, and he said Doosan felt there was a gap to fill in its excavator range.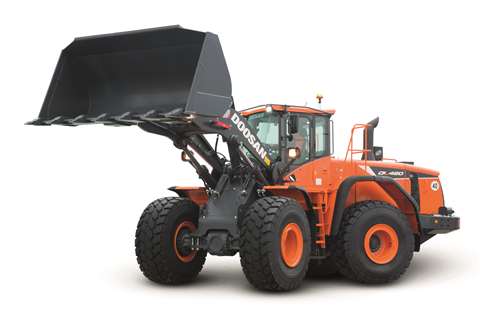 "In Europe, the 9 to 10 tonne wheeled excavator market is growing very fast and we are in the process of filling in the gap.
"Mini excavators are definitely a focus area, followed by wheeled excavators. When it comes to wheeled loaders, we are in the process of improving our competitiveness so when we are faced with new Stage V regulations, we will launch upgraded lines of wheeled loaders."
Diverse market
Park said that although it was called a European market, he saw it as a diverse and wide region when it came to applications and customer expectations about products.
"So our wheeled loaders are well accepted in markets like the UK and Southern Europe, but when it comes to German markets and Nordic countries, our current products need to improve to meet the diverse requirements of different applications better."
He said Doosan wanted to improve the durability aspects of its products further, to suit customers' needs better, and at the same time to provide better attachments solutions to meet those customer requirements.
"Our strategy is to partner with very strong local partners, which has the best advantage of those local requirements, not to internalise everything, but to partner with capable suppliers maximising their expertise on the local market, and then respond to the customer's requirements better."