New wheeled loader for Komatsu Europe
By Steve Ducker22 August 2018
The new Komatsu WA100M‐8 compact wheeled loader features an EU Stage IV engine and the proven Komatsu Selective Catalytic Reduction (SCR) system, a new ergonomic design, a high level of standard specifications and an array of new options.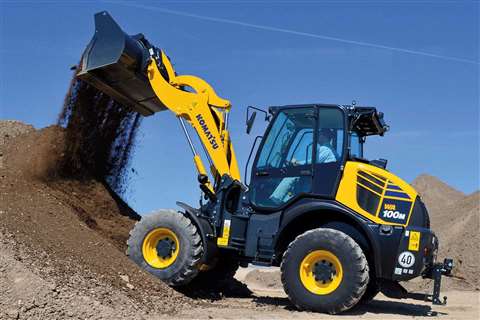 "The WA100M‐8 is built on the strong base of the WA100M‐7," said Sebastian Zienau, product manager at Komatsu Europe.
"And with its many new features and options it opens up a whole new range of versatility. We're really looking forward to offering such a flexible machine to our customers."
The WA100M‐8 has an operating weight of 7,200 kg (15,873 lb). Its EU Stage IV Komatsu SAA4D94LE‐3 engine is also more powerful with 70 kW (94 hp) net. Optimised for tough construction applications, it delivers high torque even at low revolutions per minute.
The aftertreatment system includes an integrated Diesel Particulate Filter (DPF) and Selective Catalytic Reduction (SCR) system. NOx emissions are reduced by 80% using AdBlue, which the company says protects the operator and bystanders and makes the WA100M‐8 ideal for indoor applications.
For improved versatility, available options include increased travel speed (40 km/h), new high flow hydraulics, a new height‐adjustable trailer hitch, and new third and fourth hydraulic circuits on the rear of the machine.
The manufacturer adds that the 6,000 hour cleaning interval typically makes the DPF maintenance‐free for 10 years.