Kiewit/Manson leads the way at World Demolition Awards
A USA-based joint venture proved the value of collaboration when its entry to the World Demolition Awards not only took first prize in the Collaboration category but scooped the overall 'best of the best' award as well.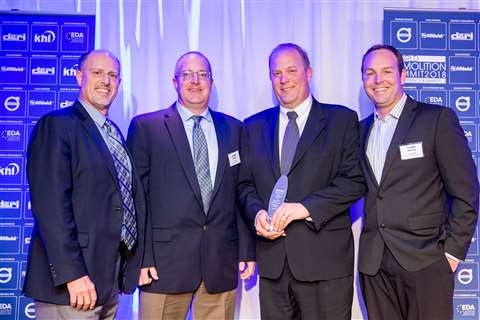 The awards, held in Dublin as the concluding part of the 10th World Demolition Summit, recognise innovation and best practice in both demolition contractors and suppliers of equipment to the industry.
And there was plenty of both qualities on show in the Kiewit/Manson entry, which was for its San Francisco to Oakland Bay Bridge East Span Removal project, executed alongside partner companies Caltrans, Bluegrass Concrete Cutting, Contract Drilling and Blasting, Silverado Contractors, Environmental Science Associates and Ventura Consulting Group.
The nine-man international judging panel, which together boasts more than 300 years of industry experience, said: "To deliver a project 12 months early and generate a saving of US$20 million dollars is truly a world class project and a testament to the foresight and collaborative approach involved."
The company received the award from US National Demolition Association president Scott Knightly at the end of an evening featuring 14 awards shared by 12 different companies.
Two companies – Erith Contractors of the United Kingdom and Despe of Italy – joined Kiewit/Manson in taking home more than one award. Erith won in Urban Demolition over $10 million and Safety and Training – also receiving a Highly Commended in the Civils category won by Mainline Demolition of Australia – while Despe triumphed in Recycling and Environmental and Contract of the Year under $1 million.
Away from Kiewit/Manson, there was North American success for the Adamo Group in Contract of the Year over $1 million, while both manufacturer awards – for Plant and Equipment and Tools and Attachments – will be winging their way back across the Atlantic with Ferma Corporation and LaBounty respectively.
South Africa's Jet Demolition, the Explosive winner in 2017, completed a notable double by taking the Industrial award this time, while its successor in Explosive Demolition was two companies as Cardem of France and the United Kingdom's Safedem shared the honours.
Finally, two more UK-based contractors, Deconstruct UK and Scudder Demolition enjoyed first time success at the awards. Deconstruct was the winner in Urban Demolition under $10 million, while Scudder was chosen for the New Entrant Award for two strong entries in the Urban category.
The World Demolition Summit, including the awards, is organised by Demolition & Recycling International in co-operation with the European Demolition Association with the support of the National Demolition Association of the US. Headline sponsor is Volvo Construction Equipment.
This year was a record entry for the awards but we always need more…if you are interested in entering for 2019 forms will be online shortly and the deadline for submissions is 30 June. Please contact steve.ducker@khl.com for more details.