GPS & Telematics: Joining the dots
By Thomas Allen12 December 2018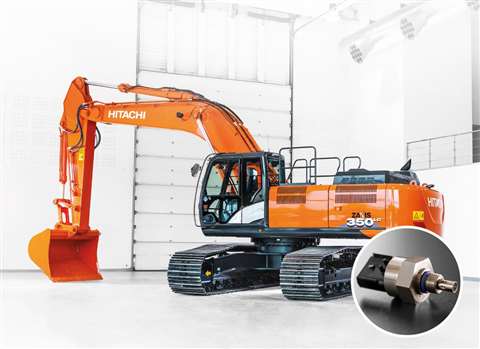 Digital technologies are allowing the construction site to be re-imagined with autonomous machines, modular construction and building information modelling (BIM). Behind all of this, the collecting and sharing of digital information is key as the various elements need to communicate with one another – not least the construction equipment.
Michele Mackenzie, principal analyst for M2M (machine to machine) & IoT (internet of things) services at Analysys Mason, said the main driver of M2M connectivity in the construction equipment sector is the ability to remotely monitor vehicle diagnostics, which helps to reduce failures and downtime.
"It is also enabling fleet management services – location, productivity, vehicle performance and operator behaviour. Remote fleet management is now quite well established, with a clearly understood return on investment," she said.
Mackenzie also added that machine connectivity has opened up new possibilities for construction equipment manufacturers to change their business models.
"In the past, they sold or rented a piece of equipment, and that was largely that. Connectivity allows manufacturers to engage with customers on an ongoing basis, providing them with a service as well as a product."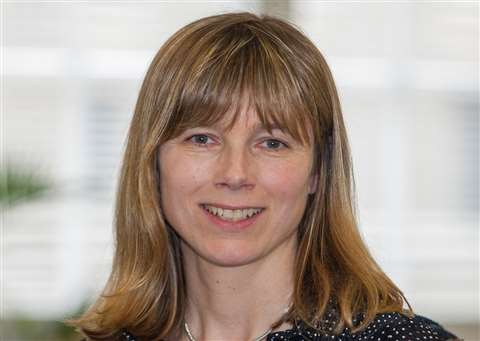 Volvo Construction Equipment (CE), for example, has been using sensor networks to monitor various aspects of machine performance and provide remote fault correction and predictive maintenance.
The company's ActiveCare Direct telematics monitoring and fleet utilisation reporting service offers round-the-clock machine monitoring and monthly fleet reports.
Thousands of machine data points are captured and sent to the Volvo Uptime Centre, where a team of data analysts and a proprietary system monitor and analyse machine health in real time. If a machine requires attention, Volvo communicates with the customer's dealer so that they can respond quickly. The dealer will then alert the customer only when a specific action is necessary, catching problems before they occur.
Monthly fleet utilisation reports help managers to identify opportunities for improving worksite efficiency, such as creating more focused operator training or better service schedules. Volvo CE said the reports reduce the amount of time site managers have to sort through data and alarm codes.
Telecoms networks provide the infrastructure on which telematics solutions rely, with better coverage in some countries than others.
"But even in remote areas with unreliable cellular coverage, machines can be fitted with dual mode cellular/satellite devices to enable connectivity," Mackenzie said.
However, as low-power, wide-area networks are increasingly introduced, Mackenzie suggested "massive IoT" would flourish, with large numbers of battery-powered applications becoming connected.
This could include, for example, wearable devices that monitor how many hours an operator has been working and how fatigued they are.
Oil sensor
One example of a small device that has been added to this growing web of digital connections is Hitachi Construction Machinery's ConSite oil sensor. It has been incrementally rolled out to a number of the company's excavators over recent months.
Failure to manage oil levels correctly can lead to machine breakdowns and the associated costs of repair and downtime. So this device extracts data from two sensors that constantly monitor the quality of an excavator's engine and hydraulic oil in order to improve prognostic detection rates. Data is transmitted on a daily basis to Hitachi's remote fleet monitoring system and the dealer is notified by e-mail or text if the oil quality deteriorates or if the oil becomes contaminated. This promotes a shift from the potentially wasteful model of scheduled oil changes towards a more ad hoc approach.
Data can now be accessed by the machine owner through Hitachi's new ConSite Pocket mobile app.

Alerts go straight to a user's mobile, with an accurate description of the issue and recommendations on what course of action to take. The app includes step-by-step guides for users to troubleshoot problems themselves.
ConSite Pocket also gives users the ability to locate multiple assets at all times, with drop pins indicating their positions on Google maps.
Then, at the end of each month, machine reports can be downloaded and give users the opportunity to compare metrics, such as operating hours and machine health, across months.
Cloud platform
A joint venture company called TTControl has been set up by TTTech Computertechnik and HYDAC International to provide a new end-to-end solution for connecting mobile machines to customers via a cloud platform.
It includes a hardware unit called TTConnect Wave, which is a rugged IoT gateway that connects machines to the cloud through cellular or wireless interfaces and an M2M SIM card, which give access to the TTConnect Cloud Service platform.
The company said the solution was designed to enable OEMs and fleet owners to benefit fully from machine data by optimising both their fleet management and machine design. Up-to-the-minute information on machine status – accessible from any PC or mobile device – opens the way for remote diagnostics, helping to increase the availability of machines. As mentioned by Mackenzie, this presents OEMs with an opportunity to add value by creating new applications and services.
This goes to show how solutions like these are contributing to the trend among some OEMs to provide total site solutions rather than just individual pieces of equipment.
They can also benefit from a data-driven positive feedback loop – by aggregating machine data, OEMs can gain insights into where their machines' weakness lie, suggesting what improvements could be made to their design.
Tracking and monitoring
Plant tracking specialist AMI group also offers hardware and a digital platform for tracking and monitoring equipment, with recent improvements being made to their solutions.
The company's VT tracking devices have been upgraded with Bluetooth connectivity so that a wired connection is no longer required, and the sensors are watertight.
A covertly-installed tracking device from AMI can also offer anti-theft protection. According to the company, a 100% success rate has been achieved in the recovery of stolen machinery fitted with its tracker, compared to an industry average of less than 10%.
As for AMI's Nexis app, developed by the company's internal programming team, it was said by the group's operations director, Peter Stockton, to "make it easier than ever before to track equipment in the event that it has been stolen, or to set up a range of alerts or reports."
Essentially a mobile version of AMI's Nexis web-based software portal, the app can be installed on all iOS and Android devices, and it allows users to get an overview of their equipment instantly and at any time.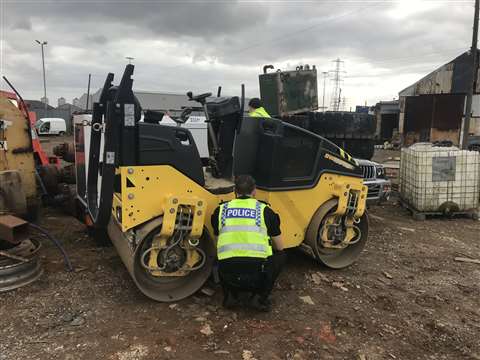 Geofencing can even be set up to immobilise machines automatically if they go outside of a defined area.
"We've made a number of enhancements. For instance, we've introduced an enhanced list view, which allows customers to view a full running list of equipment rather than a page-by-page view," Stockton said.
Doosan Infracore Construction Equipment is expanding the scope of its DoosanConnect fleet and asset management system.
The company launched its first telematics service in China in 2005, but as part of more recent efforts to expand its share in developed markets, Doosan said it was placing particular emphasis on expanding the application of its technologies based on the DoosanConnect system and information and communications technologies (ICT) by developing new products customised to local needs, and continuously upgrading its customer service.
DoosanConnect is available as a standard feature on all new-generation Doosan Stage IV-compliant excavators from 14 tonnes, all new-generation Doosan Stage IV-compliant wheeled loaders, and the new-generation Doosan Stage IV-compliant ADTs. However, it is also available for retro-fitting in a kit form.
The company is developing various services based on the telematics system to manage consumables and provide enhanced maintenance packages. Something that was said to be unique about the DoosanConnect system is the fact that it provides comprehensive information about machine performance in a dual mode, via both satellite and mobile networks.
Aside from monitoring machines, the system can also guide drivers to help them to operate equipment more efficiently and locate replacement machines in the event of maintenance work or breakdowns.
Guidance
On the subject of guidance, Doosan has also collaborated with Trimble to offer the Trimble-Ready factory option on its excavators, available through Doosan Smart Solutions.
The grade control system uses GNSS (Global Navigation Satellite System), GPS (Global Positioning System), laser, sonic or total station technology to position the blade or bucket accurately in real time.
It allows Trimble's GCS900 2D and 3D grade control systems to be used without the need for welding, re-painting, drilling or disassembly of parts of the excavator in order to install the hardware.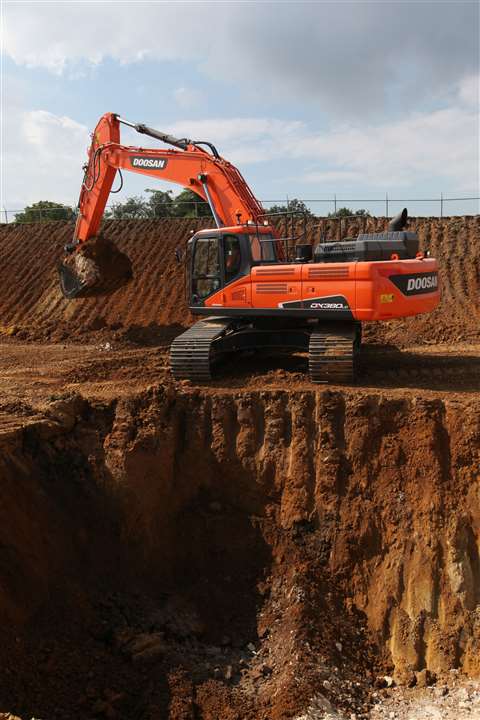 Operators are given access to design surfaces, grades and alignments on a display inside the cab, meaning that even less experienced operators require minimal supervision to achieve precise grades with fewer passes. Also, it removes the need to wait for subcontractors to provide survey and grade-checking information.
Satellite constellation
Trimble recently improved its Trimble Catalyst offering with the recent addition of GLONASS – Russia's global positioning system (GPS) – to the constellation of satellites that it uses, which also includes GPS and Galileo satellites.
Trimble Catalyst has been made possible by the increasing processing power of mobile devices and new software that replicates the work of a dedicated hardware receiver.
With the addition of GLONASS, Trimble Catalyst's updated receiver is tracking – and in some cases using – almost twice as many satellites as the previous version, which results in users spending less time waiting for the receiver to achieve an accurate position. Also, convergence time was said to be faster and more reliable due to the improved data quality.
The addition of the GLONASS constellation enhances the system's ability to lock onto enough satellites to continue operating when sky visibility is limited or obstructed, such as in urban environments with tall buildings.
Gareth Gibson, business development manager at Trimble, said, "The most exciting thing is being able to leverage the incredible speed at which consumer smart devices are evolving. By utilising the processing power of the smartphone's CPU and the other technology available to us through these devices, we are expanding into a whole new era of positioning capabilities."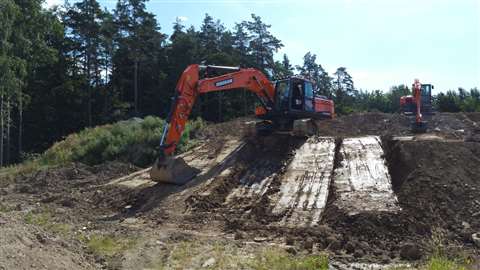 One challenge of using telematics can be in the monitoring of mixed fleets because the use of different systems by the various OEMs means that the machines are effectively speaking different digital languages.
Different formats
JCB's managing director for parts and service, Ian Sayers, said, "Many customers run mixed fleets and most manufacturers now offer a form of telematics support. This means fleet operators can be faced with a range of complex data, often in different formats. This invariably means logging into and viewing several incompatible systems in order to get a comprehensive overview of the entire fleet's performance, whereabouts and service requirements."
To help overcome this, JCB recently launched LiveLink Tower Control – a new version of its telematics portal that can consolidate information from across a mixed fleet.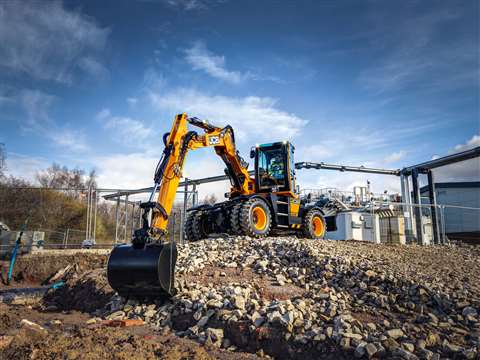 Sayers said, "This allows those responsible for fleet management to interpret data from multiple sources, enabling more informed, more effective and faster decision making."
Data can be imported from any telematics system that is compliant with the Association of Equipment Management Professionals (AEMP) telematics standard V1.2.
JCB said it would also provide several Developer Toolkit services to assist with integrating machine data into existing systems and rental or fleet management software.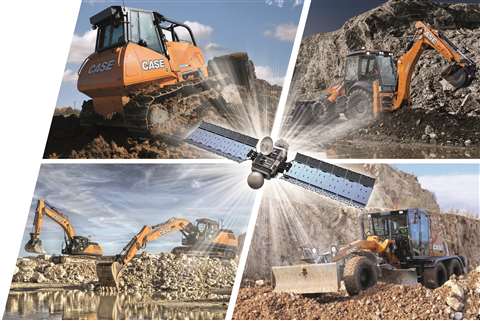 Also helping to overcome the problem of mixed fleets, Case Construction Equipment has updated its SiteWatch telematics portal so that it is now compliant with the new AEMP 2.0/ISO-15143-3 telematics standard. As with JCB's solution, this means that the portal can be populated with data provided in a standardised format by any AEMP 2.0-compliant equipment.
So, using the latest version of SiteWatch, a manager is able to monitor a broader spectrum on machines, as well as new types of parameters related to fuel, idle times, engine load and speed. As a result, better informed decisions can be made, more comprehensive preventative maintenance schedules can be organised, and the security benefits of the track-and-trace function are wider reaching.