Below the hook: a diverse spread
By Christian Shelton14 December 2018
With a subject as wide-ranging as below the hook, we'll start this article by looking at marketing and business activities of a number of players in the sector before moving on to look at some product news.
Harnessing the power of co-operation, USA-based below the hook lifting solutions provider Caldwell and the material handling and lifting devices division of Rud Chain Inc. (formerly part of Rud US) have united their sales and marketing activities in the North American market.
The two companies say that this means their customers and business partners will benefit from their combined expertise and product range, which will be available from one source – namely Caldwell. The companies' products, however, will still retain their own worldwide recognised brand names.
The two companies say that the partnership will also mean an improved level support for customers and that products and solutions can be adapted to meet specific customer needs in the USA and Europe.
Extended warranty
German crane and excavator attachment maker Kinshofer announced it is now offering two-year warranties on all its attachments. In addition to Kinshofer attachments, the extended warranty also applies to attachments from the group's Demarec, RF System, Auger Torque, Doherty and Solesbee's brands.
The company says the extended warranty covers products that have been used for up to 4,000 operating hours and 30 months after the date of invoice.
Spreader beams
Below the hook equipment manufacturer Modulift has signed Maxirig as a distributor in Australia. Maxirig will stock the full Modulift range of standard modular spreader beams at its headquarters in Victoria and throughout its distributor network. Its customer base includes mining, construction, manufacturing, oil and gas, among other sectors.
With a stock of standard spreader beams up to 100 tonnes in capacity, Maxirig will be able to quickly respond to orders and deliver, Modulift claims. Sarah Spivey, Modulift managing director, commented, "It is well documented that execution of our business model and growth strategy is reliant upon our diligence in choosing the right regional representatives and the extent to which we can support them as they deliver our products to their local marketplaces.
"In Maxirig I'm confident that we have secured a partner that can help us make significant strides in a far-afield, but hugely important, market."
Nathan Van Berkel, Maxirig general manager, said, "We're excited about taking delivery of the first batch of stock, which represents an important moment for our existing and prospective customers looking for spreader beams and below-the-hook solutions for their varied applications. Modulift's equipment is already renowned in the region but being able to offer it as an off-the-shelf rigging solution is a game-changer for the marketplace."
Reflective slings
UK-based lifting and rigging equipment supplier Rope and Sling Specialists (RSS) has secured distribution rights in the UK for a range of slings featuring reflective strips manufactured by Miller Weblift. Exclusivity on the product, called Glow, has been granted to RSS until the end of 2018.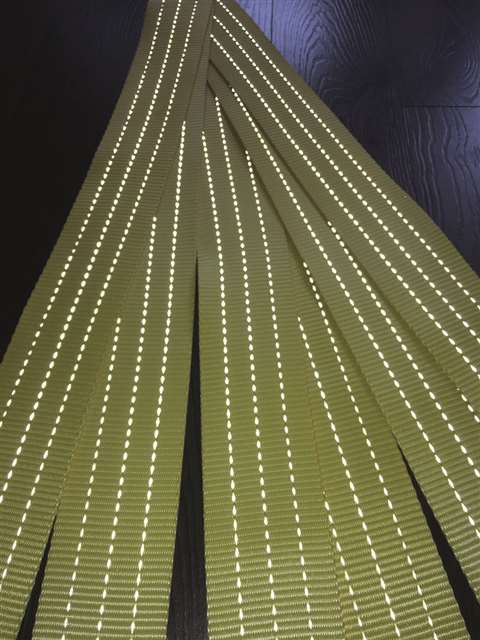 Miller Weblift's Glow sling is available from Rope and Sling Specialists
The slings, initially available in three and four tonne capacities, are produced with reflective yarn, suited to use in low-light conditions. Three reflective stripes, which do not negatively impact the strength of the rigging product or conflict with any lifting standards or protocols, run the full length of the sling, making them easily identifiable in low light conditions leading to inherent safety advantages, says RSS
Web sling shackle
Green Pin has added a new web sling support to its portfolio. The company says its Web Sling Shackle SC is suitable for lifting with synthetic round or flat web slings. The company says the shackle's design means that the load on the web sling is distributed evenly. As a result, damage to the web sling is minimised and its lifespan extended.
Furthermore, because the load is distributed evenly on the web sling compared to a standard shackle, it is not necessary to reduce the load (WLL) on the web sling, says Green Pin. The risk of damage to the web sling that touches the pin is also significantly reduced because the screw thread is completely hidden into the shackle eye. The company says the product is suitable for web slings made according to EU and US standards.
Rigging attachments
US-based motion control and material handling specialist Columbus McKinnon has expanded its portfolio of rigging attachments for synthetic slings to include CM Quick Connect Hooks, CM Flat Eye Rigging Hooks and a more comprehensive line of CM Weblok Assemblies.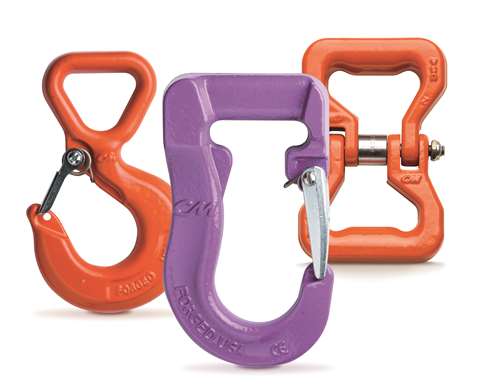 Columbus McKinnon has expanded its portfolio of rigging attachments
According to Columbus McKinnon, CM Quick Connect Hooks are a quick and easy way to add load attachment points to any synthetic sling by eliminating the need for additional hardware or assembly tools. Designed with a large, flat bearing surface and recessed area that together prevent the sling from bunching and shifting, Quick Connect Hooks allow synthetic slings to be used safely and at full capacity. In addition, to help ensure easy and proper rigging, Quick Connect Hooks are colour-coded to match common synthetic sling capacities.
The company says the CM Flat Eye Rigging Hooks provide a wide, smooth load-bearing surface that is designed to help promote a longer sling life.
Finally, according to Columbus McKinnon, the CM Weblok Assemblies are designed to provide a quick and safe sling attachment. They are available in two designs, including synthetic-to-attachment and synthetic-to-synthetic, with either single or double load pin retention.
Automated hook
Earlier in 2018 Spanish hook manufacturer Elebia unveiled a new 20 tonne capacity automatic hook designed for lifting bell furnaces. The Neo hook's inherent safety features mean it is well-suited to environments where metals are heated to extreme temperatures, Elebia said.
The Neo can also be used for lifting and manoeuvring loads that have an oversized lifting point (up to 100 mm diameter), Elebia added.
A multi-colour-coded light-emitting diode (LED) status indicator displays green when the hook is open and blue when it's closed. Oscar Fillol, Elebia founder and CEO, explained, "In regular lifting operations with bell furnaces, the operator has a limited line of sight and poor visibility of the lifting hook's position and engagement with the lifting point. The status indicator is an additional safety measure. It can be viewed in all operating conditions and displays on the [optional] eMax remote control unit."
Secure lifting
According to Elebia it is not possible to make a lift while the hook is in an intermediate state (red). The hook will only lift the load once the closure mechanism is locked, indicated by illumination of the blue LED status indicator, the company explains.
The optional eMax remote control includes a full colour liquid-crystal display (LCD) screen and shows information about the lifting application, including weight and the hook status. It also has alarms that alert the operator to overload or unbalanced situations. It is only supplied as an option because there are many instances in bell furnace lifts where an operator will not need to know how much weight is being lifted, explained Elebia.
The Neo hook has: a 4:1 safety factor. On a charge it can work for one week, covering 3,000 cycles, or more than 250 hours in standby mode. A three-hour charge will return the battery to full capacity, said Elebia, and the hook will remain closed even if the battery expires during use. Further, due to the geometry of Neo's design, the load will always be positioned in the centre of the hook, the company added.
Spreader beams used in 12 tonne footbridge lift
A footbridge in UK port city Southampton has been lifted by UK crane hire firm King Lifting. The company used its 350 tonne capacity, six-axle Terex Demag AC 350-6 to lift the bridge, which was then removed for renovation.
R&W Group, a provider of civil engineering, traffic management, rail, environmental, and plant services, oversaw the removal of the bridge. The footbridge provides a link between parts of the city's historic walls. It weighs just over 12 tonnes. It was removed overnight and the job required the road to be closed between 10pm and 6 am.
The rigging equipment used to lift the bridge included three Modulift spreader beams:
a Mod 70 and two Mod 12s. They were supplied by lifting and height safety specialist SafetyLiftinGear.com and used in a one-over-two configuration. SafetyLiftinGear.com also supplied the required slings and shackles.
The Mod 70 was used at 12 metres (39 feet) in length above the pair of shorter, 2 m (6.5 ft) long Mod 12s, which were utilised at either end of the spreader at a 90-degree angle to the top beam.
Eight metre long, 20 tonne capacity and three metre long, five tonne capacity roundslings were combined to wrap beneath the footbridge and to attach the rig to the hook of the crane.
A timelapse video of the whole project can be watched here: