Sponsored Content: Sarens erects new steel bridge outside of Antwerp
By Sarens17 December 2018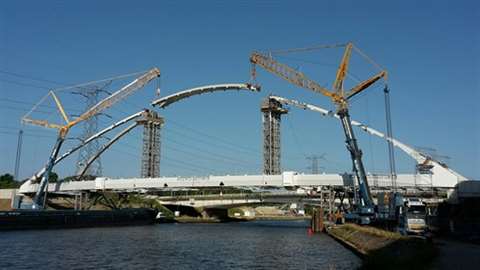 November 2018: Sarens was recently on the site of the Albert Canal outside of Antwerp, Belgium, to help client Aelterman erect a new steel bowstring bridge (BR43) between Herentals and Lier.
Sarens BE has been involved in the project from the beginning, engineering, and selecting the heavy lift telescopic cranes needed to load out the bridge elements (which were manufactured in Ghent) at the quay and then install them at Herentals. For this operation, they selected the following equipment:
LTM 1095-5.1 with jib
LTM 1100-5.1
LTM 1130-5.1
LTM 1150-6.1 with jib
LTM 1400-8.1
2x AC 700 WiHi 30m
Because of the way the two AC 700 telescopic cranes had to be positioned along the banks of the Albert canal, Sarens had to do all the rigging transport along the right bank of the canal by driving in reverse for almost 1.5 kilometres.
With all the equipment finally in place, two teams came together to lift the major bridge sections: the Sarens Belgium AC 700 telescopic crane crew with Oliver Mollet and Michel Lansiers on site, and the Sarens Netherlands AC 700 crew with Michaël Brama and Robert Volwater. Eddy Houben on a Liebherr LTM 1100-5.1 assisted both teams in the erection of the 30m fly jib.
The bridge went up on a summer weekend in late June. The sun was shining, temperatures were pleasant, and there was no wind: perfect conditions. Ship traffic along the Albertkanaal came to a halt so that the crew could lift the five main sections into place. First, the AC 700 cranes each lifted two bridge sections that weighed 80 tonnes each. Then, to lift the final 110-tonne section, the cranes performed a dual lift.
"This job was well done thanks to the well thought-out engineering and tight preparation by all teams in front of and behind the scenes," says Stéphane De Maegt, Project Operations Manager for Sarens Belgium. "Teamwork by SBE and SNL AC 700 crews on site was the key to a perfect execution."