Accelerate launch of low carbon machines, says du Boÿs
By Sandy Guthrie17 December 2018
Xavier du Boÿs, chairman of Kiloutou, has urged equipment manufacturers to speed up the development of low emission and silent machines.
Speaking at the annual congress of CECE (Committee for European Construction Equipment) in Rome in October, du Boÿs said; "We need silent machines, low carbon emissions, more hybrid and electric."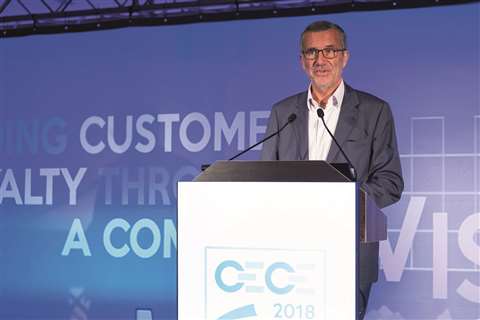 He told the construction machinery manufacturers, "You're doing a good job but need to accelerate. The sooner the better."
Referring to the BIM (building information modelling) revolution in the industry, du Boÿs said it was important to share data in a common language.
"The real value is sharing the data," he said. "Data belongs to all the players. We're frightened to lose data, but we shouldn't be. We keep data for ourselves but it's a mistake.
"We have to improve collaboration. We don't do nothing, but we don't do enough."
Also discussed at the congress was machine data, the European construction equipment market, and the impact of Chinese manufacturers and contractors in Europe. Click here for the full report by Construction Europe magazine.