Erith in cement works blowdown
Erith Contractors has changed the local skyline forever with an explosive demolition event at the Barrington Cement Works in the east of England.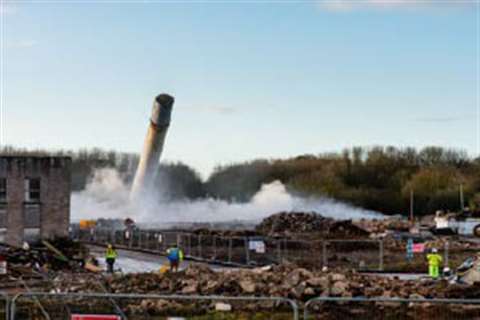 The company successfully carried out the controlled detonation of the 62 m (203 ft) high chimney at the former Cemex site in Cambridgeshire.
Works began last August with Erith cleaning structures around the mills, precipitators, kilns and boiler structures to create the space needed to take down the chimney.
The contractor engineered a demolition sequence with its in-house firm Swanton Consulting which was modelled to check the stability and proposed collapse mechanisms.
Around 40 Erith staff were present for the blowdown, which had an exclusion zone of 1.6 km (1 mile), alongside representatives of the client - housebuilding company Redrow Homes - and local residents.
"Demolitions of this scale take careful strategic planning and we are delighted that everything went seamlessly," said Erith industrial demolition manager Andy Dyson.
"It has been fantastic to be on site co-ordinating the chimney demolition and wider programme of works."