Toplift 2018: Winning ways
Readers picked their favourite lift from a selection of ten spectacular projects showcased in the September 2018 issue. ICST reveals the winners
In the September issue of ICST readers were asked to pick their favourite job from ten outstanding lifting projects. Entries for the IC Top Lift 2018 competition included a selection of complex and spectacular lifts completed in the last 12 months.
Readers were asked to pick their favourite from the selection and return their votes by November. ICST would like to congratulate the winners and thank all of you who took the time to vote – your efforts are much appreciated.
This competition is only possible because of the exceptional lifting projects taking place around the world and the people who share them with us by sending brilliant pictures and information in to the magazine.
If your company has completed a job in the last couple of months, or if you do one before mid-August 2019 that you think merits entry into next year's TopLift competition, and-or it would make an interesting site report in International Cranes and Specialized Transport magazine, please send details to the editor, Alex Dahm, at alex.dahm@khl.com, or by post to: KHL Group, Southfields, Southview Road, Wadhurst, East Sussex TN5 6TP, United Kingdom.
Third place. Entry 9. Building bridges
Equipment user: Route du Littoral consortium
Lifting equipment used: A jack-up barge (the Zourite) with a 30-metre-wide Enerpac overhead travelling crane
Location: Reunion Island
Enerpac designed, built and installed a 4,800 tonne capacity barge-mounted overhead travelling crane (OHTC) to lift, move and lower concrete gravity bases, pile heads, and pier segments for the construction of an offshore highway on Reunion Island.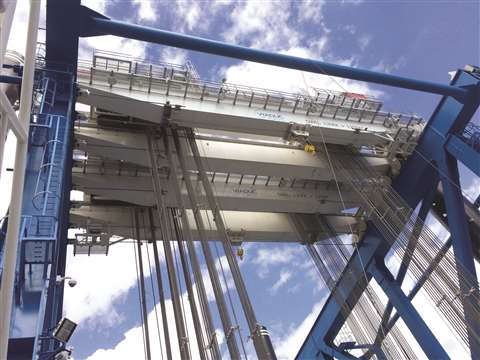 Second place. Entry 8. Chemical plant completion
Equipment user: Mammoet
Lifting equipment used: Mammoet PTC 200-DS ring crane
Location: USA
Mammoet completed 62 heavy lifts at Lotte Chemical's mono-ethylene glycol project in Louisiana. The lifts ranged up to 1,451 tonnes, the largest of which was a 100 metre high wash tower. Mammoet used its PTC 200-DS, which was reconfigured to include an additional 67 m, making its total reach 217 m – the tallest the PTC has ever been on a job site, enabling it to stay in one location to execute all lifts.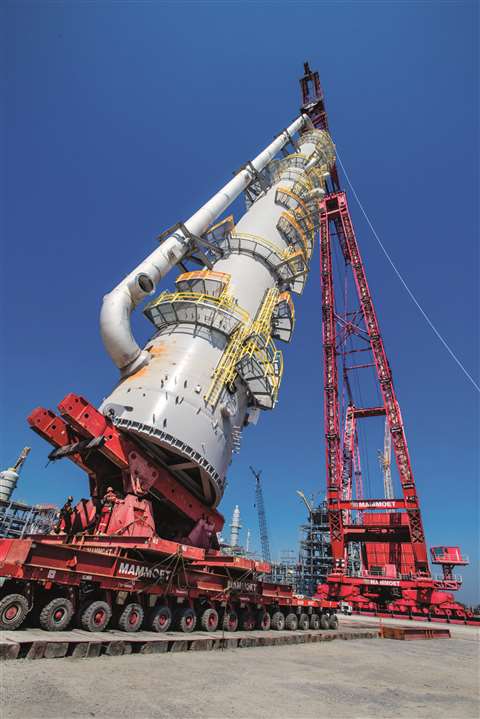 Winner. Entry 2. World's tallest turbines
Equipment user: Max Bögl
Lifting equipment used: A Liebherr LTM 11200-9.1 wheeled mobile hydraulic crane and a Liebherr 630 EC-H 70 tower crane
Location: Germany
Max Bögl erected four wind turbines in the north-east of Baden-Württemberg. The turbines stand on top of 40 metre high concrete water storage basins, creating an overall total turbine height of 240 m. A Liebherr LTM 11200-9.1 was used to build the basins while a 630 EC-H 70 top slewing tower crane carried out the remaining work on the turbine towers.