Telematics expansion from Genie
By Euan Youdale30 January 2019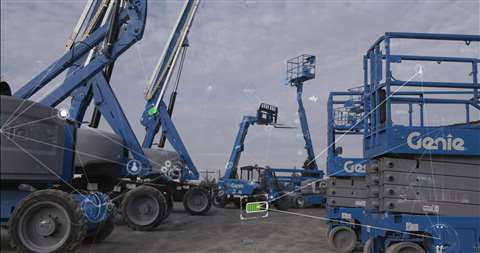 Genie has launched its extensive Lift Connect telematics solution.
"The world is changing," said Christine Zeznick, Genie senior product and business development manager, business development, Terex AWP. "Our customers are operating their businesses faster and more efficiently than ever before, constantly looking for ways to add value and drive business growth. One technology that is opening up new opportunities for rental businesses is the use of telematics.
Genie first introduced its telematics offering in 2015 with the launch of the telematics-ready connector. Zeznick explains, "This was in direct response to the mixed fleet nature of the rental industry and allowed our customers access to a few key data points with a plug-and-play solution of their choosing.
"Although many have appreciated this flexible approach, over time our customers have requested access to more data and information. Today's Genie Lift Connect telematics technology has evolved to help rental stores understand the information their machines are providing, enabling them to manage their businesses more efficiently."
Zeznick adds that the data from Lift Connect will become more powerful as it goes on. "Initially the information will be descriptive," said Zeznick, "Focusing on what's currently happening with a machine including how many hours are on a machine, where the machine physically is and if there are any fault codes on it.
"Over time, Genie Lift Connect data can be leveraged on a larger scale and used for predictive and prescriptive activities, such as predicting failures in the field based on how the equipment is actually being used and proactively prescribing maintenance and service.
It will include dashboards and alert notifications, and the introduction of standard APIs to enable customers to leverage data from mixed fleets and multiple OEM telematics platforms.
It provides data in two ways: customers can utilize the Genie Lift Connect portal and all of its features, or alternatively, if with an existing system, customers can consume the data via a standard API.
"We developed a new telematics solution that focuses on sharing more machine data. We believe that the more partners in the value chain with access to the machine data, the more efficient the rental industry becomes," said Zeznick. "We've designed the new Genie Lift Connect solution to share more information than other offerings available in the industry. This is truly an evolution in Genie's telematics journey."