Mini excavators: small but mighty
By Mike Hayes20 February 2019
The market for mini excavators is growing all the time: data from specialist forecasting and market research company Off-Highway Research shows that sales of this equipment type accounted for approximately 23% of the one million pieces of construction equipment sold around the globe in 2018.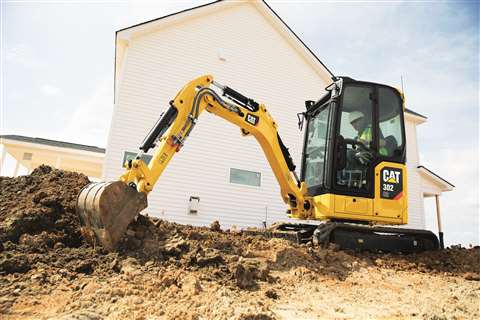 This trend is expected to continue, with key markets such as China and India embracing this machine type in much the same way as many markets in Europe did in the 1990s and 2000s.
And the need for the mini excavator's mobility, agility and general utility will continue to grow, with uses in landscaping, excavating, demolishing, picking and placing and materials handling all adding to its range of construction activities.
Where heavy construction equipment was formally under-utilised, or where tasks were labour-intensive, the mini excavator has stepped up.
Furthermore, the machine's increasingly impressive power output capacity and performance capabilities make it far more than a budget alternative to a large excavator – it has the unique potential to fulfil numerous niche roles. This, added to the ease of getting a mini excavator to and from sites – and around them – make it increasingly beneficial, even on major projects.
With these factors in mind, some of the world's leading mini excavator manufacturers have been working hard to upgrade their product lines.
New machines
Sam Mottram, global commercial manager – Mini Excavators & Small Tractors at Caterpillar (Cat), said the firm's new machines will run across two size classes: one to two tons (0.9-1.8 tonnes) and seven to 10 tons (6.3-9.0 tonnes). The rollout is part of a programme that will eventually see all of Cat's mini excavators overhauled.
In 2016, Cat announced it was winding down its alliance with German-based Wacker Neuson, so the new one to two ton machines will all be designed and built by Cat. As for its seven- to 10-ton excavators, many will have new incarnations, while new models will also be developed.
Describing Cat's philosophy for the new mini excavator range, Mottram said, "We've focused everything around three key elements: reduced total cost of ownership; improved performance; and true industry-first features. One of these new features is what we call 'stick steer' which is where we provide the ability to steer the machine and control the machine's travel through the left-hand joystick, rather than using the travel pedals and levers. There's a switch on that joystick; you press the button and it will basically turn that lever into the same controller you have on, for example, a skid-steer.
"We combine that with an additional feature called 'cruise control', where, once you're travelling, you can pull a trigger on the joystick and the machine will travel at that speed consistently, forwards or backwards, across the site."
Another feature that's common across both of Cat's new mini excavator product families is a sealed and pressurised cab.
Cat says that their testing on machines in the eight-ton class has shown noise reduction of around 40%, from an operator perspective, compared with predecessor models.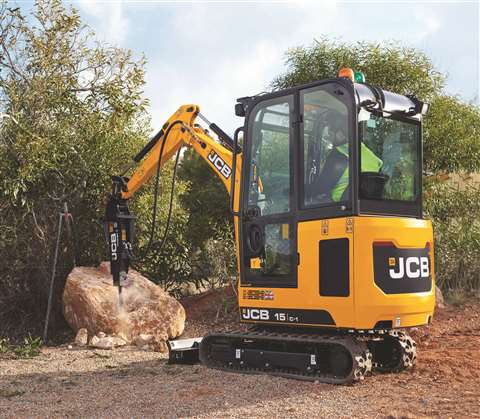 Another feature which is consistent across all of Cat's new mini excavators is a monitor in the cab, through which a lot of the machine's functionality will operate. All new models in Cat's one- to two-ton class use Cat's three-cylinder 14.3 kW engine, which meets Tier 4 Final/Stage V emissions regulations.
Electric launch
In the UK, JCB is throwing its weight behind the seemingly inexorable move to electric power with the 19C-1E, its first all-electric mini excavator. The machine promises zero emissions and is said to be the quietest excavator the company has ever produced. With it, contractors will be able to work inside buildings and in emissions-sensitive inner-city environments.
The 19C-1E also has the potential to operate underground or in tunnels, without the need to install any exhaust extraction attachments. Running on three lithium-ion battery packs, the machine promises enough charge for a full shift, with a five- to eight-hour recharging capability.
While embracing the dawning of all-electric, JCB is also driving forward its diesel range, completing its mini excavator line-up with the new 15C-1 model. At 1.6 tons (1.4 tonnes), the new machine's features include an 11.7kW engine, a 100% steel body and the promise of 500-hour greasing intervals to reduce downtime.
Aimed primarily at the rental market, the 15C-1 comes with mechanical and auxiliary controls, single-speed tracking, long pitch tracks and mechanical track tensioners.
The excavator is supplied with a cab or canopy, as requested, and its full ROPS-compliant cabs are said by the company to have a 24% greater internal space than previous machines.
This is the 14th and final model in this incarnation of JCB's mini excavator range, which includes seven conventional tailswing models (including the 15C-1), plus two reduced tailswing models and five with zero tailswing.
The firm's chief innovation and growth officer, Tim Burnhope said, "The all-new 15C-1 will be an important player in the sub-two tonne sector, a segment where more than 50,000 machines were sold globally last year. With the addition of this, our fourteenth compact excavator in just four years, JCB has the right machine in every weight sector of the mini and midi excavator market."
Elsewhere, at Bobcat, Jaroslav Fiser, product line director, mini excavators, is in no doubt about the importance of the mini excavator to the firm. He describes it as, "globally one of our most important products."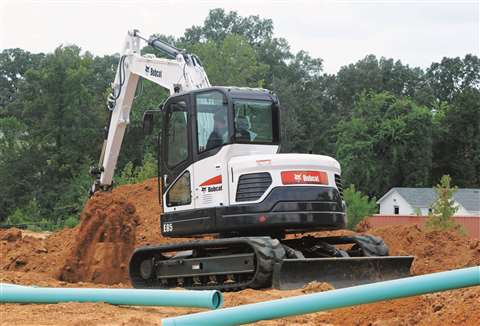 The minimal tail swing E85 is the largest Bobcat excavator in the R-Series lineup
It is certainly Bobcat's biggest seller in Europe and carries significant sales for the company in North America, Korea, Oceania, Latin America, China and South-East Asia.
According to Fiser, Europe is traditionally the firm's strongest mini excavator market, with the UK, Germany and France as the front runners, followed by Benelux (Belgium, Netherlands and Luxembourg), Italy and the Nordic countries – but the market in Eastern Europe is growing fast.
He commented, "The mini excavator concept has proven to be an extremely effective, versatile and economical solution for many tasks.
It's compact and lightweight for transportation, fits extremely tight workspaces, is very comfortable to operate, can operate many attachments to expand its versatility and doesn't require a big engine and a lot of fuel to fulfil required tasks."
Global importance
At Case, Gaston le Chevalier de la Sauzaye, product manager for the mini excavator range, also commented on the global importance of this product type. He said, "At a global level we sell more skid steer loaders, backhoe loaders and large excavators, but in Europe, our mini excavators account for around a quarter of our sales and the plan is to continue to increase year-on-year sales of this range."
Moving forward, de la Sauzaye believes customers are not yet pushing for the development of electric power.
"There is a growing trend in the electric mini excavator industry for specific applications, such as light indoor demolition jobs, but as of today, we think there is no total cost of ownership [TCO] advantage for the majority of our mini excavator customers.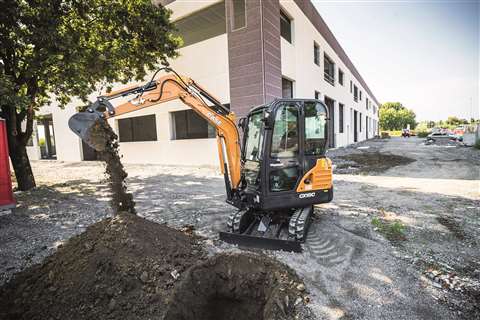 "The higher purchasing price, together with a varied operating cost, depending on the cost of electricity in each country, makes electric-powered machines less appealing. Batteries can only be recharged a limited number of times and as replacement batteries are expensive this also increases the TCO.
"We have already electrified products within the CNH Industrial Group, such as the Iveco Daily van, so we own the know-how, we only need to assess if it makes business sense for this particular Case application."
At the smallest weight class of mini excavators, Case has its CX17C and CX18C machines. The CX17C has a zero tail swing design, and both excavators are said by the company to boast a 5% improvement in hydraulic flow for digging efficiency, compared with Case's B-Series machines.
Case has again upped the spec on its middle range of mini excavators, with their maximum reach said to be improved by 10% over the previous series and an efficient hydraulics system increasing cycle times.
On the CX33C and CX37C excavators, the engine automatically returns to idle speed after five seconds of inactivity, reducing fuel costs and noise disturbance. And at the upper end of the mini excavator class, machines including the CX57C and CX60C offer a more spacious in-cab environment, with all-round visibility, adjustable seating and what the company claims is the best digital display on the market for operator comfort.
European launch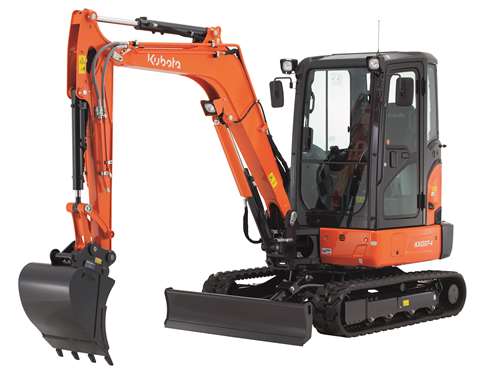 The KX037-4 was launched in the UK and mainland Europe at the start of 2019
One of the largest players in the ever-expanding mini excavator segment, Kubota, recently announced the launch of the KX037-4, a new zero tail swing mini-excavator for the UK and mainland Europe.
The 3.7-tonne machine replaces the KX101-3a4. It is powered by a Stage V-ready 17.8 kW Kubota engine delivering power, economy and low emissions.
The excavator also has auto-shift and auto-idle features as standard, which are said to provide smoother operation when dozing and turning and reduced fuel consumption with lower noise levels and emissions.
The new model also features Kubota's engine safe start system plus a hydraulic lockout on the left-hand console, and optional safety valves for the boom, arm and dozer.
Glen Hampson, business development manager, construction division, Kubota UK, commented, "As well as Kubota's traditional reliability and ease of servicing, the new features of this model are designed to aid compliance with environmental and construction industry standards making this the ideal excavator for multiple applications."
in December 2018, Volvo CE launched its new generation of mini excavators; the E-Series.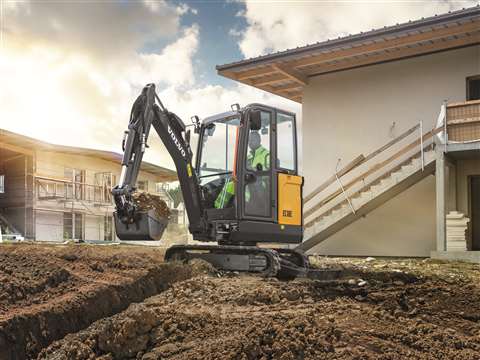 The EC15E, EC18E and EC20E models replace Volvo's D-Series excavators, while the short-swing ECR1E is a new addition to the range.
The EC18E and EC20E are said to offer a 13% increase in tractive force and an average 22% increase in lifting capacity, compared with their D-Series predecessors. On the EC18E, its longer undercarriage has contributed to a 140mm increase in its digging depth. Across the range, steel panels are recessed 10mm behind a high-profile cast iron counterweight, for enhanced protection and digging stability.
The variable undercarriage can reduce to less than 1m and expand to 1.35m. The right frame corner, swing post and cylinder all remain inside the machine's tracks, improving visibility and reducing the risk of machine damage.