A bridge from the past
By Alex Dahm22 February 2019
Environmental concerns meant an old railway bridge in Germany had to be removed from a distance, which meant using a large crane on long radius.
German crane specialist Wiesbauer employed its 1,000 tonne capacity Liebherr LR 11000 lattice boom crawler crane for its first bridge job. Since it was acquired in 2017 Wiesbauer has used its largest crane for wind energy industry work, erecting and maintaining wind turbines.
This bridge project was in southern Germany, 20 kilometres from the company's head office in Bietigheim-Bissingen. The 100 year old steel railway bridge was in a flora and fauna habitat conservation zone. To preserve this area without damage the crane had to be set up further away, operating at a 60 metre radius.
The so-called fish-bellied bridge was of steel lattice construction and weighed around 60 tonnes. To make the main lift the LR 11000 was rigged with 96 m main boom and a derrick boom. Counterweight was made up of 405 tonnes of ballast, 225 tonnes of which were on the derrick. Before the lift could be completed a steel arch support had to be removed with a flame cutter.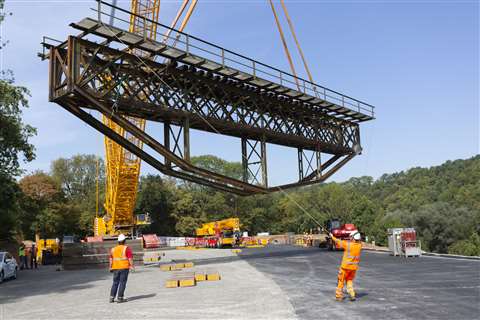 A temporary bridge will be in place for two years before a new steel bridge is installed. Prior to lifting it into place the new 150 tonne structure will be assembled from two pieces. Installation will require the full capability of the LR 11000.
Marco Wilhelm at Wiesbauer planned and managed the project and said more similar jobs could come in over the next few years. "We have already had several enquiries. We do not just want to use the crane in wind farms, but we are also trying to attract jobs in industry and on infrastructure projects."