Future Equipment: Construction 2029
By Katherine Weir26 February 2019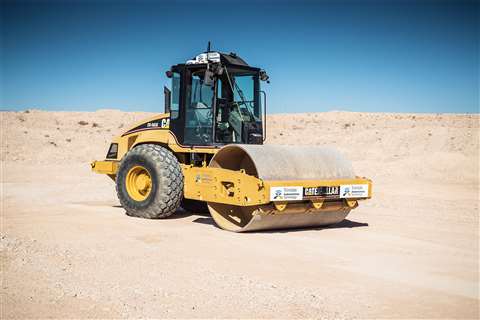 While looking towards the future is a constant thought for original equipment manufacturers (OEMs) and technology providers, it is news such as the 2020 release of an exoskeleton suit – enabling the wearer to lift 90kg for extended periods – that brings the future a little bit closer.
Sarcos, the US-based robotics manufacturer, has spent 17 years and approximately USD $175 million in research and development to create the Guardian XO Max. The suit requires 400 Watts (W) of power while walking at human speed and takes only one minute for operators to get in and out of.
Could this be commonplace on the construction sites of the future? With a strength amplification of 20 to 1, this could be the case; the Guardian XO Max is said to make 100 pounds (lbs) feel like 5lbs to the wearer. The suit contains sensors integrated into the exoskeleton, allowing the operator to 'intuitively control' the robot in a way that 'leverages his or her instincts and reflexes' – minimising the need for human training, according to Sarcos.
Construction in 2029
For international manufacturer Liebherr, the next ten years regarding new technology will see them focus on the flexibility of product design, the continued use of building information modelling (BIM) and increased customer input.
Dr Gerold Dobler, communication and brand management at Liebherr, says, "The conditions and requirements of customers, the environment and society and the associated challenges in the different applications are becoming more and more diverse. That's why Liebherr aims to develop new design concepts that offer the user a high level of variance and flexibility and, at the same time, maintain the internal complexity at a manageable level for the manufacturer.
"Liebherr machines are used worldwide in a very broad range of applications – from gardening and landscaping to road construction, through to tunnel construction, as well as in different areas of material handling. In order to be optimally prepared for different national emission laws and other regulations (e.g. health and safety), current and future machine concepts at Liebherr have a modular design."
The German-based company believe that BIM will be even more involved in the construction industry in the future, and it is a focus for many of their teams. "The machinery itself will do some tasks autonomously; further features will assist the operator to optimise performances," says Dobler.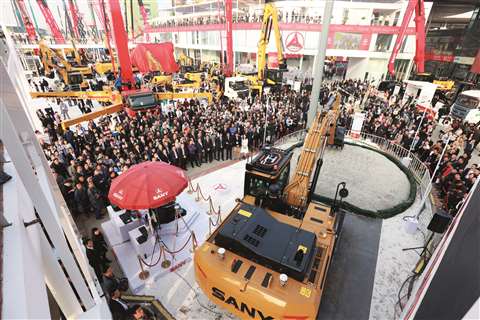 Another trend that the manufacturer is seeing is the increased attention paid by customers to the design aspects of their machines. Liebherr says it expects this to continue, with an even closer working relationship in the design process in the future.
Trimble, known for its positioning technologies, says that we are likely to start seeing 'autonomous-only' machines, designed and built to be operated autonomously with no provisions for a seated operator in a cab.
John Naughton, business area manager of Trimble's civil engineering and construction division, says, "I predict that, while earthmoving machines will not look drastically different, there are likely to be upgrade modules available for unmanned and autonomous operation."
Naughton also believes that more sensor technology will be on or around machinery providing live site updates to all machines on any given site.
Scott Crozier, general manager of Trimble's civil engineering and construction division, says, "I predict that, in ten years, there will be a rise of electric machines, with many cities requiring only electric machines. Automated, manned and unmanned machines will exist, and these will be managed locally for some applications and operated and managed remotely in other applications."
A key prediction from Trimble is that the equipment of the future will be more intelligent and able to offer guidance to operators; how to more efficiently and effectively operate their machines, improving performance of skilled and unskilled operators.
This is a point which Christian Grante, director, emerging technologies at Volvo Construction Equipment (Volvo CE) also makes. "Automation enables us to make machines that are more independent from their operator's direct control. As such, the productivity of an automated machines is not directly dependent on one operator. Therefore, in some cases, smaller machines can even be more productive than larger machines," he comments.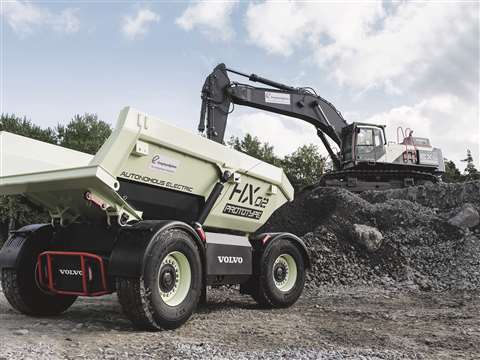 Volvo CE recently released the results of their Electric Site research project, in which all the equipment used was electric and autonomous. The project involves the HX2 – a prototype autonomous, battery-electric load carrier – which is smaller than a conventional load carrier and doesn't have a cab. Grante believes that, "This kind of downsizing will bring about many benefits. Smaller machines are easier to maintain and transport, and the robustness of the complete hauling system can be improved. Looking forward, I believe that we will have machines that can collaborate with people instead of being controlled by them, unlike the conventional machines we have today."
Global manufacturer Sany says that equipment working on construction sites in the future will be autonomous and Internet of Things (IoT) based. Kim Lee, vice president of Sany Group, says, "You can imagine that the machines will be so intelligent that they can achieve unmanned operation and work autonomously. The benefits are that the machines will know what the most efficient way is to fulfil a project, which can save time and money for the owner.
"It will also remove the need for human beings to go to dangerous environments for work – for example, our operators would not need to work in the North Pole in weather below -40 degrees. He/she could sit comfortably in their office to check real-time monitoring. It's not a far-away picture of the future. We believe that, with everything connected, IoT will make our work more intelligent and easier."
Positive change
The base needs of any contractor will always be to work efficiently to complete a job on time and within budget, so any equipment/technology that helps them to achieve this will be welcomed. Getting qualified staff to fulfil these timescales is also an issue that is expected to continue in the future.
For instance, Liebherr recognises the difficulty its customers have in some countries to find qualified professionals for the construction site. Its mobile crane division is working to simplify crane operation to make it even safer to operate, regardless of experience. E-learning is a tool that will become more important for this industry, the manufacturer says.
As well as this, Liebherr is also forming partnerships with technology-based companies to bring more to its customer offering.
Dobler says, "Customer needs are one of the key drivers for our development teams. Liebherr Tower Cranes has recently entered into a development partnership with the Centre Construction Robotics at RWTH Aachen in the area of robotics for construction. The objective is to redesign the construction site of the future and to redevelop digitalisation from the pre-production phase, throughout the added value chain to the semi-automated construction site."
Crozier from Trimble believes that, although machine automation will get the most attention for the foreseeable future, it is the intelligence that goes into informing the machine how and when to operate that will bring the biggest benefits. He says, "The key is to develop technology that optimises processes and projects, not just tasks."
At the Trimble Dimensions user conference in Las Vegas, US, the company showed a number of solutions that Trimble believes will be 'commonplace in ten years.' One of these was a dozer and two compactors working autonomously on the same project, controlled through a machine manager application. The site had multiple cameras monitoring a site, tracking objects and monitoring terrain to determine progress and provide collision alerts. Eventually, the cameras will provide insights on how to perform tasks more efficiently.
A demonstration of the kind of technology we will see more of in the future occurred late last year when Swedish-based Sandvik saw one of the company's 11m-long LH514 LHD (local haul dump) trucks self-navigate through a glass labyrinth. Laser sensors detected the walls, helping the machine to move through the labyrinth's narrow aisles.
Jouni Koppanen, senior systems engineer for automation at Sandvik, said, "Autonomous systems improve safety and productivity for our customers. For the first time ever, the entire cycle can be automated, from loading to hauling and dumping. Nobody has been able to do that before."
The AutoMine system means that Sandvik loaders and trucks learn the safest and most efficient route the first time they enter a tunnel. Guided by a set of lasers, the equipment's intelligent system maps out and records a path. Sandvik's patented algorithms, together with its sensors and gyroscopes, ensure the machine knows where to go underground – an environment in which GPS is not possible.
Working smarter
Naughton at Trimble explains that, although autonomous machines aren't widely available yet, this is an area where he thinks we'll see significant innovation that will help improve efficiency in construction in the future. "As autonomous machines become more mainstream, I expect that we will see design ideas emerge that will ultimately change the form factor of machines like excavators, dozers and compactors that have remained largely the same for decades."
At the Bauma China exhibition in November, Sany showed an 'unmanned' excavator at work. Lee says, "Many customers like this machine; through virtual reality glasses, the operators could control the excavator miles away (in other city) to finish the digging work."
Trimble has recently partnered with specialist software company Neurable to explore the use of brain-computer interfaces (BCI) for the transportation and architecture, engineering and construction (AEC) industries.
This partnership will leverage bio signals, such as brain activity combined with eye tracking technology, to improve training efficiency, driver safety and high-risk front-line worker safety as well as provide insights to augment the benefits of a simulation and design evaluation.
Dr Ramses Alcaide, founder and CEO of Neurable, says, "Until now, BCI has lived in the realm of academia and science fiction. By combining Trimble's proven history of commercialising emerging technologies with our innovations in neuroscience, together we will explore how we can bring the value of BCI to real world applications."