Dismantling a jet engine bunker and internal demolition works at a television studio have helped a British demolition contractor boost turnover by 10% in a year.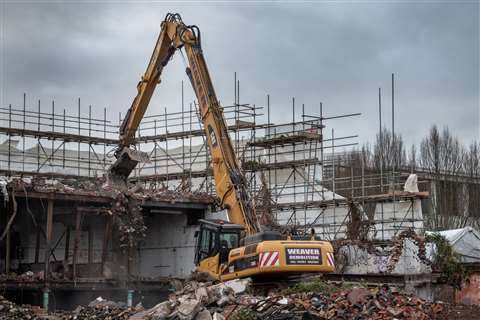 Weaver Demolition, based in Bristol in the south west of England, said the work showed its ability to combine modern equipment and industry-leading working practices with the latest recycling and environmental solutions.
"Demolition projects are becoming increasingly complex and clients are looking for an organisation that can help them with all aspects of the brief," explained business development manager Jonny Weaver.
"This could be initial design discussions and site set-up work, to decommissioning, full site clearance, demolition, asbestos removal and remediation of the site."
He continued: "The last year has seen us take on the intricate dismantling of a jet engine test bunker for Rolls-Royce and internal demolition works to enable the refurbishment of the ITV Studios in Bristol. This involved extremely tight time constraints and night working to avoid disrupting business activity during the day.
"We've also been heavily involved in an extensive site clearance at McArthur's Yard in Bristol, removing asbestos from contaminated ground, intricate party wall works, main demolition and crushing all stone, concrete and masonry for re-use."
Weaver Demolition has been in existence for more than 50 years and employs 25 people.