Hoogwerkt expands fleet and depots
By Euan Youdale04 March 2019
Innovate rental company Hoogwerkt is expanding its depot network and introducing hybrid truck mounts to its fleet.
Adding to its network of 10 pickup locations, the Netherlands-based company opened a new 2,000 square metre delivery centre in January, allowing a wider range of access equipment to be delivered to customers.
Hoogwerkt focusses on lithium battery-powered platforms and has so far invested €52 million in equipment. Within the next two months, its network will be expanded with another seven locations across the Netherlands.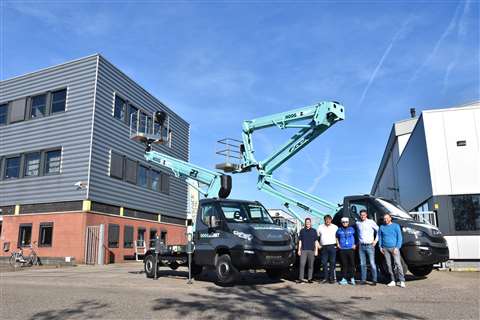 Its fleet has been broadened too with the introduction of two plugin hybrid truck mounted platforms from Socage, the 21DJ double articulated model and the telescopic 23T.
The 23T has a working height of 23.1m and, with the X chassis version, has an outreach of 14m, while the 21DJ is designed for excellent up and over capabilities with its double pantograph boom and the jib. Working height 20.50m an outreach is 10m.
Both platforms have been chosen by Hoogwerkt with fall available options, including automatic stabilisation, and the electric hybrid option, in line with Hoogwerkt's other products.
This month, Hoogwerkt has also introduced an updated booking system, providing direct pricing information, availability of equipment in each location, a machine selector capability and a fully-automated customer approval process. The new system is designed for user-friendliness and optimum pricing.