Repair and refurbishment: Fix up, look sharp
Repairing or refurbishing equipment offers crane owners the potential to save time and money. When looking at repair and refurbishment options, crane owners have to decide whether to use the services of specialist companies or OEMs – each with their own appeal. The key job of the crane owner is to decide whose services most closely fit their requirements.
Dedicated specialists
Although specialist in nature, repair and refurbishment companies don't necessarily operate on a small scale, as demonstrated by Dutch repair and refurb firm Avezaat Cranes – which works on all makes and models of mobile and offshore cranes around the world. A core area of its work is building new lattice and telescopic boom sections, and related parts, and its customers comprise companies of all sizes.
In Belgium, Avezaat has four locations, situated near the ports of Rotterdam and Antwerp. It's main office and where the bulk of the crane repair and refurbishment work and the building of new booms and jibs takes palace is in Schiedam, Netherlands. The company also has a steel cutting company located in Vlaardingen, Netherlands, where it stocks approximately 2,500 tonnes of steel plate and tube. The company also has a workshop in Dubai. When needed, it repairs boom sections on location around the world with the aim of to saving its customers time and transport related costs.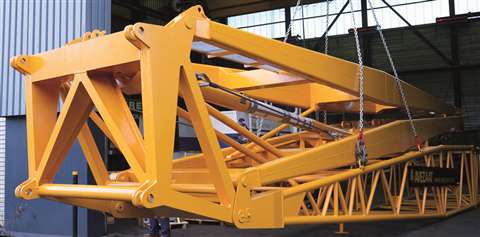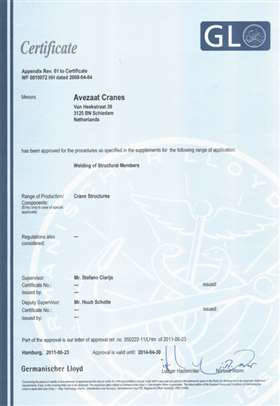 Avezaat says the core of its work comprises three areas: repairing telescopic boom sections; repairing lattice booms; and fully overhauling mobile cranes.
Repairing telescopic boom sections mainly involves renewing parts or complete new boom sections and the assembly and testing of complete telescopic booms, the company says.
The repair of lattice booms varies from the replacement of a few lacings to rebuilding inner sections, foot sections, head sections, A frames and jibs.
Fully overhauling mobile cranes is carried out on machines that have been seriously damaged due to fire or excessive load, says Avezaat. This includes repairing and renewing hydraulic parts such as cylinders, pumps, winches, and electrical parts.
"We are focused on finding the most cost-efficient way to repair or refurbish a crane," says Stefano Clarijs, manager at Avezaat. "This means that if parts need to be renewed, we'll obviously renew them but when repair is a better option, we'll promote this route.
"By repairing parts we can save our customers time and money and our work is certified by established authorities around the world, including: Aboma/Keboma; SGS; DNV/GL; ABS; and Lloyds. Our workshop and welders are DNVGL certified. We are also ISO 9001 and ISO 3834-2 certified."
In the USA, another example of a specialist operating on a large scale is Wheco. The firm has six facilities – in Washington, Oregon, South Carolina, California, Texas, and the Marshall Islands – and it performs documented and certified repairs to most types of complex heavy equipment.
Making a choice
Wheco categorises its repair and refurb work under the acronyms SLEP (Service Life Extension Project) or IROAN (Inspect and Repair Only As Necessary) – terms it developed through working with the military and the US Department of Defense over a number of years.
"When a customer contacts us about a refurb project the first thing we do is ask them what their goal is," explains Dave Wood, Wheco president. "We want to know how long they wish to extend the crane's life for and what type of work the equipment will be used for. Then we look at the current condition of the equipment and get as much information from the customer as possible so that we can start to develop a scope of work. It is also important to establish what the customer's budget is, as this dictates what we can realistically provide whilst still offering an attractive solution."
Wheco also works remotely in order to save its customers time and to reduce the cost of moving equipment.
According to Wheco, the biggest advantage of repairing and refurbishing a crane compared to replacing it, or the major components concerned, is when the equipment's current use would not be upgraded with the purchase of new equipment. "If a new unit does not offer any advantages over an old one, it makes sense to repair or refurbish the older crane," Wood clarifies. "We recently performed a SLEP on a duty cycle crane where the customer was willing to invest over one million dollars to gain another 5 to 10 years versus replacing it with a new machine that would have been well over 2 million dollars with no increase in production. Our SLEP option made economic sense on the return on investment (ROI) requirements."
Wheco says its work complies with Federal OSHA and OEM requirements and it documents every part that goes into a unit, so it has full traceability. It also says it has developed relationships with many of the OEMs which inform it if there are any updates or past issues that need to be addressed. Warranties are negotiated as part of the project, adds Wheco.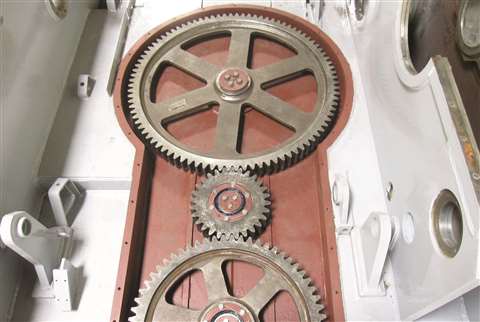 Wheco documents every part that goes into a unit for full traceability
Wheco says its most common repair and refurbishment jobs are on crawler and larger conventional type cranes. "These have long life spans and a high replacement value," says Wood. "On cranes our projects range from US$250,000 to as much as US$2,000,000 and, on average, the jobs tend to take between three to six months to complete."
Wheco believes that repair and refurbishment will always be a viable option for crane owners. "It's all about the company's ROI requirements," reiterates Wood. "OEMs tend to be good at manufacturing things, as that is what they do best. Companies like Wheco tend to be better at repairing or rebuilding equipment, as that is what we do daily."
A P&H 6250 before restoration by Wheco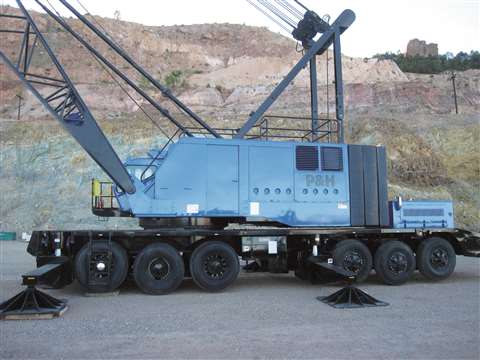 OEM offerings
Rather than competing directly with specialist repair and refurb companies, however, many OEMs have opted to utilise their repair and refurb capabilities to offer a complementary service to their core OEM output. For example, crane manufacturer Liebherr has a large repair and refurbishment facility at the heart of its mobile crane manufacturing site in Ehingen, Germany, as well as a global service network that also offers repairs.
The bulk of the repair and refurbishment work carried out at Liebherr's Ehingen site is on old cranes that its customers in Germany and central Europe trade-in when buying a new crane from the company. Liebherr takes any make of crane as a trade-in but, as the company points out, brand loyalty is high so a large proportion of these are Liebherr cranes. Non-Liebherr cranes are sold on in whatever condition they are in, while the company repairs or refurbishes its own models which are then sold as used.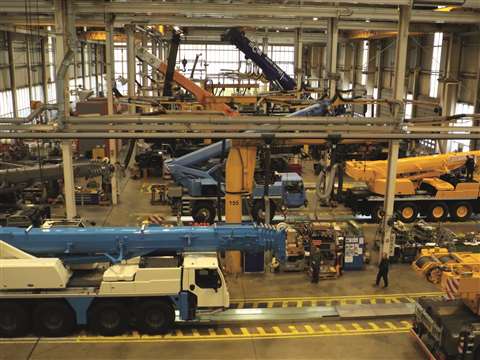 Liebherr's repair shop in Ehingen, Germany
Liebherr says it sells approximately 1,500 new cranes every year, of which around 350 are trade-ins. And with some customers trading in their cranes as often as every three years, its repair and refurbishment department is busy.
"Our aim is to support existing and new crane customers rather than to make money from the used crane market," clarifies Joachim Kopp, a spokesperson for Liebherr's repair and refurbishment division. Kopp travels the word conducting technical inspections of the cranes Liebherr customers wish to trade-in. "And as a manufacturer we can fully guarantee the safety of our work and our repaired and refurbished cranes are fully tested under load."
Liebherr says that many of its now loyal customers started with a used Liebherr crane as their first experience of the brand. In addition, offering used cranes and accepting other brands of used cranes for trade-in helps open up new markets and win new customers, the company says.
Another OEM utilising its repair capabilities as a service to complement its primary output is Swedish on-road load handling equipment manufacturer Hiab. Hiab offers a service programme, called ProCare, for its cranes which is available in three levels: Inspections; Essentials; and Total Repair and Maintenance. These packages are available for a fixed monthly price.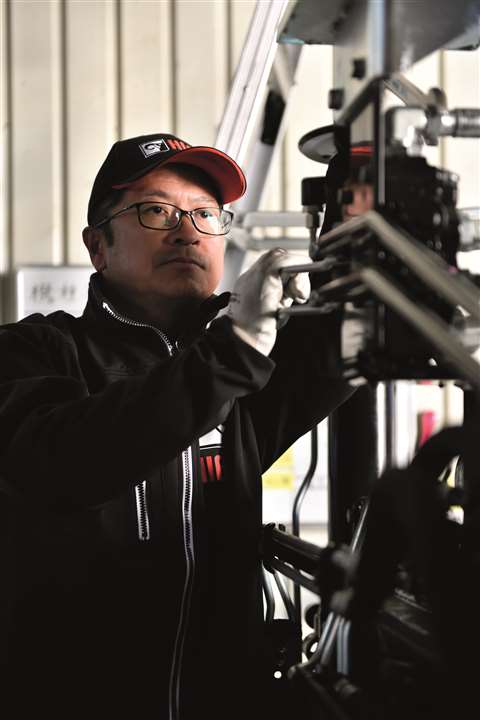 Total refurb
The most comprehensive programme is Total Repair and Maintenance. Hiab says this offers customers everything they need to prevent downtime, including all necessary preventive and corrective repairs using original parts, which it says better retains the reliability and value of the equipment.
The Total Repair and Maintenance programme also covers emergencies, Hiab adds, so that if an accident happens, it quickly repairs the equipment using original spare parts, without any additional cost. All maintenance and administration is managed and executed at Hiab's own workshops or through its global service network.
The company has now launched its connected service, HiConnect, that is being sold as a package with ProCare. HiConnect is designed to provide Hiab customers with real-time data about the operation and condition of their equipment. The data can be used to increase productivity, efficiency, safety and maintenance planning, says Hiab.
"We want to be the number one partner and solution provider to our customers by giving a best in class service experience. The ProCare Total Repair and Maintenance service contract gives the customer total peace of mind. For a fixed price, Hiab will take care of both maintenance and emergency situations. This increases the equipment's uptime, reduces cost, and lets the customers focus on their business and customers," says Anna Almlöf, Hiab, vice president services. "The Total R&M service programme was developed at the request of our customers. We see a global trend that our customer wants maintenance support to a fixed cost instead of handling it themselves."
Project goals
So, in conclusion, which route should a crane owner go – specialist or OEM – when deciding to repair or refurbish a crane? Well, as we have seen above, the choice is not that clear-cut, with many different factors playing a role – and that's before we even take the state of the used crane market into consideration!
For some general advice, however, that is crystal clear, we return to Dave Wood, Wheco, for the last word. "We do not replace parts just to replace parts," he stresses. "Many items can be rebuilt or refreshed as needed to suit the goals of the project. If buying a new crane does not offer any real advantage over an existing unit and the replacement value is high enough to justify the cost of repairing or refurbishing it, then using a specialist service is a good option."
Before and after
A picture tells a thousand words. In the first photo we have what was a brand-new Liebherr LTM 1100-5.2 mobile crane that was being shipped from Bremerhaven, Germany, to a client in the Middle East in December 2016. During transportation the ship transporting the crane encountered a big storm and the crane broke loose from its fastenings. The subsequent damage, as you can see, was extensive…
In the second image we have the result of around 2,150 hours of work at Liebherr's repair and refurbishment centre in Ehingen, Germany. Liebherr carried out repairs to the following areas: the superstructure chassis frame; both cabs; the first axle suspension; the first axle cylinders; the lower engine, where the bearings had cracked; the gearbox; the engine cooler; the boom – which had been scratched; the boom frames and swing-away jib, plus supports which had been bent; the boom luffing cylinder; one counterweight cylinder; two outrigger cylinders; four tyres; and two rims.
The crane was fully repaired by September 2018 and sold to a different customer, again in the Middle East.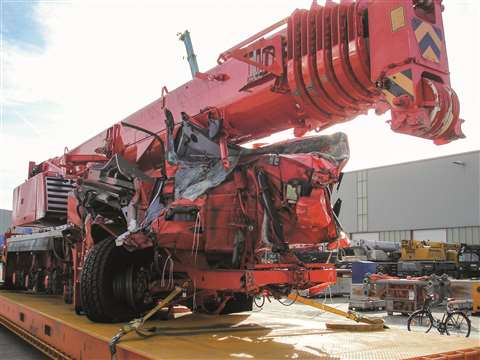 The repaired LTM1100-5.2