Haulotte strikes China rental deal
By Euan Youdale26 March 2019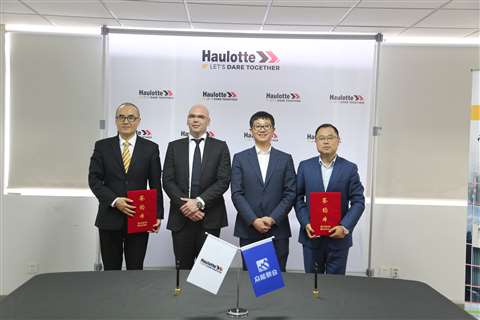 Haulotte has partnered with major China-based access rental company Zhongneng United Digital Technology.
Under the agreement the companies will work together to provide a comprehensive product rental and service offering in the country, firstly based on the French manufacturer suppling electric scissor lifts.
Zhongneng United has seen rapid growth since it was set up in 2016 and invested in scissor lifts, straight booms, articulating booms, spider lifts, numbering thousands of units, said the company. It has established a complete marketing, service, warehousing and logistics network in 21 provinces and 32 cities across the country and says it has more than 10,000 customers in total.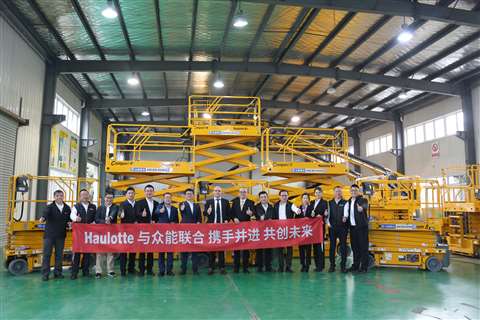 Damien Gautier, managing director of Haulotte Asia Pacific, spoke highly of the cooperation with Zhongneng United. "I am very pleased that we have reached cooperation with China's top rental company. Haulotte is willing to provide the most advanced products and the best quality services for our partners and share our development experience in the global market to fully support the development of large rental enterprises like Zhongneng United. To develop and help partners to develop is one of Haulotte's strategies in China, also the most important strategy."
Wang Zhijun, general manager of Haulotte China, added, "The aerial work platform equipment rental market in China is still growing, with great room for development and imagination. The cooperation between the two sides will create greater value for the market and the industry."
Yang Tianli, founder of Zhongneng United, added, "I think that although Haulotte comes from Europe, its commitment to the market and determination to develop in the Chinese market under the leadership of Damien and Wang coincide with our thinking. It also lays the foundation for our cooperation."
"We are very grateful to Haulotte for joining hands with us to seize the opportunity and push the construction rental and aerial work platform equipment market to develop more vigorously and healthily."