First nuclear power plant in Bangladesh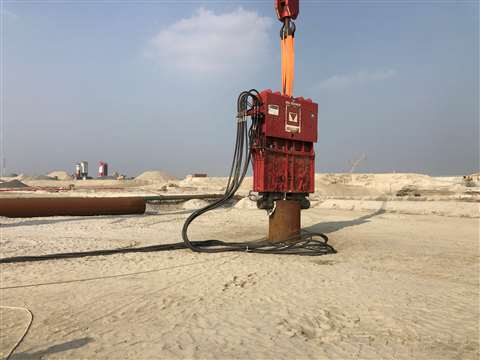 Thyssenkrupp Infrastructure GmbH is supplying key materials, engineering equipment and components for the foundations of the first nuclear power plant in Bangladesh.
In Ruppur, approximately 180km west of the capital Dhaka, the first national nuclear power plant will secure energy supplies in Bangladesh from 2023. Ruppur was selected due to its proximity to the Padma river, which will supply the cooling water for the planned power plant.
"The requirements and degree of complexity are particularly challenging. We are delighted that we were able to tip the scales with our expertise in global infrastructure projects and win the tender," said Ina Munteanu, project manager, Thyssenkrupp Infrastructure.
With a total of three vibration units and over 1,200 tons of ASF anchor piles with a diameter of 640mm and a thickness of 90mm, Thyssenkrupp Infrastructure is said to be making a major contribution to the construction of the foundations.
The vibrators are a müller MS-50 H3 with MS-A420 V and a müller-100HHF with MS-700 V for installing pipe lengths of 17m and a diameter of 630 and 1020mm.
In order to get up to 37m long pipes with a diameter of 1420mm into the almost impenetrable subsoil, an even more powerful vibrator was needed.
"Sand is one of the trickiest of soils. So, only our müller MS 210 HHF with MS-A 1150 V was suitable for the large pipes. The vibrator is one of the most powerful in the industry," said Munteanu.