Construction's skills shortage
That there is a global construction skills shortage in 2019 is not a statement seemingly open for debate anymore; the question is whether this is a full-blown crisis or an issue which can be worked around successfully, for example through the usage of new technology.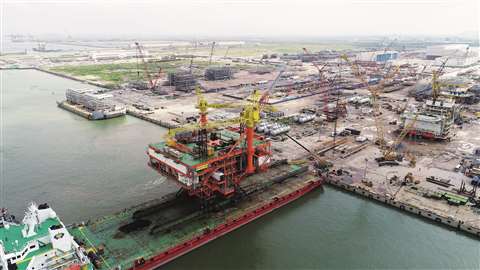 Fluor work on large scale projects around the world and have a high need for skilled construction workers
The 2018 Turner and Townsend International Construction market survey reported that labour shortages are becoming an increasingly common feature of global construction. The 2018 report noted that 27 markets experienced a skills shortage, an increase from 2017's 24.
This is an issue being felt around the world, in developed markets and emerging ones alike. The report highlighted developing markets such as Malaysia, Colombia and Indonesia as being particularly affected by a lack of skilled construction workers, while recent figures released by the Department for Education in the United Kingdom show that the number of new construction apprenticeships for January 2019 has fallen to 950, down from 1,216 the previous year.
Construction skills gap

Indeed, only three cities around the world were said to have had a 'construction skills surplus' in 2018: Houston, US, Muscat, Oman, and Sao Paulo, Brazil. Of the survey respondents, 67% said that skilled labour shortages in the construction industry had a major or large impact on the delivery of construction projects.
The importance of the issue is highlighted by Bill Chimley, director, Training & Publications, Komatsu America, who commented that the skills shortage is, "One of the top three determining factors for future success in our industry. 
"While we continue to improve manufacturing processes through automation and lift worksite productivity through technological advances, the gap is very wide to fill our skilled worker needs. Future construction workers must be engaged early in their education to learn job skills, discern career paths, and envision their future impact on the industry."
One of the factors exacerbating this issue is that the construction industry has an ageing workforce.
With so many workers with decades of experience leaving the sector, the question is whether they are being adequately replaced.
"The lack of skilled workers in the construction/aggregates industry has become a growing issue as the aging, technically experienced, workforce that's been relied upon for the last few decades are heading into retirement," commented Christian Diaz, business development, LCS–Aggregates, Metso.
"In addition, due to fierce competition within the industry, operations are leaning towards doing more with less to ensure profitability. As a result, employers are forced to transition from employing purely technically skilled workers to seeking versatile employees with a broader set of skills. This option isn't always obvious or easy to accomplish, so employers are finding ways to dedicate their declining technically skilled staff to tasks that play to their strengths while turning to partners to fill the knowledge gap."
Metso says that one of the ways it is addressing the skills shortage is through the firm's Life Cycle Services (LCS), a customisable program that targets maintenance, supply chain management and process improvement initiatives.
LCS is said to help tackle the lack of skilled workers by providing equipment support, maintenance and optimisation services that can be tailored to meet the quarry's or contractor's specific needs. The company says that it currently has approximately 200 LCS contracts, mainly in India and Western Europe.
New technology and the construction skills shortage

New technology is making construction equipment more intuitive than ever to operate, which could be one way for the construction industry to tackle the skills shortage. Another side-effect to this may be that, by having new technology integrated into equipment, the industry is better placed to attract younger workers who have grown up with technology, are comfortable with it and indeed expect it to be part of their working lives.
Chimley from Komatsu America believes that this is case, saying, "Komatsu has been a front-runner in technological solutions in our industry with autonomous haul trucks and, more recently, as a pioneer with Intelligent Machine Control products. This attracts employees who are looking to work smarter, not harder. If a student can envision themselves being a pioneer in the 4th Industrial Revolution, then we are a very attractive opportunity to them.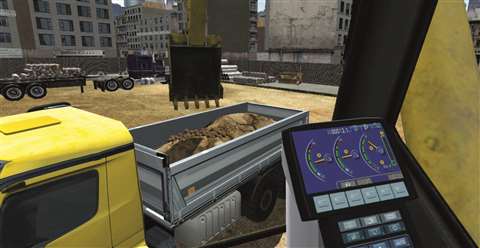 "To address a skills shortage head-on, the learning curve for new employees, particularly machine operators, is greatly accelerated with machines that have automatic and semi-automatic control. This is a key area that will be vital for our customers to offset future skill shortages." 
Like the original equipment manufacturers mentioned above, contractors are also doing all that they can to try and combat this issue. Richard Meserole, senior vice president with Fluor, doesn't pull his punches regarding this issue, stating, "The global engineering and construction industry is suffering from skills shortages across the board."
Meserole comments that Fluor works with schools, colleges, universities, and technical training centres undertaking outreach programmes, from running annual schools' engineering and construction competitions to funding a pilot plant for training at a local university.
He also reveals that Fluor graduates regularly undertake small projects in local schools, such as building play areas or gardens, to raise awareness of the industry and the great career opportunities it provides.
"We actively encourage our men and women to speak at industry events and take part in awards schemes to raise the industry's profile," he added. "Fluor's GROW initiative aims to attract, retain and promote opportunities for women and it undertakes programmes and events to support women in construction."
Julie Newell, talent and engagement leader, Human Resources, Terex Materials Processing, agrees that this is a problem for the construction industry, saying, "There is currently a substantial skills gap affecting the manufacturing industry. This gap has been growing for some time and manufacturers, including Terex, are facing difficulties in filling open positions due to a lack of qualified and skilled applicants."
Newell also comments that work needs to be done to change the perception of the construction industry, as this is one of the main issues when it comes to recruiting talent.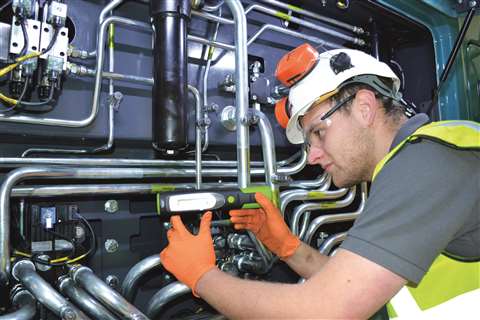 "An incorrect perception of manufacturing persists: that a job in manufacturing is low-tech, dangerous, dirty and low-paying work. Another issue is the competition for talent, since demand outweighs supply. This is especially true in locations such as North America and Germany, where we compete with the automotive industry and the more glamourous connotations associated with it."
One of the ways the company is trying to address this is by investing in early talent programmes across North America, India, Germany and the UK, which are tailored for various functional fields in the industry. Working with colleges and universities to establish these programmes is said to be key.
Worldwide labour issues
This is an issue being felt around the world, although it is more pressing in some areas than others. A spokesperson from global contractor Bechtel comments that, currently, the demand for talent is especially being seen on the Gulf coast of the US due to the increase in oil production in the region. When a particular region is so competitive regarding talent then identifying and keeping good people is key.
"Along the US Gulf Coast, Bechtel has worked diligently to identify, develop and retain talent across the region, which is large and includes existing or potential project sites across three states. Bechtel's ability to win the competition for talent has enabled our success in delivering six LNG trains on the Gulf Coast for Cheniere over the past four years," said a Bechtel spokesperson.
Another area suffering is the UK, with the uncertainty over Brexit (the UK's decision to leave the European Union) exacerbating the situation. However, Mathew Riley, managing director, UK, at contractor Ramboll believes that addressing the situation requires a change in the way that construction operates. "Digital design and offsite construction are the ways forward, but how we transition to this way of working is the key issue," he commented.
"The current business model does not incentivise change and most clients do not procure any differently to the way the industry has always worked. The definition of value has to change, and procurement needs to be a supporting function, not a driving force as this so often produces the wrong outcome, and yet no post project review ever considers the impact of poor procurement. This will become a big problem if we do not start to plan and deliver projects differently."
Riley adds that technology is an enabler, but not the solution. He points to Denmark as an example of a country which has moved to precast and offsite solutions, and has set the standards for how people have been trained to work ever since. In Denmark this way of working is now considered normal, and 'in situ' is now the exception.
As with most complex issues, there is not one answer to the issue of the current skills shortage. Perhaps through a combination of new technology which automates some processes, an improvement in the image and perception of construction and by tweaking the way the industry operates, this is an issue which will hopefully be a mere irritation in the not too distant future.