Nagano confirms move into Europe
By Euan Youdale21 May 2019
Japanese manufacturer Nagano has made its move into the European market, following its decision to produce tracked boom lifts under its own name for the continent. It was on show for the fisrt time at Bauma.
Previously, the company had been the OEM for Aichi's tracked booms sold in Europe until it ended the contract in 2016, after which it decided to go it alone. while, in Japan, the company has always sold its equipment using the Negano branding.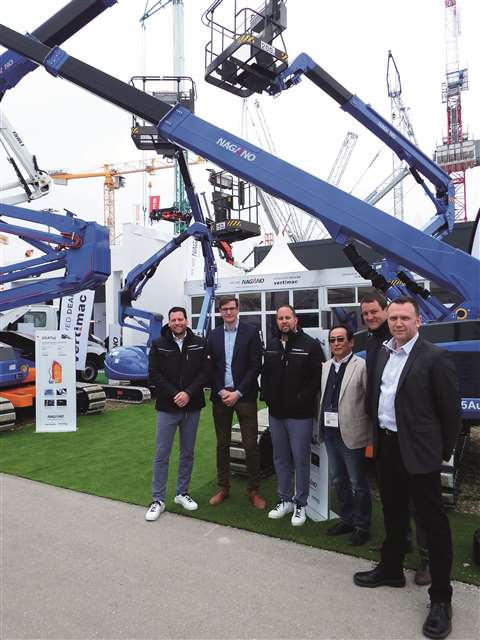 To aid its expansion in Europe, the company signed up to two distributors, Pfeifer and Vertimac. As Stephen North, Nagano European business manager for French and European markets said, "People are very familiar with our machines in Europe but they do not know Nagano."
Nagano had been laying the groundwork for a couple of years before it officially entered the European market in 2018. "We were looking for suitable dealers and identifying the market."
In the past Aichi sold its platforms direct. "We wanted to make sure service support for customers was priority, and that's why we now have dealer network; they carry all stock and provide service," said North.
Traditionally, the biggest buyers of Nagano's tracked booms have been in Central Europe, namely Belgium, the Netherlands and northern Germany. Since showing at Bauma, North said it has had enquiries from all across Europe, plus India, Australia and North America.
Both Pfeifer and Vertimac have non-exclusive territories and aims to sell 200 units a year in the next two years in Europe, before expanding into new areas.
While, Nagano produces other equipment for the Japanese market, including scissor lifts and three-wheeled models, there are no plans to bring those to Europe.
Available in the market will be a range of machines from 9m working height, up to the 20m working height 20 AT UJ. At the moment the machines are diesel powered but there will be a small electric version that is under development, possibly available in 2020. They will continue to be manufactured and assembled in Japan by Nagano.
The 515 AT UJ is the direct replacement of the Aichi machine previously sold in Europe, with the same working height and specifications and a range of new features including a 60 litre hydraulic tank, down from 200 litres, a sub-19kw Kubota engine. There is easy hose replacement in a pull-out cassette, which means all cables and hoses can be replaced in three hours by one person, rather than the previous one day for two people. Plus there is a newly-design basket that can be replaced in half an hour.