JCB's electric excavator goes into production
By Andy Brown07 June 2019
JCB has announced that the 19C-1E, the company's first full electric mini excavator, has entered production. The company says that it is the first electric excavator to be put into production by an original equipment manufacturer.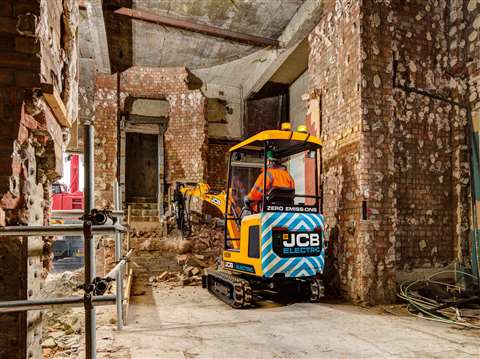 The company stressed that it was designed for both outdoor and indoor applications and that it was five times quieter than an equivalent diesel-powered machine.
The model had previously been unveiled by the company.
JCB says that the 19C-1E will deliver the performance of a conventional diesel-powered 1.9-tonne mini excavator with a reduction of both internal and external noise levels.
The new model – which is going into production now – will be equipped with three or four lithium-ion battery packs providing a 15-20kWh storage capacity.
The 19C-1E will have an on-board charger with 110V input for 12-hour recharging capability, with the option for 230V charging when required, with an eight hour recharging time. A fast charge option allowing a full charge in under two hours will be available.
The batteries have been designed to last the operating life of the machine.
The machine has three operating modes, controlled by a rotary dial. In the 'low' setting the electric motor runs at 1,200rpm, in 'general' it operates at 1,600rpm and in 'high' mode the motor spins at 1,800rpm.
There is an additional Auto Kick Up mode for tracking, where the motor operates at 2,300rpm for rapid movement of the machine between digging sites. The 19C-1E is equipped with the same adjustable undercarriage and choice of digging equipment as the diesel model, providing a maximum digging depth of 2,891mm with the longer 1,344mm dipper arm.
Initially, the mini excavator will be available with a ROPS/TOPS and FOGS certified canopy. As the electric excavator is based on the premium specification 19C-1, the excavator comes with proportional rocker switches for auxiliary functions and boom offset swing.
The premium model also has a membrane switch pad to the right of the operator for all additional controls.