Top 10 crane companies in North America 2019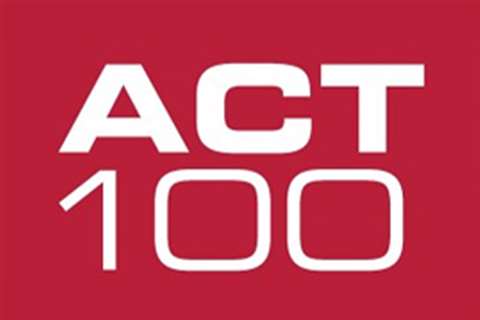 American Cranes & Transport presents its 14th annual ACT100 Index of North America's top crane-owning companies.
The ACT100 is based on the total fleet lifting capacity and over the past year there has been substantial growth in the Northern American market.
Between 2017 and 2018 the number of crawlers dropped by 111 units, but this year saw an increase of 85 units, bringing the total number to 3,198 cranes. An indication that crawler sales have improved over the past twelve months.
The number of wheeled mobile cranes increased this year too, from 15,944 in 2018 to 16,347 in 2019, and the combined lifting capacity of the ACT100 companies also increased by 182,792 US tons. But how did the companies fare separately?
Here is our…
Top 10 North American crane companies 2019
10. Deep South Crane & Rigging
With worldwide services that range from bare crane rentals to turnkey heavy lift and heavy transport solutions, Deep South puts its 241 wheeled and 26 crawler cranes to good use. The family-run business has been operating since 1986 and now has a fleet with 57,525 tons of lifting capacity, which sees it hold onto the same position on the ACT100 as it did last year.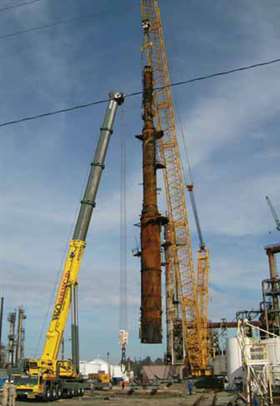 9. W.O. Grubb
Holding firmly onto the number nine spot, W.O. Grubb's fleet of 76 crawlers and 284 wheeled mobile cranes can lift up to 58,199 tons. The company, which was founded in 1962, operates 15 branches nationally and employs more than 450 people.
8. Buckner Heavy Lift Cranes
Buckner is in at number eight again this year. Its 70 year history includes projects such as the Mercedes-Benz Stadium, Arthur Ashe Stadium and Stennis Space Center Test Stands. Together, Buckner's 141 crawler and 12 wheeled mobile cranes have a lift capacity of 70,834 tons.
7. Barnhart Crane & Rigging
Founded in Tennessee, this family-run business has more than 40 locations across the States offering everything from operated crane rental to cargo logistics. Boasting a fleet of 466 wheeled mobile and 45 crawler cranes, Barnhart has a total lift capacity of 72,512 tons and a Demag CC 8800 is its largest crane.
6. TNT Crane & Rigging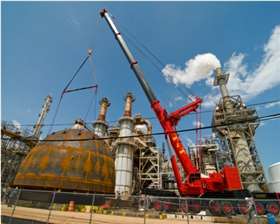 With a total lifting capacity of 89,911 tons, it's clear that TNT's 1,700 employees put the company's 621 wheeled and 49 crawler units to good use. The company, which operates on a national level, has grown rapidly over the years and has gained expertise and reach through mergers with companies such as RMS Crane, Allison Crane & Rigging and Greenergy, to name just a few.
5. Mammoet Americas
Taking the number five spot once again, Mammoet's heavy lift and transport services have enabled it to become the biggest crane company in the world. The company's fleet of 136 crawlers and 528 wheeled mobile units operate across numerous markets, from petrochemical, power and civil infrastructure to nuclear power, ports and mining. A 5,000 ton Mammoet PTC 200 ring crane rounds out the company's fleet and contributes nicely to its 99,689 tons of lift capacity in North America.
4. Lampson International
Another non-mover on the ACT100, Lampson's worldwide operations come down to its expertise and a fleet of 438 cranes. Its 389 crawlers and 69 wheeled mobile units have been used on all manner of projects, from ports to power stations and infrastructure, and have a total lift capacity of 125,615 tons.
3. ALL Family of Companies (ALL Erection & Crane Rental)

This year sees ALL Family slip one place to number three on the ACT100. One of North America's largest privately-owned crane rental and sales enterprises, ALL Family has 36 branches and a fleet lifting capacity of 173,733 tons. Its 341 crawler and 1,903 wheeled mobile units operate under the ALL, Central, Dawes, Jeffers and ALT trading names.
2. Bigge Crane and Rigging Company

In operation for more than 100 years, Bigge is now the second largest crane company in North America, after moving up one place on last year. It's 927 wheeled mobile and 224 crawler units, crowned by a 1,100 ton Liebherr LR 11000, give the company a total lift capacity of 180,858 tons. Bigge's 1,100 employees offer the company's nationwide services from 18 branches across the continent.
1. Maxim Crane Works
As if it was ever in doubt, Maxim takes the number one spot on the ACT100 again. The company, which has 55 branches and employs a staff of 3,615, has a breath-taking total fleet lift capacity of 698,535 tons. This tremendous lift weight comes from the company's 505 crawlers and 2,715 wheeled mobile cranes.
To view the complete list of ACT100 crane companies, or the top 10 list of North American crane-owning companies ranked by fleet size, download the June issue of ACT magazine here.