Drones: How UAVs are changing the construction industry
While technology advances in the construction sector promise faster and more efficient working practices, productivity levels remain a thorn in the side for many European contractors.
Delegates at the forthcoming InterGeo in Stuttgart will see the latest in drone and drone software technology
Telematics, machine control, robotics and a myriad safety and uptime improvements can't seem to defeat this stubbornly costly issue.
Cue the drones…or maybe not. It was not so long ago that unmanned aerial vehicles (UAVs), otherwise known as drones, were seen by industry insiders as gimmicks at best – toys at worst.
Now, however, forward-thinking contractors are seeing their faith paying off, as drones quickly gather immense amounts of data on their sites that would previously have been prohibitively expensive and extremely time consuming.
Today, while few drone specialists are claiming the machines could be a game changer, they do maintain that, used in conjunction with increasingly sophisticated software, they have the potential to boost productivity on construction projects.
If proof were needed, commercial drones have already had an impact in the agriculture and renewable energy industries, but better drones and smarter software could now be ready to inspire construction contractors to get the flying bug.
Drones featuring at technology shows
Flying tech zones are already becoming an essential element of construction shows and construction-focused tech shows, such as the forthcoming InterGeo in Stuttgart, Germany.
In the UK, as part of the recent Plantworx construction exhibition, DroneCon2019 took place, featuring drone experts and companies including Topcon, Cyberhawk and Pix4D.
Jenny Adams from the Scotland-based software firm Cyberhawk described the powerful technology that can be used in conjunction with drone flights. She said, "You don't have to install an app onto your desktop – anywhere you've got connection to the internet, you can use a login to get into this.
"You can zoom in to about 20 or 30 mm detail – you can start to compare datasets and you can actually use a slider to see how progress is going over time.
"Say, for instance, you have a contractor that says they've completed something, you can just log in to this – you don't even have to get to the site – and you'll see data that's maybe at the most a week old, but you'll be able to match up with what they're talking about.
"On top of this, you're using the photographic interface, because it gives people context, it's visual. And what we've started to do is lay on top of this things like time-lapse imagery.
"Also, document registry – you can search tags and find exactly where a piece of equipment is on site. We can also produce 3D models from this software, so they can be pulled into CAD [computer aided design].
"And this can all be shared; logins can be set up with various permissions for contractors, for example, so everyone's looking at the same information, so there's no room for error."
Other than general construction data, Adams described things like structural integrity checks that can be carried out using drones.
Looking at an image of an oil rig for example, she said, "We're hosting this digitally, as a 3D model, giving you context." She described the way changes in the structure are highlighted as "hotspots" by the drone, detailing concerns such as bulges in flare tips, that need to be addressed immediately, but could be missed during a manual check. Clearly, drones can offer vital data for the construction sector, but only if used in conjunction with the necessary software.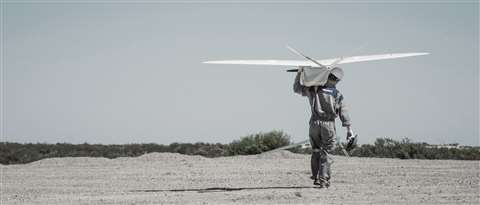 The Delair D26 drone boasts a maximum flying time of up to 135 minutes and a maximum range of 20 km
Commercial drone solutions company Delair recently introduced a new version of its long-range UAV, the DT26.
The new machine incorporates architecture for adding user-specified sensors to the platform, opening up its potential for use in a number of technical applications.
Delair said specialised sensors can be quickly attached. These give the drone capabilities including ultra-high resolution, multispectral and hyperspectral (images from across the electromagnetic spectrum), thermal and oblique imaging.
With optical gas sensors, for example, the Delair drone could be used to inspect equipment and pipelines and monitor for leaks; using high resolution sensors it could provide orthophotos of infrastructure in transportation and energy; with oblique sensors the DT26 could give operators a different view of the same target from the same position; and with thermal sensors it could detect defects in equipment and measure the performance of solar collection systems.
Long-range drones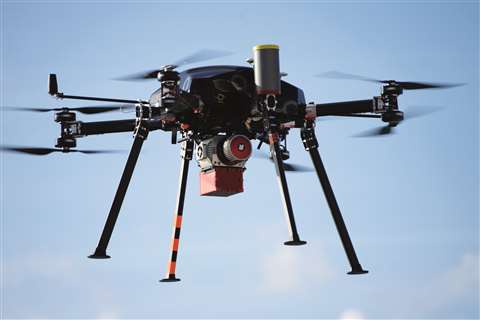 The new Delair drone also boasts an impressive maximum flying time of up to 135 minutes and a maximum range of 20 km.
Benjamin Michel, Chief Product Officer at Delair, said, "The Delair DT26 is a production proven, long-range and high-performance UAV that now can be custom-configured for any number of use needs through its highly stable payload cabin.
"The design provides a safe and secure platform for precise and thorough inspections that often require specialised components. The platform can also serve as aerial testbed for sensor research and training as well.
"The Open Payload version has been specifically designed for efficient integration of sensors that will work seamlessly with the overall flight operation and workflows the DT26 offers."
Across the construction sector, data acquisition specialist Texo DSI has been working to maximise the operational benefits that derive from drone surveying, combined with traditional surveying and inspection services.
The company's in-house geomatics capability includes extensive land and engineering surveying, precise measurement control, setting out and HD 3D laser scanning. The captured data is used to produce detailed plans, elevations and 3D BIM models that are tailored to the clients' individual requirements, as well as a range of condition and progress survey reports.
High-definition 3D laser scanning, combined with UAV imagery and modelling is said to allow for seamless capture and monitoring of construction progress, providing 3D documentation at every stage, from the start of the process. A prime benefit of the technology is its repeatability, flying the same flight plans and taking the same images for direct comparison for management progress reports. This process helps to avoid costly rework errors.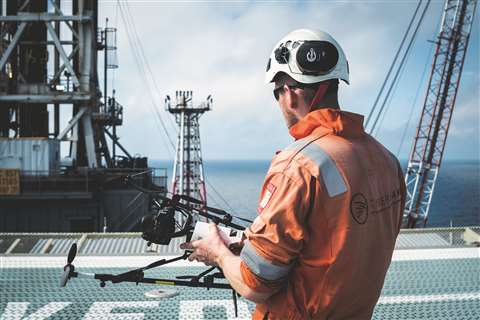 Texo DSI's technology can measure two million points per second producing highly accurate 3D model information quickly and accurately, in the form of measured point clouds. In addition, the models can be colourised from full colour photographs.
Aerial survey technology is constantly improving as a result of R&D and investment, and the improvements extend across all platforms and applications, including close visual inspection (CVI).
Texo DSI's 100MP aerial cameras are metric cameras with high resolution lenses; they are equipped with new leaf-shutter technology, which supports 3 fps capture – with a speed of 1/2500 sec – while guaranteeing 500,000 actuations. The camera lenses are thermally stable to ensure consistent focus over a wide range of temperatures and flight altitudes. Optics are designed to exploit the full benefits of the new sensor technology.
The company has recently deployed in-flight focus functionality on its 100MP platform. It allows lenses to be focused live and in-flight, enabling a number of new uses for inspection applications where the focusing distance can be carried out in real time by the pilot.
Construction software for drones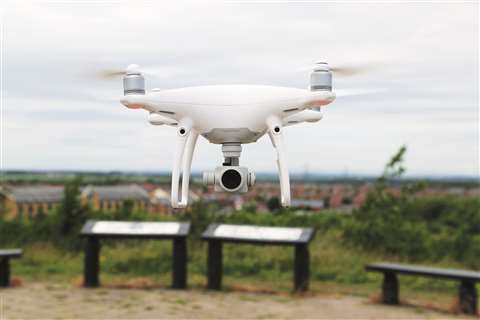 California-based tech specialist Trimble has become one of the leading names in construction software in recent years, and one of its drone experts, Jim Greenberg, has good reason to believe drones will become a part of the standard technology tool kit used by European contractors.
He said, "We have a product called VisionLink – as the machines move, we track either their cutting implements or their tracks or their tyres, and we can see how a machine's moving, and how it's changing the surface area. I think there'll be more integration with those [drones] in that space, with the drone being the snapshot and the machine being the granular information that builds. I think that's what I'm most interested in seeing in the future.
"From my perspective at Trimble, we have a product now that I feel, for anyone with a little bit of technical knowledge and interest, we could train to collect good data – we could train them to validate that data and we could show them how to use that data to measure against previous flights or designs and they can extract all kinds of value from that.
"They could say what the current progress is, or do they have the materials they need on site. But I think it's the integration with machines that is going to be really interesting."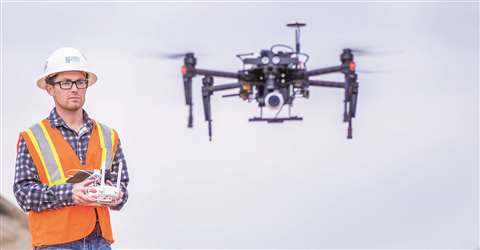 DroneDeploy claims to have the largest drone data platform in the world. The company recently released a new suite of drone technology features which it says will have a significant impact on the way construction projects are managed, reducing project timelines, improving communications, making site assessment and inventories more accurate and improving safety.
Using the new software, project managers will be able to visualise their sites via panoramic imagery and videos, as well as overlaying plan drawings on drone imagery, highlighting grading inaccuracies, health and safety issues, and so on.
The software can also integrate imagery with CAD, BIM and other aerial or GIS (ground information system) software.
Drone security and legal issues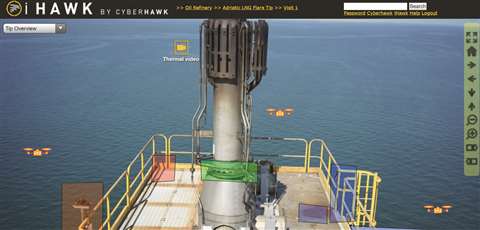 Issues with the legality and security of drone flights have undoubtedly set the growth of drone use back. However, companies like DroneDeploy are seeking to redress the balance by joining the Pledge 1% initiative, which seeks to inspire companies to donate 1% of employees' time, 1% of profits, 1% of equity and 1% of products to nonprofits.
As part of its commitment to the initiative, DroneDeploy offers its drones software to non-profit organisations free of charge.
Legal issues and security regulations aside, Trimble's Greenberg is keen to highlight the ease with which drones (in Trimble's case, the DJI Phantom 4 RTK drone) can be utilised from a surveying perspective.
He said, "At Trimble, we have a really streamlined workflow. If you follow the workflow, fly the drone, put down some checkpoints, we can have a quantifiable work surface that a user can collect, have confidence in and start making measurements with.
"The way they make their measurements is in a platform that kind of looks like Google Earth. Anyone who has a reasonable idea of spatial data will have no issues with it."