Exclusive ranking of world's leading contractors
By Andy Brown09 August 2019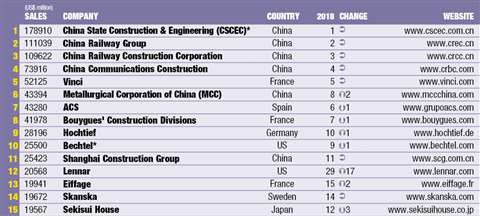 International Construction's exclusive league table of the world's largest contractors by sales figures for 2018 has revealed that China-based companies are still dominating the top of the list.
Of the top ten contractors on the list, five are Chinese firms – with the top four companies on the list all being Chinese.
The top ten contractors on the list are:
1. China State Construction and Engineering
The contractor was once again at the top of the list, with sales of US$178 billion, up from US$164 billion in the last table.
2. China Railway Group
In second position, as they were last year, the company increased sales from US$101 billion to US$111 billion.
3. China Railway Construction Corporation
Sales increased for the contractor from US$99 billion on last year's list to US$109 billion.
4. China Communications Construction
The contractor remained at number four on the list, the same position as last year.
5. Vinci
The France-based contractor are the top ranked European contractor on the list, and the first non-Chinese firm.
To view the table in full and to read all of the analysis, click here to download the latest issue.
6. Metallurgical Corporation of China
The Chinese contractor moved up two places on the list, from number eight to number six.
7. ACS
The Spanish-based contractor has sales of US$43 billion.
8. Bouygues' Construction Divisions
The French company dropped one place from number seven to number eight.
9. Hochtief
The only German company in the list had sales of US$28 billion.
10. Bechtel
The US-based contractor rounds off the top ten with estimated sales of US$25 billion.
With China's One Belt One Road Initaitve showing no signs of slowing down, it is not surprising that Chinese contractors – who are commonly awarded the projects by the Chinese government – once again dominate the list.
Europe accounted for four out of the top ten contractors, with Bechtel of North America making up the top ten.
Despite the dominance of Chinese firms at the top of the list, Japan and US have the most companies on the list, with 33 contractors each.
The total sales figure generated by the top 200 contractors increased from US$1.608 trillion to US$1.677 trillion.
To view the table in full and to read all of the analysis, click here to download the latest issue.