Manitowoc reports sales rise
By Christian Shelton09 August 2019
Second quarter net sales at crane manufacturer Manitowoc were US$504.7 million, up 1.9 per cent from the $495.3 million in the second quarter of 2018.
Earnings before interest and taxes (EBITDA), at $53.3 million, was 42 % ($15.8 million) higher than in the same quarter a year earlier, the company said. Manitowoc attributed the increase to higher crane and aftermarket shipments in the Americas region but said it was partly offset by further weakness in the Middle East and unfavourable changes in foreign currency exchange rates.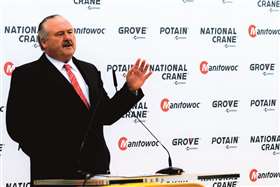 Barry Pennypacker, Manitowoc president and chief executive officer, commented, "The second quarter marked our ninth consecutive quarter of year-over-year adjusted EBITDA margin improvement, and our fifth consecutive quarter of positive adjusted diluted earnings per share. In the quarter, we repurchased approximately 473,000 shares of common stock, underscoring our commitment to effectively deploy our capital."
Pennypacker continued, "Orders from European customers were in line with our expectations, reflecting positive reception of our products showcased at the Bauma trade show where we introduced six new cranes. Our North American orders slowed as customers became more cautious as a result of uncertain market conditions. Overall, I am very proud of our team and the results we posted in the first half of the year, and look forward to our continued transformation into a leaner, more profitable Manitowoc."
The company forecasts a full year 2019 revenue between $1.880 billion and $1.920 billion with an adjusted EBITDA between $140 and $160 million.