ECV scheme set for roll-out
By Thomas Allen19 August 2019
The CESAR Emissions Compliance Verification (ECV) scheme, initiated by the Construction Equipment Association (CEA), is set to complete its evaluation phase and be rolled out later this year.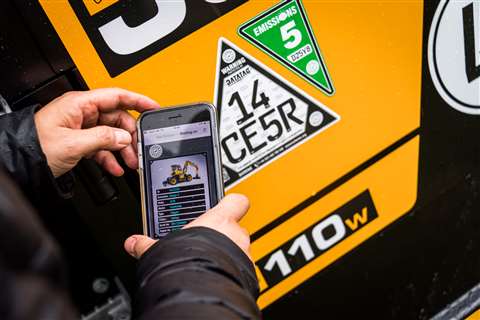 The scheme is intended to help site managers and regulators to easily identify the engine emissions stage compliance of individual machines in environmentally sensitive areas by fitting equipment with a tamper-proof ECV label. A JCB Hydradig at Plantworx 2019 was the first piece of construction equipment to have a prototype ECV label.
The ECV development team is evaluating feedback from the latest round of stakeholder consultations.
Rob Oliver, Chief Executive of the CEA said, "We have had some welcome feedback to our consultation process to ensure the scheme reflects industry requirements and the CESAR team are following through on all the ideas, requests and comments received."
Colin Smith, Programme Manager at Energy Saving Trust, said, "Energy Saving Trust, in partnership with HS2, has helped the CEA in understanding the issues around NRMM policy and will continue to work with the project to align further label development with machinery that has been retrofitted with EST NRMM approved emission reduction systems."
Aside from ensuring equipment complies with local policy or contractual obligation, Smith said the ECV schemed "could include data such as fuel consumption to help with GHG emissions or energy reporting and support corporate social responsibility activity. This could lead to smarter NRMM fleet management to realise cost savings and recognition of plant owners and operators taking action to reduce their environmental impact."
Charles Stevenson, General Manager of JCB, said the company would be fitting the ECV label as standard on its machines once the scheme is fully launched, adding, "Identifying emissions compliance with a uniform and easily recognisable symbol will bring a multitude of benefits to the customer, not least of which will be easy site access on major projects and in cities where ULEZ is enforced."