Construction research and development: Tomorrow's world
By Andy Brown20 August 2019
The construction equipment of today may look – at first glance, at least – similar to that which was produced five years ago, but over the last few years the technology included in the equipment has developed at a rapid pace.
Central to this advancement has been the work of research and development (R&D) teams of the original equipment manufacturers (OEMs) themselves, but also of the other firms which work around the industry, for example technology companies and engine manufacturers.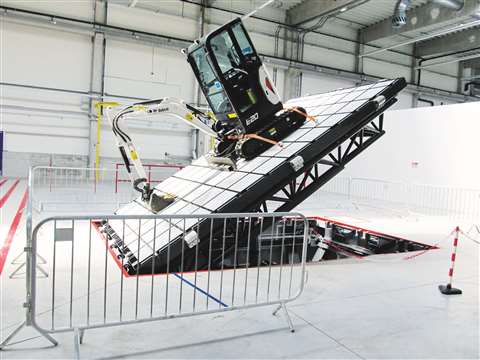 There are a host of technology-based changes which have occurred – or at the very least, increased – in construction machinery over the last five years: automation, different power sources and telematics to name a few.
These changes have occurred due to the work of those in R&D centres. While change has always occurred in the construction industry, it can be argued that what is unique about this moment in the industry's development is that many of these changes are converging and hitting the industry at once. This is important, as the different technological advances are not happening in a vacuum but are influencing each other.
Johanna Huggare, manager of intelligent machine platforms, Volvo CE, commenting on the technological changes in the industry commented that, "I think it's fair to say this is the same amount of change as when dedicated construction machines were first invented a century ago. It is at that same level of disruption."
Autonomous technology
According to a report by consultancy Arthur D Little, more than 90% of OEMs surveyed said autonomous technology was relevant for them and 50% had already invested in R&D in this area, with 30% already offering semi-autonomous products.
The R&D for autonomous construction equipment is being driven by two sides: larger OEMs and specific technology specialists.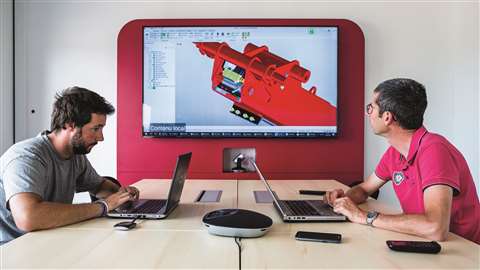 One of these technology specialists is Trimble. The company has over 3,400 people in R&D and, while not all of these people are focused on construction itself, a large portion are working on elements within construction. Regarding the emerging technologies that the firm are working on for the construction industry, Scott Crozier, general manager of Trimble's Civil Engineering and Construction Division, highlights autonomous machinery, machine learning from streaming video, augmented reality and data analytics for business intelligence.
Looking ahead to the projects that R&D teams of the future may be working on, Crozier says, "There are many developments being or about to be introduced into the construction industry but the one that will have the biggest impact is data driven construction. Rather than informing if a project is on schedule or on cost, solutions evolve through added intelligence to inform how to complete projects faster and cheaper. The ability for data driven construction to yield value depends on the information collected and the frequency it is collected."
One of the projects that Hitachi is working on is to address the problems that an operator can encounter in some civil engineering activities, such as long ditch digging for underground pipelines, as the operator cannot easily set a guide line for digging reference. To address this problem the company has developed a hydraulic excavator equipped with an electrical lever system.
The excavator is equipped with a limited plane digging control system and a multi-monitoring display. With the assistance of the system, the operator can pre-set a desired working plane through the monitor screen.
OEM investment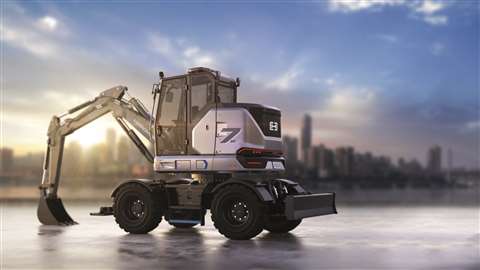 Increasing numbers of manufacturers are putting more money and time into their R&D facilities. For example, Turkey-based Hidromek opened a second R&D facility in 2018 and now employs around 150 staff in this department. The company carries out tests on subjects such as noise, vibration and fuel consumption improvement and say that it is due to the work done by the department that enabled the company to produce the electric wheeled excavator, the Hicon 7W.
Doosan Bobcat has also recently opened a new innovation centre in the Czech Republic. The Innovation Centre is a European Engineering Centre of Excellence, serving as a R&D centre for all Doosan Bobcat engineering teams across Europe, Middle East and Africa (EMEA) and with global design control responsibility for compact excavators from 1-3 tonnes and EMEA design support of other Bobcat products.
The facility, with more than 8,000m2 of floor space, houses cross-functional product development teams to work on a range of testing scenarios. These include: rapid prototyping, 3D-printing, sound, stability and climate testing.
The acoustic test chamber is a concrete construction with 1.5m thick glass and wool acoustic wedges fully covering walls and ceiling. Background noise level in the chamber is said to be a very low 15 dB(A). Bystander noise levels are measured in a 10m hemisphere around each machine. The chamber also allows measurements to be taken in driving simulations up to 80 km/h.
The tilting table stability test is a safety test that new machine designs are required to pass before being allowed to go into full production. This involves the use of a tilting table, which is designed to measure working angles and Bobcat machine functionality on slopes. The tilting table was manufactured by the Technical University of Ostrava and can be tilted up to a maximum angle of 45° in all directions.
Innovation centres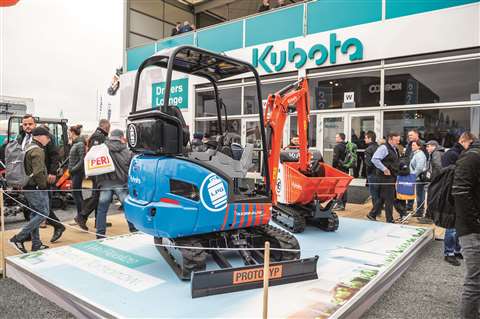 OEM Kubota announced in May this year that the company are establishing innovation centres in Japan and Europe to look at how new technology, such as information and communication technology (ICT) and artificial intelligence (AI) can be integrated into new machinery and software.
Glen Hampson, business development manager, construction, Kubota, commented that one of the roles of the new centres would be to listen to customer and operator feedback. With the skills shortage a real issue in the industry, Hampson said that it was increasingly important that all OEMs listen to operators.
"The innovation centre is geared to making sure that we are listening to the market as much as possible and bringing out products that meet customer demands. The machines will look different in ten years' time, whether that is hybrid, electric or liquid petroleum gas power and with more features and specifications added. It is about looking at how we can stay ahead of the game," he said.
"A few years ago the operators' opinions didn't hold as much weight – companies are now more aware of the need to keep good operators happy."
The innovation centre will be looking at everything from electric to telematics, zero tail swing models and joystick control – Hampson commented that as the new generation of operators coming into the industry have grown up playing computer games OEMs need to ensure new machines appeal to this generation.
Connected construction machines
The way that R&D teams work has also changed due to the technology available. Jean-Yves Augé, R&D manager for Material Handling & Access, Manitou, commented, "Machine connectivity allows us to access data that we use to design, develop and validate our products. Concerning virtual reality, Manitou now implements this type of solution to design these products by involving other stakeholders such as after-sales service and industrialisation."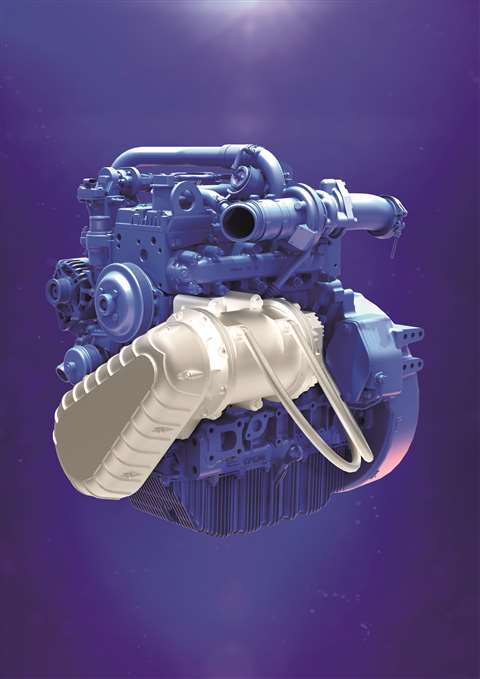 Augé also points out that between 2016 and 2019, Manitou's R&D workforce grew from 230 to more than 300 people and that R&D expense increased by 22% between 2016 and 2018 – showing the growing importance of this division to the firm, and of the wider importance of R&D to the construction industry.
Increased data
Of course, it is not just OEMs that are investing in R&D, with the firms around construction such as engine manufacturers also doing this. Ajay Prasher, product marketing manager, Perkins, said that due to the complexity of Stage V engines, increasing numbers of OEMs are asking them to be more involved in some of the production and design work.
The increased technical advancement of the engines has also led to more information being available for R&D teams to work on.
"With all the electronics and telematics on the engines we can monitor an engine every second – this means it is easier for us to put an engine into the field and immediately get data back on it," said Prasher.
"This makes testing, validating and future R&D easier. Some of the tasks that would have previously taken a computer three weeks to do we can now do in an hour – our investment in the technology from a data-processing side has gone up by millions of terabytes of data, so it is about how we best utilise that."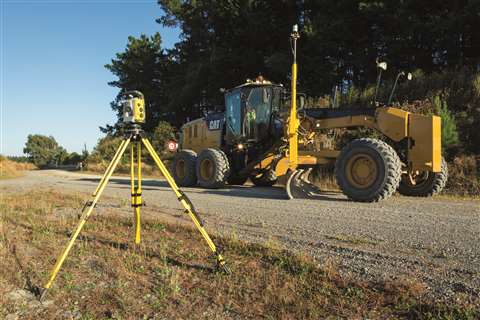 The two biggest technological changes over the last five years, according to Julian Norton, business development manager for construction at Pix4D, is the cloud and machine learning.
Machine learning
Norton commented that machine learning has rapidly matured over the last few years – the firm's core business is in making 2D and 3D maps and images and analysing that data, something which AI help them do increasingly quickly.
Norton revealed that the construction industry's understanding of new technology has improved, and that now he doesn't have to explain to people what BIM is or why having access to rich data will benefit their business.
However, he does make a good point that any new technology produced needs to have a clear benefit for the customer, saying, "It is important that R&D teams produce technology with the view of the customer needs, and don't just produce new technology for technologies sake."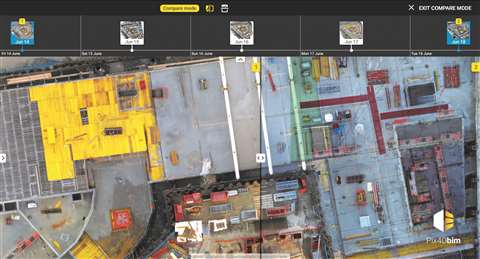 The increase in the use and capability of telematics has led to more data than ever before being used by R&D departments. across construction.
This, coupled with increased investment in this area and more emphasis on listening to customer and operator feedback, as well as more vigorous testing of equipment than ever before, means that R&D sits firmly at the front and centre of the construction industry.