Construction recovering in Latin America
By Andy Brown21 August 2019
The Latin American construction industry will see modest growth in 2019 with the expectation of a more robust expansion in 2020, according to information released by the Association of Equipment Manufacturers (AEM).
Despite the financial and political uncertainties in the region, the construction industry is expected to expand by 1.1% in 2019 and on average 2.6% annually between 2020-2023.
This growth is not predicted to be seen across the region, with counties such as Brazil, Colombia, Chile and Peru highlighted by Fitch Solutions as having strong growth potential.
In Chile, strong commodity prices and a robust pipeline of projects drive machinery and equipment purchases. In Colombia, growth is supported by a strong oil and gas sector which drives wages, consumption and business confidence. Investment in public infrastructure and the extractive sectors will continue to develop.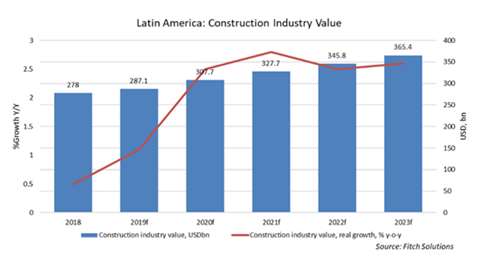 While Mexico has overtaken Peru as the third most attractive market, Peru remains the fastest growing country in Latin America, with investments into the mining sector and private consumption supporting economic activity. The reliance on commodity prices creates a downside risk related to international trade.
A recovering and steadily growing construction industry, combined with increased support from extraction services, provides the basis for the demand for mining and construction equipment. Gross output for machines for both mining and construction declined heavily in 2015 and 2016, but started to rebound in 2017 and 2018.
In 2019, the market is expected to remain stable to down slightly, though output in Brazil, the largest market, is expected to grow about 10%. From a machinery perspective, disregarding some outliers, annual growth for the region can be found between 2-5% annually for the period 2020-23.
In 2015, AEM launched a construction equipment-focused trade show, CONEXPO Latin America, to help facilitate business opportunities. CONEXPO Latin America will return to the region October 2-5, 2019 in Santiago, Chile. For more details visit www.conexpolatinamerica.com.