Komatsu goes the extra mile
By Joe Sargent15 November 2019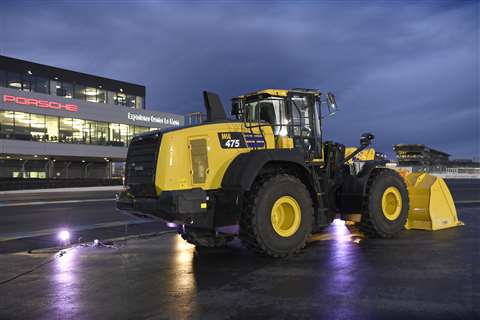 Komatsu displayed its new wheeled loader – the WA-475 – to prospective customers in style last week as the company took to the Le Mans racetrack in France, home of the famous 24-hour race.
The European branch of the company gave its customers a hands-on experience with its latest Stage V wheeled loader outside the Porsche Experience Centre in Le Mans.
Customers were invited to test the wheeled loader in action. According to Komatsu it has a totally redesigned transmission, now based on a new hybrid hydraulic mechanical technology.
This new technology is said to make the wheeled loader more powerful and fuel efficient, offering an 8% greater breakaway force and generating a 10% higher steering force.
Not only is the transmission an improvement on the former model, but it now also comes with a 10,000 hour or five-year warranty.
The wheeled loader is now said to be up to 30% more efficient and is capable of delivering up to 15% higher torque at lower RPM than its predecessor.
Tito Baldan, sales manager at Komatsu Europe, said that the new wheeled loader offered a savings potential of "17% less fuel consumption" which he believed would equate to around "€32,000" (US$35,329) in fuel per year.
As well as improved lifting power, the loader is now also more capable for site travel. The machine is able to stop on a slope without rolling back and an easy selector control in the cab allows the operator to set maximum travel speed.
As well as doubling fuel filter maintenance intervals to 1,000 hours, further benefits of the machine can be seen in ad-blue consumption where its passive regeneration capability reduces the amount of ad-blue used by 98%, according to the company.
Of course, you can't go Le Mans without involving motorsport and so customers were invited to take to the track for a memorable lap in a Porsche.