Masters Degree 'crucial to future' says Trish
One of the first students to graduate from Wolverhampton University's Masters degree in Demolition Management says the qualification will be "crucial" to attracting the next generation of professionals to the industry.
Trish Sloneczny, corporate social responsibility (CSR) director of United Kingdom-based contractor AR Demolition, gained a Merit in the course and was one of seven people honoured at a graduation ceremony last month.
"When I came into demolition in 2006 it struck me how skilled demolition operatives had to be to work safely and productively on site," said Trish.
"This experience is difficult to learn and hard-won, so our industry faces challenges for the next generation, to diversify, attract new talent, embrace technology and innovate.
"I believe demolition taught at the higher education level as part of the built environment is a crucial part of the solution.
"Obviously I am extremely grateful to the team at AR Demolition for supporting me over the last two years. For me the MSc (Master of Science) degree is about two things: facilitating more academic research into the demolition industry and on a personal level trying to encourage more females into the industry."
The university developed and launched the course - the first of its kind in Europe - in conjunction with the UK's Institute of Demolition Engineers (IDE) and Dr Paul Hampton, head of built environment at Wolverhampton, added his congratulations to the successful candidates.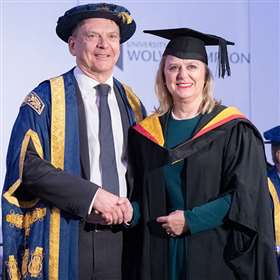 "Students on the pioneering Masters degree in Demolition Management should be very proud of themselves," he said.
"As the first cohort in the world to graduate with the qualification, the graduation ceremony was an historic day for both staff and students.
"We are very proud to be the only university in the world that offers a programme for the entire lifetime of a building from design right through to demolition and it is thanks to the tireless efforts of partners like the IDE that we are able to develop programmes which are both relevant to industry and vital to supporting local, national and international economies."
Other graduating students were Matthew Bardgett (C&D Consultancy); Matthew Browne (UDCS Demolition); David Gauja (PTS Demolition & Dismantling; Robin Powell (DSM Group); Davinder Reehal (John F Hunt) and George Robinson (GA Robinson).