Trump proposes changes to environmental regs
By Jenny Lescohier13 January 2020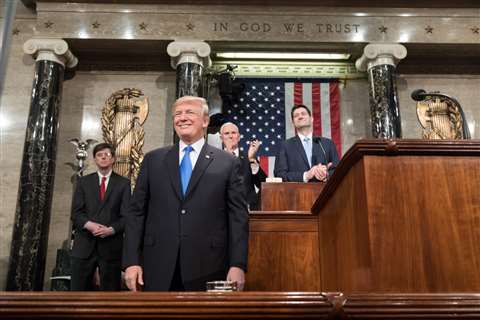 President Donald Trump has proposed changes to US environmental regulations that aim to streamline the approval process for major construction projects centered on infrastructure and energy, a move that was met with approval from the Associated General Contractors of America (AGC).
The administration claims that this is the first comprehensive reform of the National Environmental Protection Act permitting process in more than 40 years and will continue to protect the nation's environmental resources.
Stephen E. Sandherr, chief executive officer of the AGC, says the administration is right to seek to make the review process more efficient and cost effective.
"The problem with the current environmental review process is that it long ago stopped being about evaluating the environmental impacts of a proposed project and has become a way for special interest groups to further their agenda by holding needed infrastructure and development projects hostage to countless lawsuits and delays," Sandherr said.
Flanked by Cabinet members, labour leaders and construction industry representatives, Trump told reporters at the White House on Thursday, January 9, that his proposal will allow highways to be built in, "a small fraction of the time" by reducing bureaucratic barriers to permit approvals.
"From day one, my administration has made fixing this regulatory nightmare a top priority. And we want to build new roads, bridges, tunnels, highways bigger, better, faster, and we want to build them at less cost," Trump said.
Prior to the proposed new permitting process, those seeking infrastructure permits often needed approvals from numerous federal departments, potentially delaying projects for years.
"Our new One Federal Decision policy — it's called 'One Federal Decision' — requires agencies to work closely together to promptly deliver one decision," Trump said.
According to media reports, critics are saying some of the projects that would be fast-tracked could harm the environment and accelerate climate change. The move could also prevent communities from having much say about what gets built in their backyards.
The proposed change is subject to public hearings and faces potential court challenges from environmental groups and Democratic-led states, according to the Wall Street Journal. Leaders in both parties claimed the overhaul, if enacted, could mark the administration's most significant change to environmental regulation to date.
In support of the President's move, Sandherr said, "Moving forward, we are committed to working with the administration to help ensure that the final rule reflects the same commitment to streamlining the federal review process while maintaining rigorous environmental protections."